So, you have finally made up your mind to start a small restaurant business. Congratulations because you can now call yourself a rookie entrepreneur!
Being called an entrepreneur may sound cool to other people, but the pressure to succeed in the entrepreneurship field is at an all-time high, most especially since there are probably hundreds, if not thousands of other entrepreneurs running the same business as yours. However, it is still not yet the right time to ponder and worry about those things. Your main priority should be to figure out the things you need to do and the legal requirements to obtain. You may also see Checklist Samples.
In this article, we will not only provide you a rundown on the basic startup restaurant checklist to guide you and make the process of opening a restaurant business less stressful, we will also provide you with the benefits of using a checklist and do's and don'ts for starting a new restaurant. What's even better is that we also provide a few templates you can use to attract new customers on your restaurant opening.
Restaurant Checklist Template
Restaurant Startup Checklist Template
Restaurant Pre Opening Checklist Template
Top 3 Benefits of Using a Checklist
As a newbie entrepreneur, it is important to avoid committing mistakes as much as possible. That is why you will need to use a checklist to guide you in prioritizing the things to do needed in opening a small restaurant business. In any business field, using effective checklist templates have saved a lot of lives, especially from the stress and hassle brought about the process of starting up a business.
This section aims to discuss the amazing benefits or advantages of using a checklist. Find out about them below:
Organization – Despite the number of things that need to be done, using a checklist helps us stay organized in a systematic manner.
Motivation – Did you ever experience how forgetting things and disorganization can lose your motivation to finish everything else? Well, the main purpose of using a checklist is to keep you on track. All you need to do is follow everything found on it.
Productivity – As an entrepreneur, it is important to be productive at the end of the day. And since you will be running around trying to get everything accomplished, a checklist can be a huge help in accomplishing the tasks quickly and efficiently.
Do's and Don'ts for Restaurant Opening
If you are an entrepreneur who is opening a restaurant, there are a certain set of things that require careful consideration. Whether you are opening a new restaurant or relaunching, it is important to know that the whole process can send you into a roller coaster of emotions, because at last, you will be running a restaurant of your own but it can be quite challenging especially if you are new in the business.
Follow this set of do's and don'ts, and we will guarantee you a memorable restaurant opening event:
Do:
Maximize your strength or skills. Every business entrepreneur should harness their market planning and public relation skills. These two essential skills are a great ingredient for a successful restaurant business. And since public relation skills can be easily learned, you may need a guidance on developing your marketing plans by taking a look at the marketing plan sample.
Aim for community engagement. In today's modern technology, the use of social media platforms is extremely beneficial for the success of your business, especially if you are still looking to gather and increase your target market. You can create a page for your restaurant where you can post online brochures to keep your followers in the latest loop of your business.
Don't:
Avoid responsibilities. Yes, we understand that you are the leader of the pack. But instead of passing the tasks and responsibilities to your employees, it is a smart to move to personally take care of the vital ones and make sure that everything is on the right track and running smoothly. Also, you should spearhead the whole marketing process to ensure that you get to share the right information to your whole team.
Get cold feet on opening day. We know how restaurant opening can mess up your emotions. That is why as the owner of a new business, it is highly important to keep your cool and be on the top of your game. You will never know how many customers will write reviews on your restaurants.
Basic Restaurant Startup Checklist
Now that we have already discussed the benefits that come with using a checklist and the do's and don'ts to keep in mind when opening a restaurant. This section should provide you with an example idea on what to include on your restaurant startup checklist.
1) Conduct a Market Research
The first stop on your restaurant startup checklist should be the market research. Conducting a thorough research on your target market allows you to have a clear picture of what you want. A market research template should include the following:
Defining your restaurant concept
Selecting a good location
Collecting demographics on the potential customers in the area and their profile
You can also use the following examples as your reference in drafting your own market research:
is.muni.cz
essex.ac.uk
2) Write a Business Plan
You will need to write a business plan if you are looking for an investor to fund your business. Despite having enough resources to start up a restaurant, having an investor for your business can help reduce the cost and boost profitability. You may want to download these restaurant business plan templates or check out the following business plan templates below: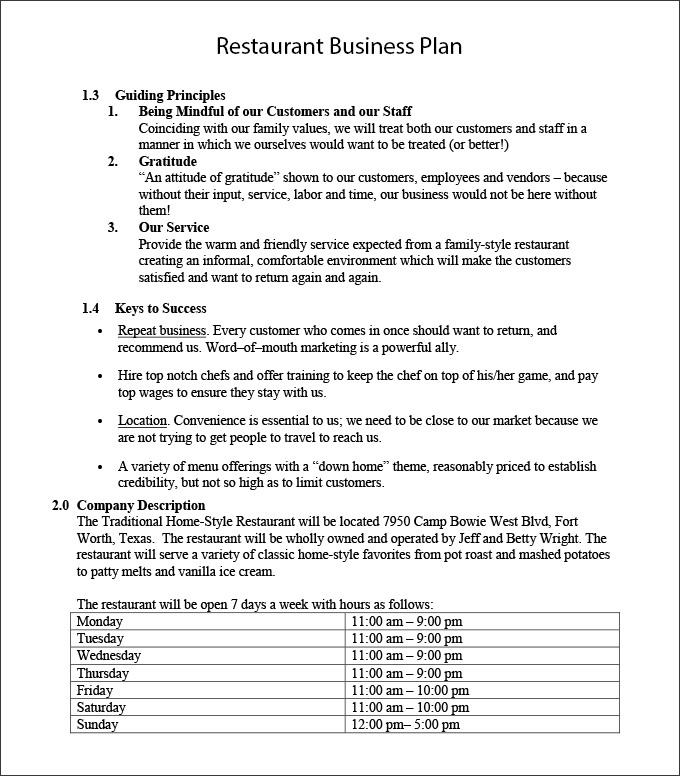 3) Determine Financial Projection
Writing an overview of the financial projection of your business can provide a clear understanding of the financial situation of your business in the first couple of months, as well as your full profit potential. Feel free to download our sample financial projection templates and use them as your reference.
ct.gov
bcit.ca
4) Decide on Your Menu Plan
The core of every restaurant business is the food it serves to their customers. It is smart to start with general ideas and choose carefully the potential list of menu to be served in your restaurant. You should always base your decisions on your market analysis. Take a look at our amazing restaurant menu templates or use the templates below as your reference:
bogglesworldesl.com
public.navy.mil
5) Obtain Permits and Licenses 
Every entrepreneur needs to acquire proper legal documents, such as permits and licenses, to open and operate a business. And while there can be a lot of legal documents you need to obtain, including them on your checklist makes sure that everything is addressed.
6) Set Up the Business 
When we say setting up the business, it does not only refer to setting up the restaurant. You will need to accomplish the following:
Insurance policy
Hire a bookkeeper for tax purposes
POS system
Business bank account, merchant account, and credit card
Phone and internet connection
Employee uniform
Linen service
7) Focus on Hiring and Training
You should always consider that your employees are one of the integral resources in your business. Hiring and training them before you open your restaurant is key to a smooth business operation.
8) Market Your Products 
Your customers are the lifeblood of your business that is why it is important to attract as many as possible. Before opening your restaurant, you should already have a solid marketing strategy to keep your customer up and about. Try collecting their email address and send them regular updates on the latest restaurant promos and discounts.