Checklist Templates
9+ Venue Checklist Templates
In every gathering or event, it is very important to properly select a venue that will provide the proper space for all the activities that are needed to be done for a specific occasion. There are many things that should be put to mind in terms of choosing the venue that will perfectly provide all the location needs of an event template.
A venue checklist will surely help in terms of creating the guidelines that you need to consider and follow in terms of venue selection. Aside from our venue checklist samples, we can also provide you with other checklist templates which you may use for different purposes.
Venue Checklist Template
Event Venue Checklist Template
Wedding Venue Checklist Template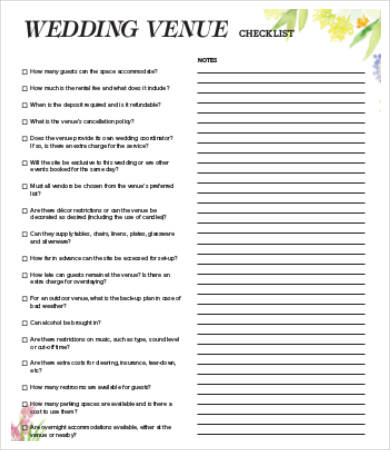 realweddings.ca
Venue Inspection Checklist
exhibitoronline.com
Club Event Venue Checklist
alumni.umich.edu
Venue Requirement Checklist
trinitycollege.com
Free Training Venue Checklist Template
daysafe.com.au
Conference Venue Safety Inspection Checklist
juvenile.justice.nsw.gov.au
Things to Consider in Creating a Venue Checklist
A venue checklist must include the following considerations:
The number of guests that are invited for the event and updates on how many has already confirmed their attendance must always be reviewed. This will allow the organizers to know whether a specific venue is too small or too big for the number of guests that are expected to attend the event.
The amount of the venue rental must also be considered as it should fit within the limits of the budget being set by the clients. It is very important to get the preferred venue of the client but it is also important to go over board the allotted budget.
The activities that are needed to be done in the event must also be listed. This will affect the overall set design of the venue and will also greatly affect the space that will be used and provided for the expected number of guests.
The reason for the occasion must be one of the primary factors in deciding whether a venue shall be chosen or not. There are specific occasions that require a specific ambiance and location vibe to fully implement the mood of the event.
Aside from our venue checklist samples and templates, you may download our Blank Checklist and use it for other listing activities that you may need. Also, you can use our Wedding Checklist as a reference in writing all your requirements for the location of your wedding.
Free Printable Venue Checklist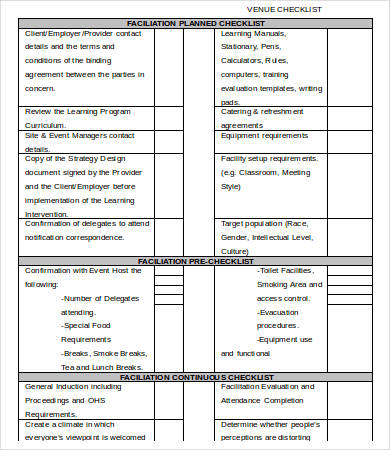 trainyoucanforum.com
Sample Venue Resource Checklist
zephyr.cit.edu.au
Location and Venue Policies
More than your own set of guidelines, you also need to know and recognize the rules, regulations, and policies of the venue where you want your event to take place. It is very important to take note of the these items to make sure that your event will smoothly flow and that there will be no problems in terms of the location within the duration of your event in the area:
Ask for a checklist from the company or business who own the location and offers it as an event venue for different occasions and purposes about the guidelines that they implement when an entity has already decided to use their location.
You need to make sure about the things that you can bring especially the food that you want to serve to your guests. Other locations do not allow outside food and you need to select from their menu options while others apply corkage fees for outside food items that you are to bring.
Setup and other venue needs may be provided by the location depending on the contract that you are to sign up with them and the available resources that they can offer.
Aside from our venue checklist, you may also download our Event Checklist for listing needs sample for an entire event rather than just one aspect like the event's location.
More in Checklist Templates