A restaurant is only as good as the employees that work in it. This is why a lot of restaurant owners take a lot of time when it comes to trying to find the right people that they think are going to be a perfect fit for their establishment.
The perfect employment contract also has to be drafted to ensure that those who wish to be an employee within a certain establishment understand what is expected of him or her.  So it's best that you know how to properly find these people that will represent your restaurant as well as make sure that they sign a contract template that clearly defines their roles and responsibilities. You may also see employment templates.
663+ Restaurant Templates in PDF, Word, Excel, PSD, Google Docs, PowerPoint, InDesign, Apple Pages, Google Sheets, Publisher, Apple Numbers, Illustrator, Apple Keynote, Google Slides, HTML5 - START DOWNLOADING
Basic Restaurant Employment Contract Template
Restaurant Temporary Employment Contract Template
Open-ended Employment Contract Template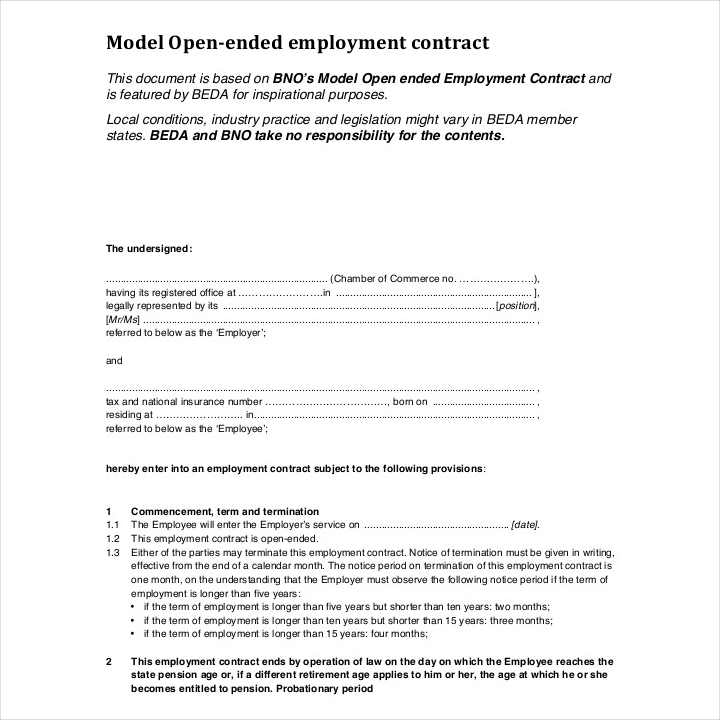 beda.org
Sample Manager Employment Contract
condojobs.com
Domestic Cleaning Worker Employment Contract Template
gov.uk
Fixed Term Employment Contract Template in PDF
apso.co.za
Part-time Cleaning Employment Contract Template
pobal.ie
Temporary Employment Contract Template
oxford.co.za
Standard Cleaning Employment Contract
fehd.gov.hk
Is it appropriate to make use of employment contracts?
It has its ups and downs, but ultimately it's up to you to decide. So to help you with your particular situation, let us discuss the advantages and disadvantage of utilizing an employment contract:
Advantages
They can be used to clarify the roles of each person that you have employed. You're going to want to tell your employees what they're supposed to be doing and they should know how they're going to do it. And this can all be perfectly explained with the help of a well-made employment contract.
It can be used to attract ideal employees with additional incentives since each employee contract can be customized. People are going to want to work for an establishment that rewards them for all of their efforts. By including incentives within an employment contract, there's a higher chance you'll be getting the employees that your food establishment deserves.
You can prevent your star employees from just leaving by placing restrictions. You don't want your best employee to just suddenly leave you without any notice, right? The employment contract is one of the best things that can help you out with that as you can include terms and conditions regarding how and when they may be able to leave the company.
It will allow you to do better staff planning in the event that an employee decides to leave the company. Employee resignations are always a hard thing to deal with, but with the help of a proper employment contract, you can easily plan out your replacement by finding someone within your staff that can meet the qualifications of the person who just left.
You can use the contract to protect sensitive and confidential information. If you know that the employee is going to leave someday, then there may be things about your establishment that you wouldn't want your competition to know about. This is why stating it in the employment contract that the employee must not disclose any information regarding the company to anyone other than his coworkers or superiors is something that will help protect your establishment's most coveted information.
Disadvantages
The contract will bind you to an employee even though the employee may not be what the establishment needs any longer. Let's say that you hired an employee to take over a certain position, but you've figured out that you don't really need this position at all. You won't be able to fire the employee just because he or she is no longer needed, so you'll have to be very careful with the terms and conditions of your employment contract.
It will limit the flexibility of changing job responsibilities and/or the termination of an employee. There might be employees that you just want to get rid of right away or those that you just want to transfer to another position as soon as possible. But the contract may prevent you from doing so, meaning that you're going to have to be very careful in the event that you're going to decide to create this document.
This will put you at legal risk if you decide to break any of the terms that are placed within the contract. Your employees aren't the only ones who are going to have to abide by whatever terms and conditions are placed in the employment contract, you're going to have to adhere to them as well. If you somehow break any of them, such as firing the employee for unreasonable or unfair reasons, then there's a high chance you'll be receiving a legal notice which states that you've just put your entire business at risk.
Making use of employee contracts can be very costly if one does not write it with both clear intent and care. And even then, there's a chance that you're going to be locked in a situation that's not going to benefit anybody. So whether or not you would like to make use of employment contracts is up to you.
Basic Cleaning Employment Contract
namibiadent.com
Casual Cleaning Employment Contract
web.workforcexs.com.au
Permanent Cleaning Employment Contract
pacecareers.com
How to find the best employees for your restaurant, care, or bakery
By now, you should know that having really good employees is the key to your business' success. You're going to have to find these people and try to get them to work for you if you want your establishment to be at the top of the food industry. So here are some things that should help you get the employees that you deserve:
Hire even when you don't need to
Let's say that someone has recommended an employee that could very well push the success of your business. You go through this person's resume and after much evaluation, you see that the person has everything your restaurant needs. However, you don't have enough room or you no longer have any openings left. So what do you do? It's simple, you make room for that person. The best companies always make room for great people even if there aren't exactly any openings available within a particular period. The best employees don't come often, so when you find that person with a particular set of inventory skills, experience, and great work ethic, then take the opportunity that you've been given.
Take risks
The most traditional way to hire people for your establishment is by grabbing people with a lot of experience. However, you can also take risks by hiring someone that has only had a bit of restaurant experience. This person may have great work ethic that you don't normally see in a lot of people. So what you can do is hire this person, put him or her through the right employee training, and make sure that this person is able to meet all of your expectations. By monitoring this person's training yourself, you can ensure that this person is trained in the way that you want him or her to be.
Opt to hire family and friends
If you're just starting out in the food industry, then one of the best ways of cutting down costs is by hiring family or friends who may be interested in helping you out with your business. While doing this may have its cons, there's still a huge benefit from hiring people that you have known your entire life. You can immediately understand if these people are going to be a good fit.
Hit the community
Make contact with all of the local colleges, high schools, and even community centers within your area. Post job flyers that contain information regarding the type of position that you're looking for, the responsibilities that it carries, and the amount of pay that it comes with. If there are any available bulletin board spaces within your local grocery checklist stores, then take the opportunity to put up your advertisements there.
Ask your employees, friends, and family
One of the best ways for you to find people that can be a great asset to your establishment is through word of mouth. Check with your friends, family, or even your staff if they know anyone that may be interested in taking up a position within your business. Most likely they are going to provide you with recommendations and, given the source of information, there's a high chance that these references are people that actually will help pave your establishment's path to success.
As said before, a company is only as good as the employee it hires. If you want to make sure that your establishment is something that will last for a long time, then you're going to have to be prepared when it comes to finding people that can help make it successful. So if you would like to know more regarding employee contracts or how to hire and fire employees, then you can go through our other available articles to help you out.