Business
14+ Employee Evaluation Templates
Employee evaluations are normally done by companies so as to evaluate how their employees are getting used to the daily operations of the business. With the help of employee evaluation forms, it also helps them check how it can affect their functions in terms of the job responsibilities that they are expected to do. You can also see more on Evaluation Form in Word Format.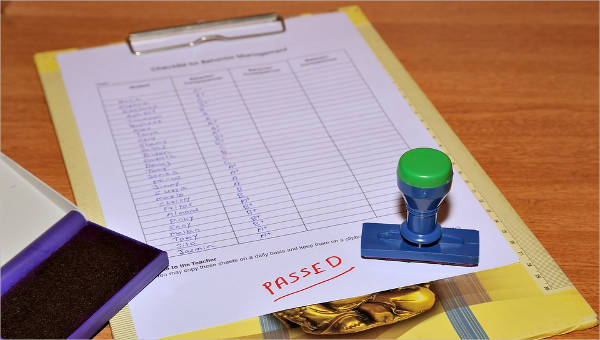 Restaurant Employee Performance Evaluation Form
Our "Restaurant Employee Performance Evaluation Form" template will help identify the key areas as to where an employee needs improvement. It will also allow you to determine employees who are exceeding expectations and who can qualify for incentives. This industry-compliant evaluation template is simple to edit and customize. Download it now! If you want to asses the performance of teachers.
Employee Evaluation of Manager Template
More often than not, employees quit their jobs not because of the organization itself but because of managers. Uncover what employees really think about their supervisors or managers by making use of this employee evaluation of the manager template. Know what your employees think about the competence of their manager. Customize the standard template by adding or removing any questions that are relevant or appropriate to your situation. This will also help you assess and evaluate your managers on a regular basis.
Employee Evaluation Templates
Employee evaluation templates are essential not only for the growth of the company but also for the individual growth of the employees. It will serve as a motivation for the employees of the organization. It will also allow the employees to do better in their work. It will give them space to acknowledge their drawbacks and come up with a solution to improve employees' skills in the organization. This will help in providing a direction to where the organization is heading in its business. The evaluation can impact the overall growth of the organization. You can also see more on Student Proposal Templates.
Staff Employee Self-Evaluation Template
This particular staff employee self-evaluation sample template can be best used to evaluate your employee's performance from their own perspective. It encourages self-awareness which will enable them to discover and develop potential. Encourage your employees to reach heights with their potential and to help the growth of your business directly. The more efficient your employees, the better your business. You can also see more on Employee Roster Templates.
Employee Evaluation Survey Template
Create an Employee Evaluation Form
Here are a few steps to be followed in an employee evaluation policy when it comes to the assessment of your employees. These steps are:
Step 1: Decide On Your Goals
The first step towards creating an evaluation sheet is to know what you want to find out from the form eventually. Decide on the goals and objectives you have and that the process you need to reach them in order to sustain growth in the market. Always remember that employees and your company's market growth are directly proportional to one another, so know what work your employees can possibly do.
Step 2: Performance Measures
Make a list of the performance measures you are going to take to keep a check on the work that is being done by your employees on a regular basis. Check their job performance review, so that you have a better idea of what they do. See if they know and understand the kind of job they do, if not, try and shift them to a place in which their interest lies. See if they are meeting their given targets per day and if not, then note down what do you have to do with them, so that you can make them better.
Step 3: Procedure
Create disciplinary and terminatory procedures. This means that you should have a sample list of things you need to do in case an employee's performance is poor and what are the necessary actions to be taken. Similarly, if he/she is a hard worker, know what it is that you can do to encourage them to perform better. Ensure that you, as an employer, will do your level best to support the employee perform to the best of their abilities.
Step 4: Evaluate
Once you have built the base for your employee performance evaluation sample form, just be sure on when you will conduct these evaluations as a schedule is very important to run them successfully. Also, make it a point to review their overtime duties before you make the evaluation, as this will hurt their morale. Try to recognize their work, so that they can work better and increase the growth of your company.
Step 5: Address and Communicate
Once you are done evaluating them, address your employees, keeping in mind not to demoralize them in any manner. Communication is the main key to a comfortable workspace environment, so tell them what have you understood from their evaluations and what can you do from your side to make them better. Be fair while assessing all your employees. Consider all their issues and make them comfortable so that it improves their productivity at work. You can also see more on Performance Templates.
Free Annual Employee Performance Evaluation Form Template
catholiccharitiesla.org
Annual evaluations are generally done once a year, where each employee is checked for the work they have done. This shows the amount of work they did individually and what are the growth rates for all of them. This way, the company can increase or decrease their salaries and give incentives to the ones who work hard. Our HR evaluation basic forms will help you take a check on your HR department as they are one of the most important in any company. You can also see more on Evaluation Plans.
Free Sample Employee Evaluation Template
tgci.com
Employee performance plan helps in organizational development respectively. As you will know who is better at doing what job at the workplace and who is more efficient, it would be easier for you to change them to that respective field, making them more productive and better employers. You can also see more on Evaluation Reports.
Free Sample Employee Self Evaluation Template
hr360.com
Self-evaluations are the best way for anyone to know their strengths and weaknesses easily. In such simple forms, there are a few questions asked and the employee has to fill them honesty and to the point. This way, they can assess themselves and know where do they have to put in more effort to become better and also, what they have to do to reduce redundancy in the work they do. This document also has questions that would possibly make the employees think out of the box as well.
Be Fair While Evaluating
Employee evaluations must be as fair as possible. The process of evaluation must be done regularly and it should not be affected by personal conflicts and other unprofessional matters. Employee evaluation must only depend upon the performance of a particular employee and how it is affecting both the work processes and the other people involved in it. The promotion of an employee depends on these evaluations. You can also see more on Employee Cards.
Initiating the Employee Evaluation
An employee evaluation commonly checks areas like working habits, professional performance, appearance, attendance, work dependability, relationship with other employers, productivity (measured in daily, monthly or yearly basis), rapport with colleagues and shareholders of the organization, knowledge of the work they do, consistency on the job performance in terms of the tasks given to them, etc. You can also see more on Employee Handbook Templates.
Free Employee Performance Evaluation Template
lead-deadwood.k12.sd.us
Free Professional Employee Evaluation Report Template
delhi.edu
Free Employee Evaluation Sheet Template
studentemployment.highline.edu
Free Employee Evaluation Checklist Template
financialwisdom.com
Why Do You Need to Conduct Performance Evaluation?
Evaluating an employees performance is very important as it can be used for a wide range of purposes that can include the following:
1. A Chance to Know Someone's Strengths and Weaknesses
The thing about conducting a job performance evaluation is that it lets the employee know the area's where they are good at and areas that need improvement. Apart from that, sorting the job functions and discussing them in a more concise and elaborate manner will help identify points that are needed to be taken care of.
2. Recommendation for Promotion
If they want to get promoted, then they will need to have a good tracking record. This can only be shown if their employee evaluation for the past duration of time is commendable. You can also see more on Employee Checklists.
3. Reference for a New Job Opportunity If You Resign the Company
In any case, if the employee wants to resign your present company, he/she will need the company's reference while applying elsewhere. Remember that their new job will get references from the past works that they have done. So always make sure that they are always performing on their best so that they can be ready for evaluation at any time of the day. You can also see more on Performance Management Templates.
Free Employee Performance Evaluation Criteria Template
edu
Free Employee Evaluation Template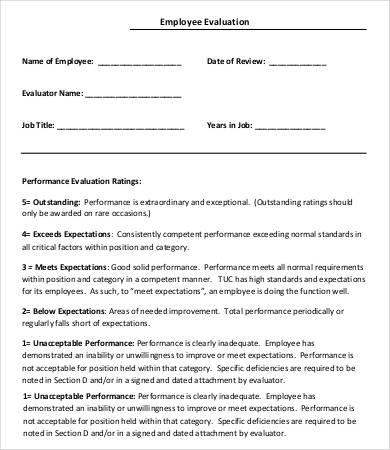 csun.edu
Ranking
The performance of the employees is ranked in different ways. It may either be through a ranking system to know specific levels on how a person has been doing as an employee for the company, getting references from events that have happened during hours of operations, or recommendations and suggestions. We also have more samples of performance evaluation printable forms for more references.
Free Employee Evaluation of Supervisor Template
suscc.edu
Do not waste time looking for employee evaluation standard templates when we have got the best ones all prepped up for you right here! Our formal templates are designed to cover all aspects of the evaluation so that you do not miss out on anything. They are thorough in their content and you are guaranteed to satisfy your needs!
More in Business