Log
7+ Decision Log Templates
Decision log template enables the corporate to log decision items with complete details and take action on the decision items. They help in tracking and monitoring decision items. They enable in documenting the decisions and making the employees of the organization accountable for taking actions for the decision items. To know more about these templates, one can search Google using "decision register template", "record of decisions template" or "decision log definition". The log template features are provided below for better understanding about them.
Business Decision Log Template
uillinois.edu
This decision log template excel free is created in excel format which helps in logging various decisions along with its details like description, impact, decision owner, priority, and status apart from giving details about completion date of decision item and the net result of the item. It also provides an option to filter decision log items which is helpful when reviewing it with the management.
Action Decision Log Template
devon.gov.uk
This is action and decision register template which provides details like description of the decision, owner, priority, reporting authority and status of the decision. It provides fourteen sample decisions which are taken during a network governance meeting. This template is created in word format and allows one to add new decisions and edit the existing one.
Key Decision Log Template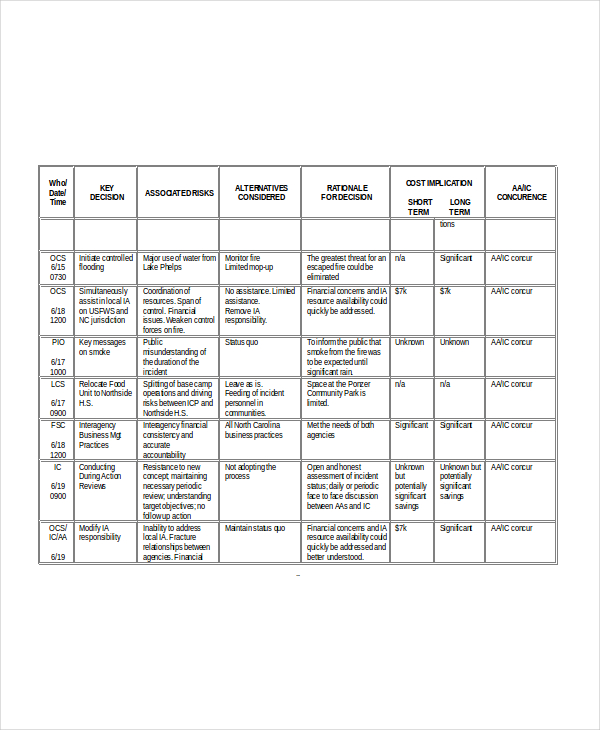 wildfirelessons.net
This is a key decision log template which helps in documenting decision-making. It comes with examples of various decision items and details like date of creation of decision item, risks factors, and cost implications. It also provides detailed descriptions with examples for each log item. It comes in word format and is completely editable.
Project Decision Log Template
sheltercluster.org
This project decision log template is created using excel format and it is completely editable. It provides the details like decision id, alternative action, date of decision, statement of the decision, and basis of the decision. It also gives the details of venue of meeting, status of the decision and final result.
Meeting Decision Log Template
pmibuffalo.org
This meeting decision log template created in Word document shows the details of the meeting date, role of the attendees and date as well as time. It provides action register and decision log for detailed log items. The minutes of the meeting are also recorded and the next meeting date is indicated.
SFRS Board Meeting – Decision Log Template
firescotland.gov.uk
Decision Log Sheet Template
leg.mt.gov
> Why do you Need Decision Log Template?
Decision log template helps in creating log items for various actions or decisions to be executed. They help to record action items and track them easily. They help in making people responsible for taking appropriate action for Mileage Log Templates and completing them in time. They also help in reviewing the decisions of the management.
They provide complete information about decision items including risk factors that are involved in executing them and expected implications. They help in executing action items as per priority set during the meetings. They are the most valuable tools for any organization to record and follow decisions with regards to processes and projects.
> Types of Decision Log Templates
There are varieties of decision log templates and they come with various designs which can be utilized according to one's needs. Some of the decision log types provide simple design like the decision item, the person responsible for monitoring the action and the status of the decision item. While some of the decision logs come with more complex details like the priority of the decision item, implications, basis for the item and the persons responsible. You may also see Best Reading Log Templates.
Some of the decision log templates include raw data which help in compiling the log items in the best manner. To know more about their varieties, one can search Google using "decision log confluence", "prince2 decision log template", "decision log police" or "project decision log definition".
> Tips for Using Decision Log Templates
Decision log templates are primarily useful for logging and taking follow-up actions for various decision items. Some of the tips in using these templates are –
One should capture all the fields that are provided in the decision log in order to make it comprehensive.
Whenever the decision log is updated, the log should be circulated to all the members of the team to make them aware of the happenings.
The decision log should be reviewed periodically with the management for follow-up actions.
Using excel format is more flexible since it enables updating the action items with ease.
By including impact of the decision, the management and the relevant members become aware of it.
The template should also include the person responsible for adding this decision in the log item.
Decision log template can be also considered as action log template since the items in the log are monitored continuously and actions are taken on these items. They help to make the project execution smooth and provide complete details about various decisions that are recorded by the employees. They help in taking swift action for various decision items.