Proposals can either make or break a company in its long-term sustainability. Although it is not the deciding factor if a company succeeds or fails, it has a big role to play in how the company conducts its operations moving forward. Numerous proposal samples for various reasons are created not only by people within the company but outside as well. External stakeholders also have a hand in how companies do business. You may also see construction project proposals.
663+ Restaurant Templates in PDF, Word, Excel, PSD, Google Docs, PowerPoint, InDesign, Apple Pages, Google Sheets, Publisher, Apple Numbers, Illustrator, Apple Keynote, Google Slides, HTML5 - START DOWNLOADING
Restaurant Management Proposal Template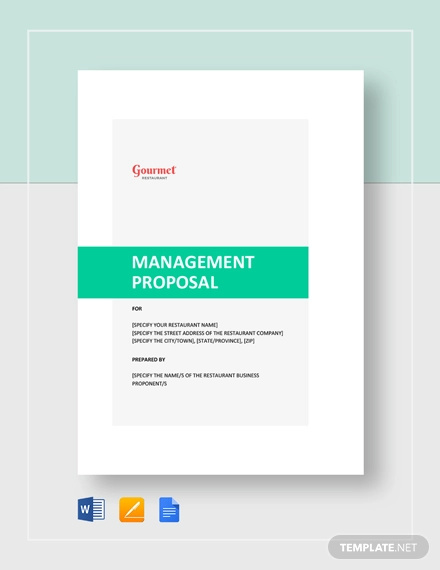 Proposal for Construction Project Management
Proposal for Fisheries Management Sample
Management Development Proposal
What is a Management Proposal?
Management proposals, or in other words, proposals created and given to management are key for companies to continually adapt in a constantly changing business environment. In this age where technology is no longer an option but a necessity for companies to use on a regular basis, management proposals should rely on technology in its decision-making process. Management proposals don't need to focus on technology as it can be an issue, concern, change or solution which needs to be addressed to the management.
Management Proposal Topics/Contents
Listed below are common issues, concerns, solutions or alternatives which create the need to formulate a management proposal. Basically, the items listed below are the main contents or topics which compose a management proposal. You may also see event proposal templates.
1. Management Problems
As they say, it all starts at the top. Although rarely is the management to blame for making bonehead decisions which affect the rest of the company, it still happens, to practically small companies and large enterprises around the world. Since management makes all the policies and disseminates the policies to supervisors, managers, and line workers, they are also to blame if the policies they create are not accepted positively by the employees, customers, or even both. This results in employee unrest and eventually bankruptcy for the company. You may also see training proposal templates.
Making management proposals directed at management themselves is risky in the first place. That is why the task of creating a proposal does not fall on the shoulder of one or two persons, but a majority of the company. The entire company excluding the management should come together and create a sound management proposal, in which a discussion or forum is held to discuss the proposal that was created. This way, all concerns are addressed and both parties get to know each other's comments and suggestions. You may also see corporate event proposal templates.
Sometimes, employees are too scared to voice out their opinions in which they feel that their job security is at risk. This should not be the case especially when abuse is seen in the entire workplace and employees are subject to very stressful working conditions. If they indeed get fired for voicing out their concerns, they can always complain and ask assistance from relevant government agencies which can aid them in exposing unethical management conduct. You may also see training business proposal samples.
Management Proposal Template
Management Proposal Guideline Example
Information Management Proposal
2. Salary or Benefit Issues
This issue is related to the first one in terms of management problems, but this focuses entirely on salaries and benefits received by the employees. Company policies and rules are not the only things which management controls and keeps a keen eye on, but they are also the ones who oversee which employee is receiving this amount and that amount in terms of salary and benefits.
Salary is always one of the main issues for both employees and management alike. Oftentimes, low salary is the number one reason why a company has a high turnover rate. In reality, companies with high turnover or attrition rates are never good companies to work for. But unfortunately, some employees choose to stay due to the lack of having the necessary skills to work in another industry or basically wanting to avoid going through the rigorous application and recruitment process all over again (in which most times, you still won't get hired even though you were the best candidate for the job). You may also see construction business proposal templates.
Raising salary or benefits issues via a management proposal is tricky. As previously mentioned, a management proposal centered on management issues should not be created by one person alone and needs the support of a majority of the employees for it to be done.
If only a handful of individuals are concerned with their salary and the rest seem fine with what they receive on a bi-monthly basis, then there is actually no need to create a management proposal. Any concern regarding salaries should then be discussed with the immediate supervisor or human resource manager since they are the ones who record and monitor the salaries of their immediate subordinates. Management will then have the final say if a raise or promotion will be given out.
3. Product or Service Development
It is not all doom and gloom when it comes to management proposals though. Management proposals can be also be created solely for product or service development. This can either be a development of an existing product or development of a new one which the company has not sold to the market yet.
Whatever the product which is being developed, it definitely benefits the company in the long haul. The most successful companies in the world, be it in the retail industry, food industry, tech industry, or agricultural industry, have all adapted to changes and developed products which have only not helped them gain a competitive advantage, but assisted them in their long-term sustainability and profitability. You may also see construction proposal samples.
Take for example tech giant Apple Inc. The multi-billion dollar company co-founded by Steve Jobs and Steve Wozniak did not only settle with the Macintosh computer in the 70's, but evolved into something greater in the early 2000's (with Jobs returning to the company after he was fired and Wozniak leaving to pursue other ventures) when the iPod and eventually the iPhone were introduced. This goes to show that you don't necessarily have to beat the game — you just need to stay within it and strike when the opportunity presents itself. You may also see project proposal examples.
Creating a management proposal for a product or service development is not that difficult. All you need to do is to conduct research which begins with giving out survey forms and doing interviews with respondents asking them for comments and suggestions on how you can improve your product or service.
Your research will depend on the data gathered from the survey questionnaires and interviews. Remember that the research will not be based solely on your respondents but also from your competitors as well. As what most companies are doing, they use their products and compare it with the products of their competitors. Tools, functions, and aesthetics not found in their own products but are present in their competitors will be up for serious consideration and should be discussed in the management proposal. You may also see IT project proposal templates.
4. Investment Opportunity
Investment can definitely open up numerous doors for companies. Investment assists in the company in getting more funds which result in product development and innovation. Investment also assists the company in acquiring long-term physical assets which will help them lower their costs in conducting their daily operations. You may also see HR proposal templates.
Investments come in different forms. It can either through banks or other financial institutions, through a business partner, or through investors who see the massive potential of the company.
That is why management proposals centered on investments are one of the easiest proposals to make as it provides funds for the company. It is a fact that both small and large companies need investment. Small companies need investment to stay afloat and grab the attention of a niche market, while large companies need investment to stay competitive and stay profitable. You may also see social media proposal templates.
5. Corporate Social Responsibility
Corporate social responsibility (CSR) is basically defined as giving back to the community and to the environment. Companies have a responsibility not only to their customers or clients but to numerous external stakeholders specifically communities and environmental groups. You may think that companies do not owe anything to the environment and to poverty-stricken communities; you are wrong. In the first place, each and every company uses resources coming from the environment (electricity, water, wood, plants, etc.). You may also see construction project proposal templates.
This oftentimes results in the degradation of the environment as the gathering of resources is abused and destroys the natural habitat of various organisms. On the other hand, not everyone is blessed with clean and safe living conditions, and the only way to help people living in these harsh circumstances is to give back. You may also see financial proposal templates.
There is definitely no need to shell out large amounts of company funds for CSR. Small and lively activities conducted by company employees like hosting feeding programs, conducting tree-planting and ocean clean-up activities, or donating medical, food and educational supplies can have a positive long-lasting effect on communities. This will also encourage and provide a more positive outlook for individuals living in these communities. You may also see plan proposal templates.
Enterprise Risk Management Proposal
Association Management Proposal Template
Conclusion
Creating a management proposal is not that difficult. All you need is cooperation from different stakeholders of the company (both internal and external) and do intensive research before you submit the proposal to management. You definitely do not want to submit a proposal that is based on rumors and hearsay between employees. As previously discussed, there are numerous topics which can be written for a management proposal and it all depends on what the situation you or your company is in.