Proposal Templates
18+ Financial Proposal Templates – Word, PDF, Apple Pages, Google Docs
Whether offering services and consultancy business or managing funding, you understand that budget templates keep any project moving. Often, the advisor or consultant helps business owners with their financing decisions. Use our financial proposal templates if you want to offer your new funding or advertising pitch. The sample features basic email content with a price, cost, technical finance information, and management system similar to a typical business sponsorship proposal.
From a tender offer to an official grant for a piece of new equipment, you can find templates on them in multi and one page proposal formats. Add your point of view or be objective by adding an economic outlook. The sample documents are so easy to edit that you can exude professionalism in just a few edits.
Simple Financial Proposal Template
Financial Consulting Proposal Template
Financial Investment Proposal Template
Financial Advisor Proposal Template
If you are seeking considerable capital infusion into your business through loans or sales of equity, then make good use of this above-mentioned sample proposal outline template in attracting individuals or entities in providing you the money for your project or expansion. Get a complete proposal highlighting the specific amount of money needed, how it will be used, revenue or returns from the venture, and any type of collateral or security that will be given.
Financial Funding Proposal Template
Free Financial Proposal Template
Project Proposal Financial Plan Template
Sample Financial Proposal Template
Obtain the funds needed to start your desired business by presenting an effective financial funding proposal to credible financial institutions. This proposal template has useful content with an editable outline you will not have a hard time working on. This template is professionally-designed and follows generally accepted funding proposal document standards required by most financial institutions. All you have to do is download the template, edit and customize it to suit your needs as you like. Loan proposal templates will be of great help in creating the perfect loan proposal needed for your organization or personal use.
Financial Budget Proposal Form

my.undp.org
A financial proposal in word is written to present some changes in the simple budget and the time needed for the changes to be made. It is a breakdown of the financial needs of the project. It also details the changes that have to be made and how these will be done. This is written by someone who knows the ins and outs of budgeting and finance.
Standard One Page Financial Proposal

eproc.punjab.gov.pk
Simple Technical Equipment Financial Services Proposal

un.cv
How to Write a Financial Proposal
Writing a financial proposal in PDF is not an easy thing to do. It needs a lot of concentration and transparency since it mainly tackles finances and budgets. It has to be given a lot of thought and should be written as carefully as possible. Funding proposal templates in PDF can be of great use to you. These are the steps to writing a financial proposal.
1. Write an Overview
First things first, you have to write an overview of the financial situation of the company. This will give the investors an idea of what is happening and will make them think of solutions in advance. If the issue has been recurring for quite some time, the financial history needs to be included in the overview. This is a good step in quickly determining what to do since the situation has happened many times before. The solution to these problems should lead to a list of smart goals that should be achieved.
2. Goals and Objectives
The problem has been determined in the overview. The next part is the list of goals or changes that your budget needs. Be realistic and specific in writing the goals. It also includes how you are going to achieve each of them. It may be cutting a fraction of the company's expenses and using it for more important purchases or paying up bank loans to remove liabilities. The goals should be achievable by any means and should be based on your overview. Anything that deviates from the overview becomes questionable. You may also see proposal templates in Excel.
3. List the Employees Involved
List down the people who are qualified to do the financial restructuring of your budget. These people should have wide experience in handling financial matters. For example, the accounting department is tasked to handle the job. The effectiveness and overall structure of the financial proposal are in their hands. The sample schedule of the financial proposal has to be made as well for the changes to be made in a shorter time than expected.
4. Budget
Write down the budgeting and pricing section of the proposal. This will discuss the fees to be paid to be able to make the changes. An expert may handle the budget, so it won't go overboard. There are many proposal templates in Word available that would be of great help to you in case you want to create word documents for your financial proposals.
5. Detailed Proposal
After all the previous steps mentioned above are done, it's time to create a detailed financial proposal. You can also check proposal templates in Apple Pages in case you are using an Apple device. Put in all the information investors have to read about your business.
These include:
a) Background
The company's background includes the name of its founders, how it was developed and the milestones it achieved, and how it got its reputation and went to its present state and position. It also covers how many employees the company has and its other branches, if there are any.
b) Management Team
The people managing the business come next to the background. Name the heads of each department and their responsibilities to the company. If possible, give the investors an organizational chart for more context on this part. Marketing proposal templates can be used to create the right kind of proposals for your marketing and management team.
c) Products and Services
You have to list down the products and services your company currently offers. The pricing and the customer it targets should be put in as well. Write about how your product can be used and applied in several ways. Sponsorship proposal examples can also be of great help to make your job easier in creating the perfect proposal for your sponsorship deals.
d) The Market
The market for your product includes its competition with other products, its target consumers of it, and its development and growth. It also includes your shares of the profit. Accounting proposal templates can be used to make the right budgets for your organization.
e) The Production and Supply Process
The production process covers several matters. First, it includes the number of employees and their wages, either on an hourly or monthly basis. Second, the facilities that you have been using to make the products. That includes the location, ownership, the size of the facility, the equipment, and the length and terms of its lease. Third, the costing and purchasing aspect and who controls it. Lastly is the supplier and how it is done. It also includes the annual average orders and by what means it is delivered.
f) The Financial Performance
How the product performs in the market is an important factor. Write down its performance in the market, such as its profits and losses, its percentage of sales, and the cash flow statement.
g) Appendices
The appendices are an additional tie-in to the proposal that supports all the parts. This includes a set of references and commendations, the product literature, a more detailed description of the building, facilities used, profit and loss cash flow projections, and the accountant's financial reports.
Business Management Financial Proposal Template

washinschoolsmapping.com
Creating Consultant Financial Proposal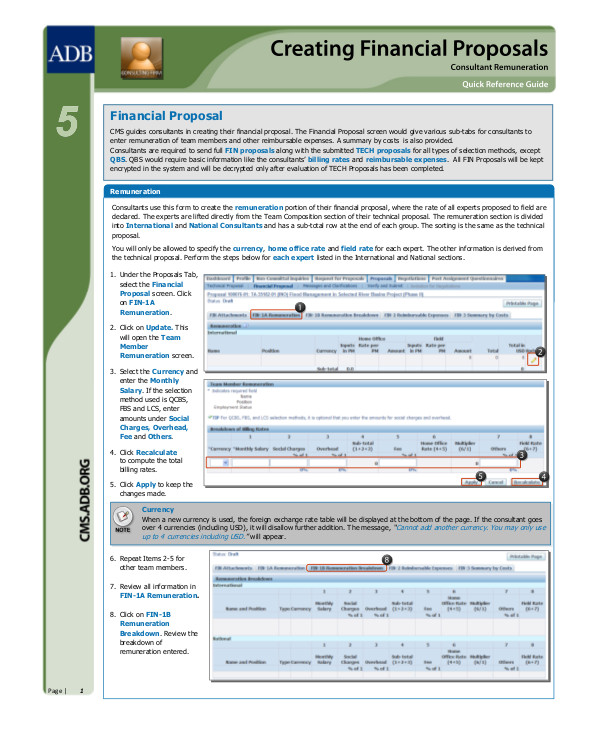 adb.org
Presenting Your Proposal:
The written proposal templates in Google Docs are only half of the actual work to be done. Presenting it is another story. It needs a strong buildup of confidence. These steps help present a proposal.
1) Be Prepared
Write everything you need to write about. Gather what you need to gather. Make the presentation as early as you can. Get enough sleep. In situations like this, gear yourself up for a meeting that could spell the fate of your proposal. Prepare yourself well enough to withstand whatever might happen. Proposal samples will help you create the right kind of proposal that you need.
2) Start Early
And by early, it means handing in the proposal a few months before the changes have to be made. It usually takes a long time before all the changes will be done by then. The time needed will carry out what you put in the proposal if it gets approved. You may also see IT proposal templates for more details.
3) Research Possible Investors
Look for possible investors in your proposal. It's good to conduct prior research about the investors before going to a meeting. Know their profiles and their track record. Do not limit yourself to one person. Gather a few people to scrutinize your proposal.
4) Set a Schedule for a Meeting
Everyone has to be available when you set the meeting schedule. Set a time that's convenient for everybody. Remember not to waste any of the investors' time and effort for that big day.
5) Summarize Your Proposal
In presenting the proposal, give the investors the gist of your proposal. Go straight to the point. Give less than five points in your proposal that will surely get their attention. Read up on your proposal to understand all the parts of it. Business proposal templates can be of great help to your organization while creating proposals related to business.
6) Answer Questions Confidently
It's natural for investors to ask questions regarding your proposal. Answer them with confidence. Study your proposal well and anticipate questions that might be asked at the meeting. This will convince your investors that you have prepared well enough and increases the chances of getting your proposal approved.
7) Explain the Usage of Resources
Tell the investors how you intend to use the resources they would give you. Every detail has to be connected. They need a concrete idea of where their money goes before jumping into your proposal. Simple proposal templates can be of great help in case you want to create a document form as a proposal.
8) Take Note of All the Comments
Investors give you comments on how you presented your basic proposal and what they have understood from it as well, so make sure that you make a note of what they are saying without fail. This can help you in improving your proposal and get their opinion about it. Do not take any of the comments personally. Be professional in dealing with criticism as it is part of the process. Learn to take everything in moderation. Ask about the areas where you need improvement.
9) Thank the Investors
Never forget to thank the investors for their time and input at the meeting. Take their suggestions wholeheartedly and deal with them with your best positive attitude. In business, you need to get a lot of opinions and last-minute changes before it moves forward. Just go with the flow.
10) Never Expect a Quick Answer
Investors need time to think about your proposal. Do not expect them to answer quickly. Getting a yes or a no in business is a hard-earned reward that you get for working hard. Everything takes time. Sample proposal templates in Google Docs can be of great help to you to make the right kind of proposal for your organization.
11) Accept the Result
Whatever the result of the meeting, accept it without holding any grudges. Just know that you worked hard enough to get their approval. If you get accepted, work hard in setting all your plans into motion. Also, take a look at cost simple proposal templates in Word. Have the drive to work on your plans until the very end, if needed.
Financial Consultancy Proposal Template
unfccc.int
Financial Advertising Proposal Submittal Letter
p3virginia.org
Request for Financial Grant Proposal
knysnagolfclub.com
Financing House Financial Proposal
repositorio.cepal.org
Financial Offer Form Request for Proposal
unhcr.org
Economic and Financial Analysis for SAP Proposal
greenclimate.fund
Conclusion
The proposal is just the first step in the making of a whole business. In the case of a financial proposal, it's the first step in changing some areas of the budget and how to make it work for the better. There are many proposal templates in PDF that can be of great help to you in creating a PDF format as a proposal if needed.
General FAQs
1. What Is a Financial Proposal?
A financial proposal is a report that details the future of a business's position in the market. It marks the needs and the funds of a firm. In an existing business, this could be a change to the budget that the firm already has, or it can be used for funding new projects.
2. How Should a Proposal be Written?
A proposal is best written in the following way:
Write the proposal letter so that it has all the details that the reader needs to understand
Avoid making any grammatical mistakes
Mention all the details
State the reason as to why you are writing the proposal
Keep the tone formal and polite
3. What Is the Use of a Financial Proposal?
A financial proposal is one of the best ways to keep a note of what was agreed upon while presenting your company to investors. It is not a promise or a commitment. If all accept it, the firm that offers the proposal must follow the terms and conditions without fail.
4. What Should be in a Financial Proposal?
The following must be included in a financial proposal:
All the financial information about your products and services
The details of the past five financial years at least
Tax pays
Any debts and loans
Income and expenses
The number of funds, investors, and other clients you have
5. Who Needs a Financial Proposal?
A financial proposal in Word is used by – business entrepreneurs, financial advisors, auditors, and the list goes on. It can also be used by investors, clients of big companies, financial employees, accountants, etc. They use this to keep a check on an entity's budgets, incomes, and expenditures.
More in Proposal Templates