Resume
9+ Draftsman Resume Templates
The world doesn't have many artists like you thought, and that is probably because drawing is one of the most complicated tasks known to humankind. However, if you have what it takes to be the best drafter, nothing should stop you from applying for a long-term career position in a company that is seeking the best planner. To get started in job-hunting, you first need to have a great resume, and a drafter Resume Templates can help you create the document faster.
Free Draftsman Resume Template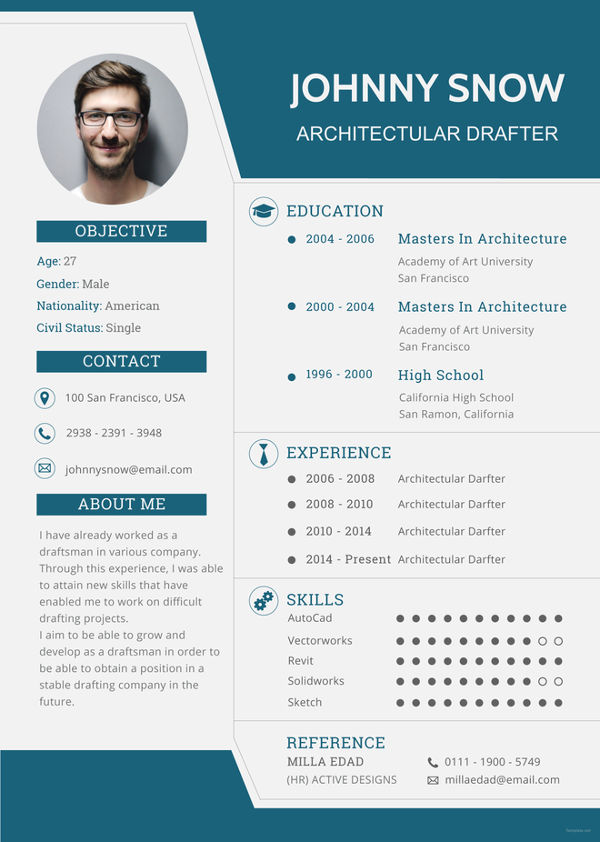 AutoCAD Draftsman Resume Template
Download
Draftsman Resume Cover Letter Template
Download
Civil Draftsman Resume
eitech.in
Are you a new civil engineer interested in looking for work? You can use this template to write the best resume and then use it as a job-hunting tool. Download the template for free. You may also see Construction Resume Template.
Draftsman Mechanical Resume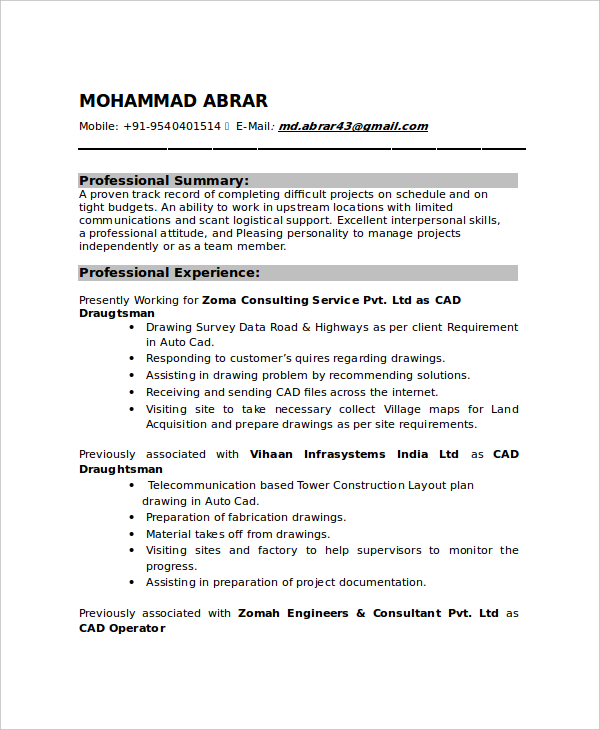 gulfjobseeker.com
Instead of creating this resume on your own, you should consider using a resume template. The resume template will help you write the best CV in the shortest time.
Cad Draftsman Resume
kdp.in
Computer Aided Design is a popular design approach in the modern world. If you are an expert looking for a job that involves CAD, you will find this simple resume template quite useful.
Architectural Draftsman Resume
careercenter.wustl.edu
With so many construction projects going on, the urgent need for architectural designers is absolute. If you qualify to work as an architect, you can use this sample template to write an attractive resume.
Structural Draftsman Resume
gulfjobseeker.com
Because this template is a complete resume model, it does not require much editing. Also, if you are looking for a suitable resume writing guide, you will find this simple template useful for sure.
Mep Draftsman Resume
forums.autodesk.com
Interior Design Draftsman Resume
monash.edu
> What to Include in a Draftsman Resume?
Of course, many details go in a resume layout. If the document has to win you an interview seat, then you must write it properly. In other words, you must zero in on what's necessary and forget about those details that won't capture the attention of a potential employer. The resume must have five parts: personal information, education background, work experience, career objectives, and the reference. You may also see Project Manager Resume Template.
Each part is important because it will help to make your basic resume look appealing. Some eBook authors agree that the reference part is not necessary, but it is important to include that anyway. There may be cases when a potential employer will need that part to confirm something.
> Draftsman Resumes Tips
Use a Simple Language
Anyone reading your CV should understand the content of the document. Don't use complicated terms, even if they have a relationship with the job that you aspire to do. It is important to understand that the person reading your resume isn't predictable in the terms of his/her education background, so making the document simple will help, a lot.
Write with Confidence
For some people, writing a resume can be quite complex because they are never sure whether they will win the interview seat. The problem with writing your CV with doubts is that you are likely to fail. The best thing to do therefore is to write your resume with a positive mindset. Instead of seeing the resume failing, think of the resume as a job-hunting tool meant to make job requisition easier. You may also see Retail Resume Template.
> Mistakes to Avoid in Draftsman Resumes
Avoid Grammatical Errors
Have you ever wondered why so many resumes outline are a cut below the expectations of potential employers? The reason is simple: many of these documents often have issues to do with grammar. A serious employer expects you to submit resumes that do not have grammatical errors, so you should do the best you can to make sure that your resume reads well – proofread it, word by word.
Resume templates have made the task of writing an engineer resume easier. All you need to do is download the template that suits you best as a design artist and then use it to prepare your resume.