It is a given fact that resume formats and trends change over time. Because of the changes in the employment sector both in the domestic and global landscape, the way individuals and companies treat resumes are also greatly affected in a positive way.
As a response to such change, you should know how to style up your business resume and give them a modern look. The resume profile must be updated so that your overall resume summary copes up with the developments of the modern era. In line with this, we have a variety of modern business resume templates that you may use and download to serve as your reference and inspiration.
Free Business Resume Template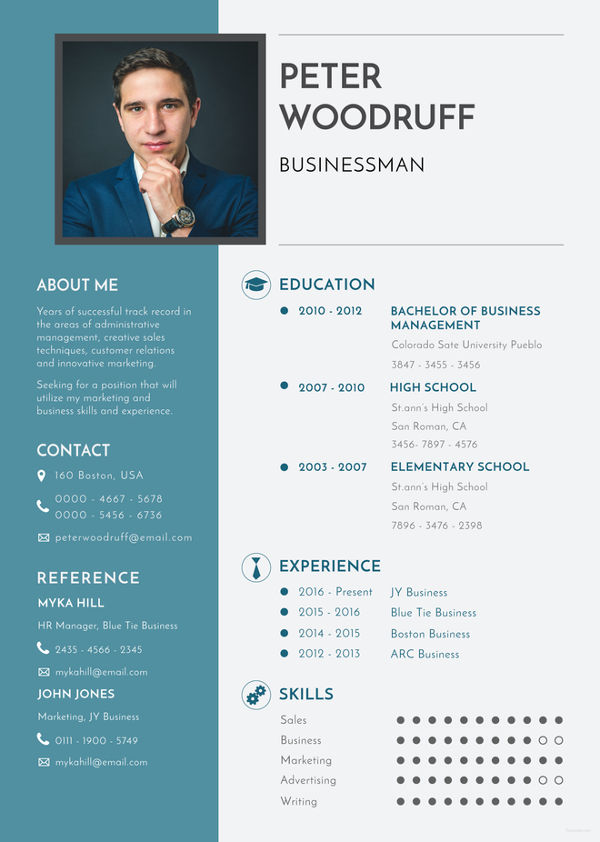 Professional Business Resumes
Sample Professional Business Resume
Professional Business Resume Example
Business Analyst Resumes
Senior Business Analyst Resume
1. Are Modern Resumes Better Than the Traditional Ones?
The answer is: not exactly.
As a general rule, modern resumes are not really regarded as having a superior feature than a traditional one. Take note that there are industries and professions that prefer the traditional format for convenience and familiarity purposes. However, adding modern elements to your business resume templates would not hurt. It all depends on the nature of the job you're applying for and the preferences of hiring managers.
Now, the ultimate question boils down to this, is there really a difference between a modern resume and a traditional one?
The answer to this question is in the affirmative. According to research, modern resumes are more visual compared to the traditional ones. More graphical elements are added in a modern-day business resume. Additionally, modern resumes are mostly a product of resume generator software or other online dynamics.
In the world of business, you should know when and how to use modern resumes. For business analyst resumes, business analyst resumes, for instance, you can either use a modern or traditional one. But, no one is stopping you from getting the best of both worlds. You may also see Simple Business Resume.
At the end of the day, the feature that makes a resume a modern one are the added graphical elements and visuals but still using the professional and classy format used in most traditional resumes.
Business Development Resumes
Business Development Executive Resume
Sales and Business Development Representative Resume
Business Administration Resumes
Professional Business Administration Resume
Business Administration Student Resume
Business Administration Resume Sample
Business Manager Resumes
Construction Project Manager Resume
Business Analyst Manager Resume
2. Types of Modern Business Resume Templates and Samples
Because of the rise of modern business transactions, there are also developments in terms of resume writing. Employers are becoming more keen in the selection of employees and workers. In line with this, you can refer to our set of business resume templates:
Business Analysts Resume Templates – For this field, businesspersons are expected to have both business management literacy and software or technical literacy. As business analysts, more work experiences are required from an applicant because of the technicalities of the job post. The templates will give you an idea on how the business analyst resume is patterned and how the content written. There are also business resume templates in Word that are accessible and full of resume ideas and techniques.
Business Development Resume Templates – If you're in the field of business development, there are a variety of job opportunities available for you. The employers expect you to deliver quality business development strategies, projects, and many more. Communicating your ideas to different people especially businesspersons should be easy for you. With that, your resume should effectively convey what you can offer to the development of the line of business you're employers are currently in.
Business Consultant Resume Templates – Most businesses avail the services of a business consultant who are tasked to give them updated advice, recommendations, and strategies to improve and develop the overall conduct of the business. A consultancy job post is open to those applicants who have the experience and technical expertise in a particular field of business. The resume templates provided showcase what are some of the points in a consultant resume that employers look forward to.
Business School Resume Templates – For those who are planning to enter the business academe, then the templates are ideal for you. Professors, business experts, and even business students can use the resume in entering specific academic works.
Business Consultant Resumes
IT Business Consultant Resume
Business Owner Resumes
Small Business Owner Resume
Construction Business Owner Resume
Business School Resumes
Business School Resume Example
Sample Business School Resume
3. Simplified Tips for Dealing With Modern Business Resumes
Nowadays, resumes are not limited to the paper-based ones. There is also infographic resumes, online portfolios, and even video resumes. Because of the availability of technology, the applicant can explore a variety of media in terms of outlining his or her work resumes templates . In line with this, here are some tips that you may consider in dealing with modern elements in a resume:
Take into account the nature of the job post you're applying. Resumes work best when they are well-planned and tailored-fit to suit a particular job post. If you're into business technology, you can expand the limits of your resume and add modern elements in it such as infographics and more.
Use social networks wisely. Bear in mind that your social network accounts can either make or break your application. Use them accordingly. Ensure that your accounts are professional, reliable, and credible. To add, it should be relevant to the job post you're currently applying.
Ensure to provide the complete package. If you've decided to use modern elements in your resume, commit to it. You should provide the complete modern aura. Otherwise, you can end up creating a cluttered resume which can be very unprofessional.
Entry-Level Business Resumes
Entry-Level Business Management Resume
Entry-Level Business Analyst Resume
Business Resume Cover Letters
International Business Cover Letter
Business Analyst Cover Letter
Professional Business Resume Cover Letter
Business Management Cover Letter
4. Do's and Don'ts for Modern Resumes
Even if modern resumes are mostly preferred by employers, there are also certain guidelines and limitations that you should consider such as the following:
Do keep the content relevant. Avoid being carried away with the visual elements of your resume. You should still give more emphasis on the content, language, and formatting dynamics of your resume. Proofread every single section of it to ensure that your resume is free from grammar and language issues.
Don't use informal email addresses or other social media accounts. If you decide to direct your employer's attention to your online accounts and portfolio, ensure that you use a professional username or account name. It's good to have a little of a sense of humor, however, your resume is your ticket in landing a sound career path. As much as possible use a simple business resumes, but at the same time engaging and interesting.
Do make use of keywords. Keywords are very useful in a resume. They can help you pass the screening process because some employers use machines to scan resumes especially when there is mass hiring.
Don't include personal references if not requested. Personal references are only given if requested by the employers.