Resume
5+ Paraeducator Resume Templates
Making a resume requires a lot of time and thinking. One has to decide what details to add and what to skip. If you are a paraeducator or are looking for a job as a teaching assistant and want to build a resume for it, then these paraeducator Resume Templates are what you need. These resume samples will solve all your queries on building a resume and will guide you step by step for doing so. These academic resume templates will be helpful for those seeking a job in various educational institutes. Various paraeducator resume templates are listed below. Check them out by clicking on the links given below their description.
Special Education Paraeducator Resume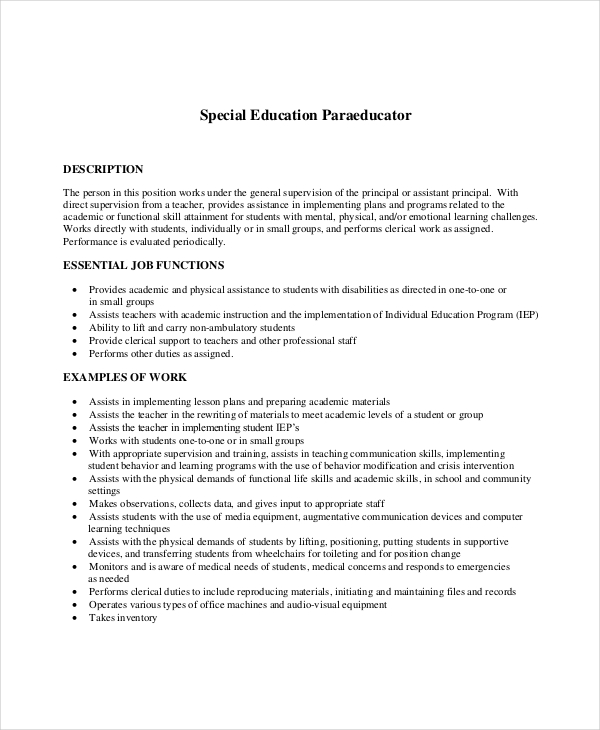 hcpss.org
This paraeducator resume template is highly beneficial if you are looking for a job as a para-educator to help kids suffering from mental, physical and/or emotional disabilities. This sample resume template describes various qualifications required for such types of jobs, which include descriptions of role you will be playing, your functions as a para-educator, examples of work expected from you, your previous work experience, skill set you need to possess and academic qualification required.
Paraeducator Resume Sample
instructionaltech.net
This resume template is used for creating a Software Engineer Resume Templates for an experienced para-educator or any person having previous teaching experience and wishes to apply for a job of a para-educator. It requires your contact details to be filled followed by your educational qualification (degree/ diploma along with the name of the university), previous work experience, knowledge of various software useful for the institute you are applying for, publications (if any), skill sets you possess and any other related work you have done in the past.
Paraprofessional Resume No Experience
uwm.edu
If you are a recent graduate or are someone who has no experience as a para-educator but have other previous work experience, then this paraeducator resume template will be extremely useful for you. To build your resume example using this template, you have to first write your contact details followed by your expectations from the post you are applying for along with your educational qualifications, experience in related fields in the past, other work experience, associations, certifications and any other activities you have previously done whose knowledge will assist you in the job.
Office Para educator Resume
scoe.net
This paraeducator resume template is the best fit for those job profiles where you assist the teacher in ways other than being directly involved in the education of students in various subjects. This involves your job description, your official head, various duties and responsibilities you will have and minimum qualifications required for the post. You can also see Software Engineer Resume Templates.
Special Edition Paraeducator Resume
applitrack.com
This is another paraeducator resume template made for positions of para-educators whose task will be related to the welfare of students with special needs i.e. those who suffer from mental, physical or emotional discomfort. The job description involves the title of the post, who the person will be reporting to, general summary of the job, minimum qualifications required by the applicants and duties and responsibilities the person will have if he/she gets the job.
1. What to Include in a Para-Educator Resume?
The most important thing in a Para-educator resume is your previous work experience. The more you write in that column, stronger your free resume will be and will increase your chances of getting the job you are applying for. Work experience in the field or any related fields should be mentioned first. Then the second most important thing is your educational qualification.
Another thing you should include is your skill set, things that make you a good candidate for the post you are applying for. You should also write about your expectations for the job and what you look to achieve if you are selected for the applied post. Past publications and knowledge of useful software can also help. You can also see Animator Resumes.
2. Para-Educator Resume Tips
If you follow these tips, you will be able to build a strong resume using the given resume templates.
Start your creative resume with the content most relevant to the job you are applying for. Start with the quality that makes you most suitable for the post. For example, writing about knowledge of software for special paraeducator's post will not be really helpful. Instead, you should start with your previous work experience.
Write your strong points first and then your weaker ones. For instance, if you haven't don't much higher education, mention your past work experience and your skill set before writing about your academic qualifications.
Write about different activities you have done in the past which will help you in the job you are applying for. Like voluntary work or community service or things like these.
3. Mistakes to avoid in Para-Educator Resume
People make many common mistakes in their para-educator resumes which affect their chances of getting the job. Avoid them at any cost-
Do not make your basic resume extremely lengthy. You may feel good about having many points to add but the recruiters won't appreciate the time that is costing them in carefully reading your unnecessarily long resume.
Do not write irrelevant points on your resume. Mention only the points required for the job and avoid the rest. Work experience or skills in fields other than para-education should be avoided.
Do not write generic statements in your skill set. This might hamper your chances by some bit.
Do not write your qualifications in a paragraph form. Use bullets wherever possible.
By using the given teacher resume templates and following the given instructions, you will be able to create a strong para-educator resume in no time. All the templates are very straightforward and you can use them with ease. These resume templates are taken from reliable sources so you don't have to second guess before using them.