Resume
25+ Professional IT Resume Templates
In the field of information technology, the more technically-skilled applicants get to acquire the job position they desire during the application process. Whether you are an entry-level applicant or a seasoned professional, you need to make sure that your technical skills, alongside your professional work experiences, are relevant to the job position that you are aspiring to be considered for in the IT industry. You may also see Resume Samples.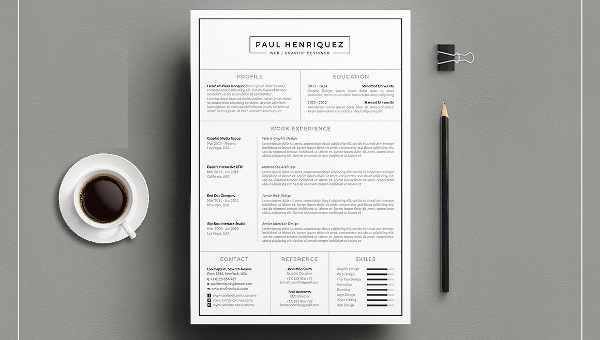 One thing that can help you stand out from your competitors is the usage of a well-curated and organized information technology resume sample. To help you create an impressive and attention-worthy resume, we have gathered downloadable samples of IT resume templates in this article to serve as your references.
Applications Programmer Resume Template
ASP.Net Programmer Resume Template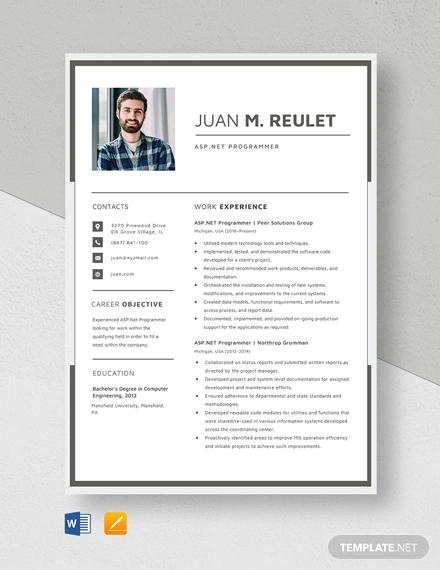 Assembler Programmer Resume Template
ASP Programmer Resume Template
IT Resume Template
Free IT Professional Resume Template
IT Administrator Resume Templates
Senior IT Administrator Resume
devbistro.com
IT Project Administrator Resume
curriculumvitae.careercoverletter.com
IT Business Analyst Resume Templates
IT Business System Analyst Resume
hireitpeople.com
IT Director Resume Templates
Senior IT Director Resume
jobspider.com
1. Entry Level Information Technology Resumes
The field of information technology hires new graduates and career shifters who can provide the work processes that are essential for the continuous operations of businesses where the benefits of information technology is applied.
Some of the work positions that you can apply at in the information technology industry if you are an entry-level applicant are as follows:
Entry level web designer
Entry level web developer
Information technology department assistant
IT administrative secretary
Rank-and-file IT specialist
A few tips that you may follow when creating resume examples as an entry-level IT applicant include the following:
You can use a functional resume type so you can highlight your skills needed in the IT industry. This can fill up your lack of professional experiences.
It will be best if you will read or browse through different resumes used by fresh graduates when applying in the industry. This will give you more idea on how you can make an IT resume that will allow you to stand out.
Know how to properly place and discuss your credentials in the IT resume format that you will make to create a bigger impact on your prospective employers.
Limit the length of the professional profile that you are curating. Gone were the days when long resumes format are equated to be informational. Since you are still new in the industry, you need to make sure that your listing is precise and accurate. No matter whether it is short in terms of content, what is important is that it can showcase everything that can help you get a callback for an interview.
Make sure that you will format your resume accordingly. The way that you organize the items present in your professional IT resume can actually affect how employers perceive you as a candidate.
IT Developer Resume Templates
Senior Software Developer Resume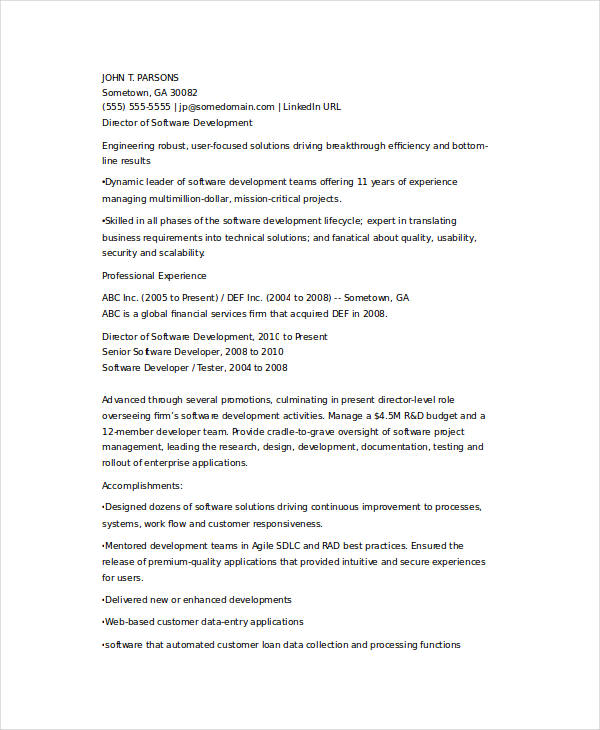 monster.com
Senior Web Developer Resume
myperfectresume.com
Freelance Software Developer Resume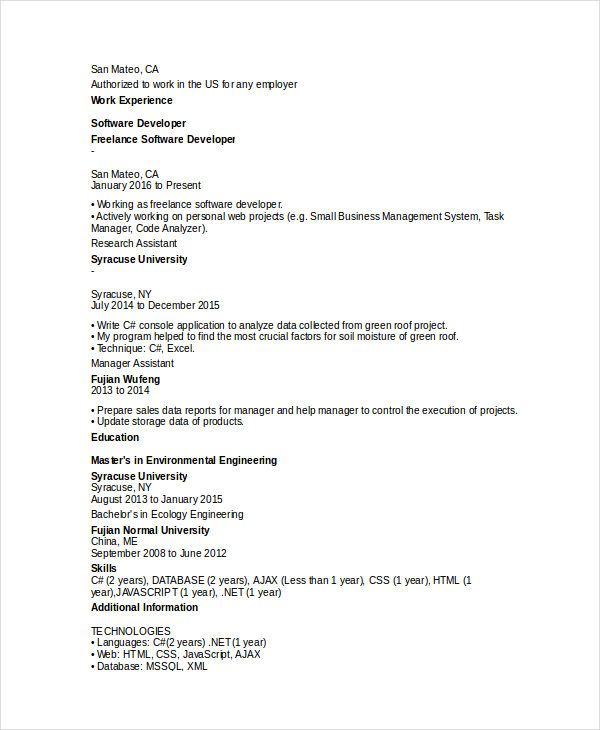 indeed.com
IT Executive Resume Templates
Senior IT Executive Resume
workbloom.com
IT Engineer Resume Templates
Junior System Engineer Resume
bestsampleresume.com
IT Manager Resume Templates
Senior IT Manager Resume
devbistro.com
Assistant IT Manager Resume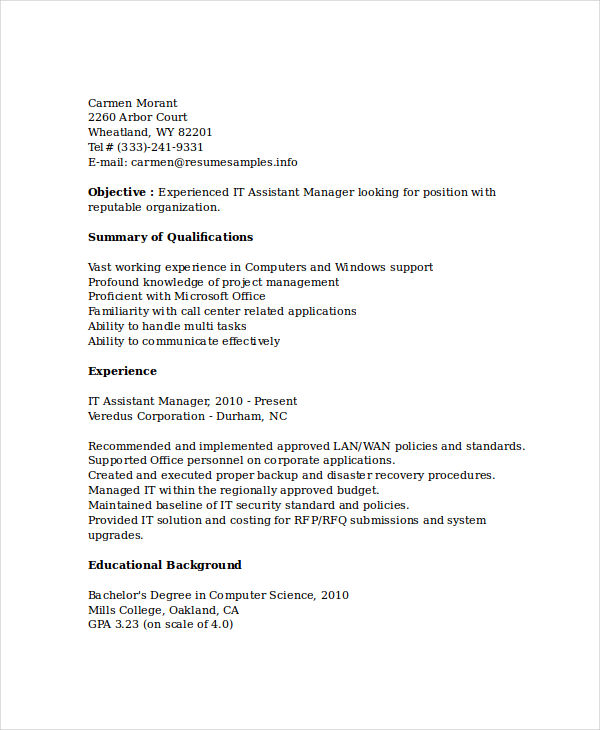 resumesamples.info
2. Kinds of Professional IT Resumes
Professional information technology resumes are curated depending on the job position that an individual would like to be hired for. Targeted resumes are commonly created as there are specific requirements and qualifications that should be met by applicants for them to be considered for a job post open for employment.
Some samples of professional IT resumes are as follows:
An information technology software trainer resume is created to assure that an individual can showcase his/her expertise in terms of developing software training curriculum to help employees be more knowledgeable of the things that they need to know in terms of particular software usage, maintenance, and development.
IT project manager resumes are specifically curated to let applicants identify the specific information technology projects that they have already handled and how their ability to do so can help in the processes and project undertakings of the company where they are applying.
Network systems manager resumes use IT resume templates to give highlight to the ability of a managerial candidate to handle and work with a team while ensuring that the company's computer network is well-utilized and maintained.
Software specialist resumes are the resumes that allow a software specialist to showcase his/her expertise in software testing and assessment. The resume of these applicants should be able to provide a detailed list of the methods, processes, and procedures that an individual can implement for software development and quality assurance reasons.
Client-server technician resumes are focused on providing information about an applicant's ability to diagnose technical problems and execute troubleshooting processes to solve a particular problem.
A software engineer resume is a professional profile used by candidates who would like to immerse themselves in the processes of a computer program and app development. These resumes should present the ability of applicants to create systems that can control networks.
IT Project Manager Resume Templates
Sample IT Project Manager Resume
indeed.com
Assistant IT Project Manager Resume
monster.com
IT Technical Project Manager Resume
bestsampleresume.com
Entry-Level IT Resume Templates
Sample Entry-Level IT Resume
monster.com
Sample IT Resume
www2.naz.edu
Professional IT Resume
hofstra.edu
Career IT Resume Template
careerservices.uni.edu
Manager Audit IT Resume
velvetjobs.com
IT Administrator Resume Template
odlc.utoronto.ca
3. Areas of Expertise in an IT Resume
Your professional IT resume should give information about the skills that you can bring to the table. This will let employers identify you as an added value to their operations if they will decide to hire you. Your areas of expertise will also help you to be categorized as a possible candidate for employment for a specific work post where your qualifications are highly usable.
Some of the areas of expertise that you can mention in even a simple IT resume are as follows:
Your knowledge of software testing and troubleshooting
Your ability to promote professional vendor relations
Your ability to provide assistance in project management and systems administration
Your expertise in strategic planning, information technology resource allocation and data back-up and recovery
Your ability to create strategies especially in terms of resource allocation and business continuity which are both essential in the processes within the field of information technology.
4. Guidelines for Creating an Information Technology Resume
Some of the tips, advice, and guidelines that you may follow in making an IT resume are listed below.
State the programming languages that you are aware of so you can give an idea that you are well aware of the possible functions that will be given to you should you be hired for the job position that you are targeting.
Your IT resumes should be able to showcase your performance in terms of executing projects. Since the field of information technology is highly technical and results driven, you need to make sure that you can reflect your expertise in the professional profile that you will create.
Use terms that are used in the field of information technology especially those that are related to the work post that you are applying for. Your areas of expertise should be fully highlighted in the resume format that you will apply in your professional profile.
These guidelines will be very helpful to assure that you can give light to your strengths so that more employers can see you as a potential employee.
More in Resume