Resume
10+ Technical Writer Resume Templates
There are lots of subspecialties in technical writing and that's why technical writer resume is here to help amateurs in getting the job for his desired profession; it consists of various technical resumes that have specific layouts for each task in this field. It is like content writer Resume Templates where it describes the credential and personal information of the applicant in a qualified manner and it also focuses on the technical skills and job experiences required for the open position. You may also see writer templates.
Technical Writer Fresher Resume Template
careerfaqs.com.au
An aspiring technical writer can use this technical writer fresher resume where it describes their roles in the technical writing they specialize in. It is organized in presenting the writer's details in a concise manner without neglecting the applicant's career highlights.
Technical Writer Experience Resume Template
dfwtechwriter.com
Senior writers that need a guide in making their resume can use this technical writer experience resume. It will show them the proper way of chronologically writing their credentials and past employers which can give confidence to the employer to hire them for the job. You may also see Free Resume Templates.
Technical Writer Business Analyst Resume
devbistro.com
Technical writers and business analysts are almost similar in terms of job descriptions and skills required to work in a certain business company. The said resume template has a given complete set of format that outlines the work-related experiences and technical skills of the two professions we talked about where it combines them in a well-defined structure for quick review of individual work performance.
Sample Technical Resume Template
advantageresumes.yolasite.com
Skills and educational backgrounds of amateur technical writers can be exemplified with the use of this sample technical resume template where it offers a fundamental layout for showing their qualification. It is a simple and easy to apply design template that can be used for any formal resume. You may also see Cashier Resume Template.
IT Technical Resume Template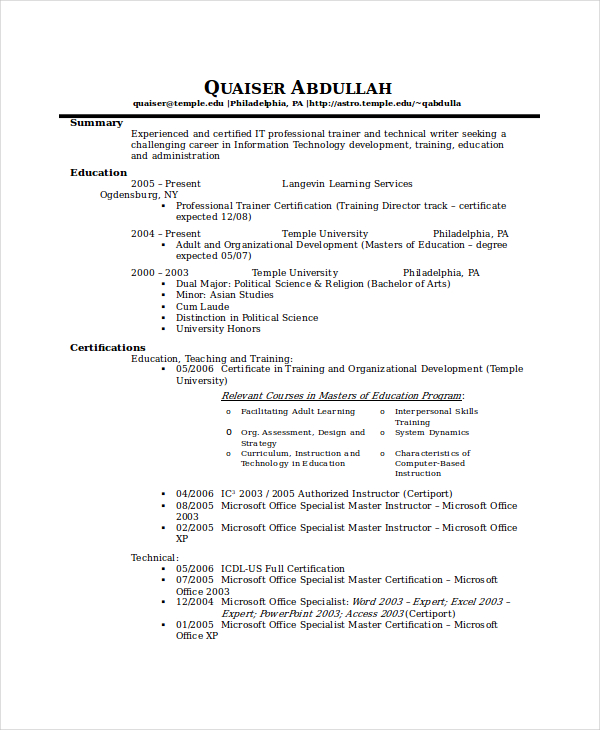 astro.temple.edu
Creating your resume skillfully will help you in getting the required attention of your employers. Information technology technical resume template helps writers that specialize in telecommunication and smart rationalization description and they can use this basic resume template to create a suitable resume to apply for jobs that require their skills.
Experienced Technical Writer Resume
jxconsulting.com
Senior Technical Resume Template
factor-ten.com
Translator and Technical Writer Resume Template
sslcdn.proz.com
Professional Technical Writer Resume Template
rgrainger.yolasite.com
Simple Technical Writer Resume Template
sxa-portfolio.com
What to Include in a Technical Writer's Resume?
These details should be included in a technical writer's resume to make it concise and appealing
Personal details and educational background, especially the contact information of the applicant should be included for a background check before the interview.
Technical specialties, vital training's and office equipment's manipulation that the applicant knows must be enumerated in the credential section.
Include your job achievements and well-known employers arranged in order to emphasize your proficiency in the field you are into.
Add referrals and their contact details so that the employer can verify the credentials you have written in your simple resume.
Technical Writer Resume Tips
These tips will make your resume be relevant to any technical writing job application
Select the technical writer resume that matches the specialty you want to apply; the template should be customizable for any additional details that must be installed.
Have all your specialties and credentials be outlined so the employer would know the diverse knowledge and skills you possess.
Always seek advice as provided by online websites to make your resume outstanding, the way you want it to be for a technical writer.
Never leave vague parts in your resume that needs to be clarified by the employer.
Mistakes to avoid in Technical Writer Resume
You must never have a lengthy narration of your credentials, be direct to your strengths and skills. Don't hesitate to put any reference person or employer that can make your resume look good as they can help you strengthen your claims written in your resume. Never let any part of your paper have a suspicious theme as this may give your employer the hesitation in accepting you in their company; also be mindful in all the previous projects you have completed, put the ones that lift up your name and not those that put you into shame. You may also see Executive Resume Template.
We are here to help
Technical writer resume is a delicate application paper that must be done with formality at template.net. You can download our best works for you to have the application paper you needed the most. You can also get journalist resume here so visit our site and start making your dreams come true.