Agenda Templates
8+ Homework Agenda Templates
One of most common punishments received at school is due to miss out on homework. A series of homework assignments from every subject might be too much for your little one to remember everyday. To ease the situation, you can take help of homework student agenda template which will categorize every homework under a planner and will also allot the time limit for each.
Homework Agenda Template for Elementary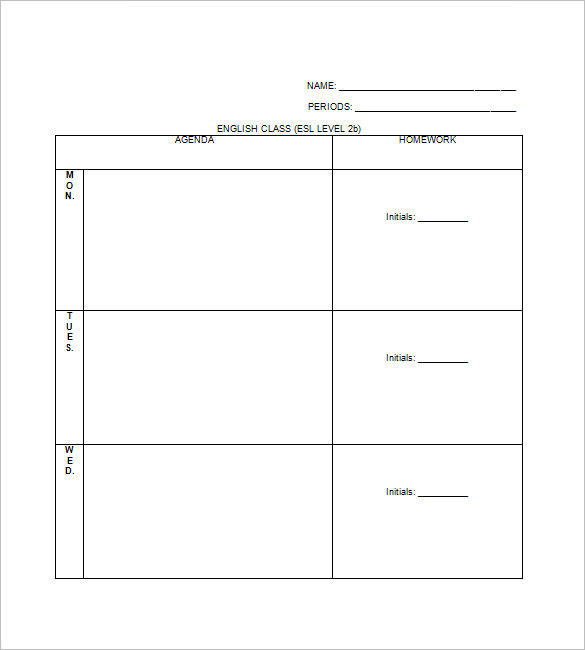 d2ct263enury6r.cloudfront.net | School is never easy to handle for kids. If you want to make sure that your kid doesn't suffer from the extra burden of school homework,then you should downloada homework agenda template for this purpose. This will lower the effort requirement and maximize the accuracy level of homework efforts.
File Agenda and Homework Policies

bataviacsd.org | If you want to do homework properly, then there should be aproper plan for it. Having a proper plan can make everything very easy and scheduled for student. Therefore, the use of homework agenda templatecan be the best idea because it will allow you to manage your homework properly.
Five Day Homework Planner

worksheetworks.com | If you have a lot of homework to handle and you only have a few days then you should develop afive day homework plan which will help you to plan your homework schedule properly. You can use suitable homework agenda template for this purpose which will be the perfect solution of all your needs.
Sample Home work Agenda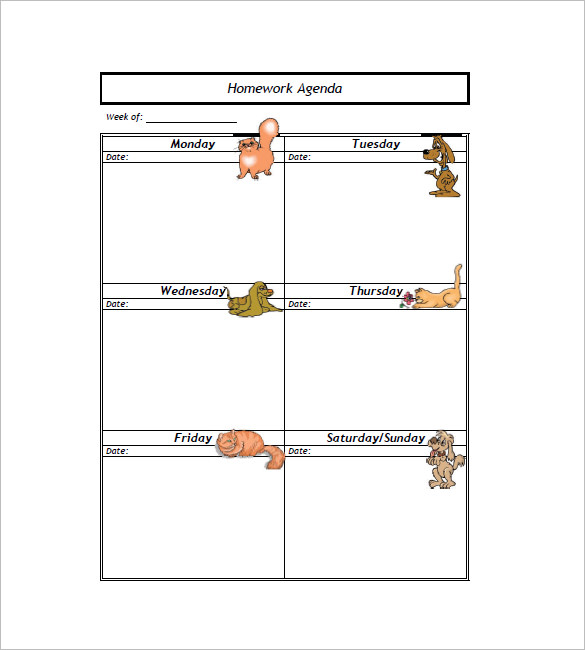 teachersprintables.net
Home Work Planner Free Download

mtlsd.org | Homework plan canoffer best result of the schedule development process. Schedule can allow you to gain speed in homework accomplishment and you can preferhomework agenda template to make this process even quicker and simpler.Use of template will reduce effort requirement and enhance efficiency.
Elementary Homework Assignment
Elementary Homework Agenda
Home Work Contracts Sample

putnam.noacsc.org
The agenda template will thus offer the child a complete preview of the tasks expected from him and that too in order of priorities. This ensures that the little one is all-updated about his tasks and there is no chance of missing out or punishments.
> Why do You Need Homework Agenda Template?
The management of homework is never uncomplicated. Homework is just a matter of one time that is why some students ignore the importance of planning and scheduling for this purpose. It is necessary to understand that students can speed up the process of homework with the help of proper homework agenda and planning. It is easy to develop proper homework agenda with the help of homework agenda template and you can download best and most suitable templates of homework agendafrom the internet. These templates will be suitable for all your needs and your homework will be completed with great speed.
> When do You Need Homework Agenda Template?
The basic requirement of homework agenda template is at the time when you need to do a lot of homework. When there are multiple task optionsin your work list then preferring the development of proper homework agenda or planningis really a very good idea. It will save your time and you don't need to put so much effort in your homework when you have planned your every single activity properly on the agenda. Template will help you to get accurate listing of tasks along with necessary details such as time and date so that you can be aware of the schedules of the work that you need to do. This will make your homework easy and fun to do.
> Benefits of Homework Agenda Template
There is a wide range of homework agenda templates available for you to browse. You can see all of them with one search and then, you can simply download the most suitable homework planning templatesfor free. You don't have to spend any money in this task and still the efficiency and accuracy level of homework will be at the top because all your homework will be done accurately due to proper management. There are so many benefits of homework planningand you can avail all advantages of this process if you develop your agenda properly. The use of best layout and functions can definitely be very helpful but it will require time and effort. So, the simplest thing to do is to use templates that are professionally developed for this purpose. You can choose any homework agenda templatein any format and style from the internet and it will service your requirement properly. If you have any DMCA issues on this post, please contact us!