Agenda Templates
7+ Retreat Agenda Templates
A retreat agenda is a primary thing that you would structure whenever you decide on a retreat program. The agenda offers the much-needed direction to be followed in the program to ensure that the desired core values and the retreat purpose are covered successfully. The agenda templates could be for 1 day, 2 days or for a couple of weeks, depending on the duration of your specific retreat program.
Staff Retreat Agenda Template
alternativebreaks.org
If you need ideas on how to chart a 2-day staff retreat program, this retreat agenda template here would be great. It has a ready made well-defined structure on a complete schedule of the program with a clear division of the sessions and breaks.
Board Retreat Agenda Template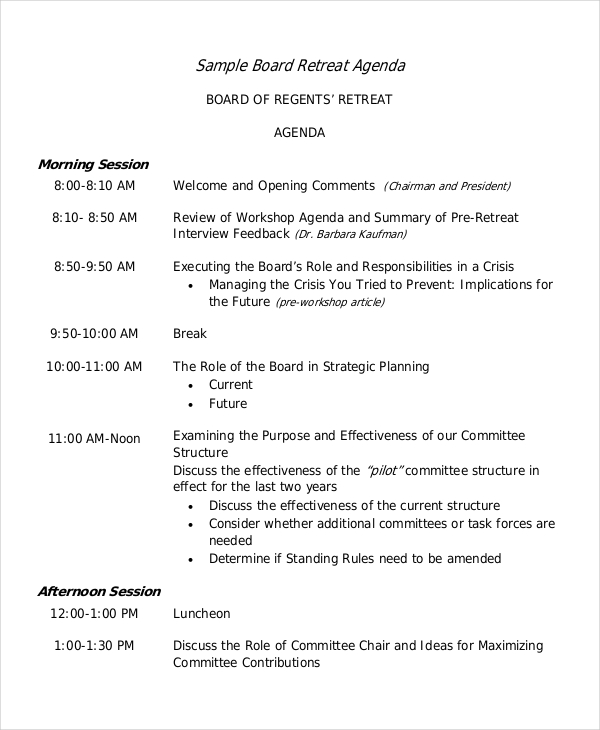 roiconsultinggroup.com
You have a complete board retreat agenda template here that offers a comprehensive schedule of a retreat program starting from the welcome comments in the morning to the closing comments.
Planning Retreat Agenda Template
nari-tampabay.org
You have an elaborate planning retreat agenda template here that starts with the mention of the core purpose and the core value of the program. It is followed by a long list of the agendas to take note of in the retreat.
Corporate Retreat Agenda Template
andrewob.com
This corporate retreat agenda template offers a detailed overview of the points to be kept in mind while planning a retreat. It has a guide-map on how to plan up a retreat agenda.
Business Retreat Agenda Template
eruuf.org
This extensive business retreat agenda template here offers a comprehensive schedule structure that lists the activities and topics to be covered as well as the names of the staff responsible for conducting each session.
Nursing Strategic Planning Retreat Agenda
ucirvinehealth.org
Strategic Planning Data Retreat Agenda
rps205.com
>

What is the Purpose of the Retreat Agenda Template?

The main purpose of a retreat agenda template is to serve as a gentle reminder of what are to be followed at the retreat program. The primary aim of a retreat program is relaxation, strengthening a solid team building attitude as well as brainstorming novel ideas. You can also see Meeting Agenda Templates.

You have to arrange the program in such a way that it covers all the 3 key points – and the retreat agenda here will enable you to assess beforehand whether your retreat plans would be able to cater accordingly or not. Another great purpose of such agenda template is to save you from all the hard work of creating an entire agenda from scratch as the templates come up with a ready-made and easily customizable agenda.
>

Who would Need a Retreat Agenda Template?

Retreat programs are quite common today for several types of organizations. A retreat agenda template would be much welcome for any corporate house while planning staff retreat or board retreat programs. The non-profit organizations too would need a retreat agenda template as they too organize such programs and sometimes, in an extended scale with many other non-profit leaders joining in.

Besides, there are different sub-groups such as women's organizations who also plan retreat programs (women-centric) and would love to receive help from a retreat agenda template. Finally, the retreat agenda templates would also cater to spiritual organizations as many such institutes today, say the yoga institutes, go for retreat programs.
>

What is the Benefit of a Retreat Agenda Template?

A retreat agenda template is fundamental when you are about to head to a retreat program with your staff. It offers you a roadmap of how your retreat program will start, continue and conclude. This way, you will have an organized view of the entire program which ensures that nothing discussed during the retreat-planning stage gets missed while preparing the retreat schedule. You can also see Planning Agenda Templates.

It's your agenda schedule that you would be following while you are in the retreat program. The retreat agenda will also help you to check the things to expect after each session. A retreat agenda template is always beneficial with its pre-designed and easily customizable structure.

A retreat agenda template shows the way when you need a clear picture of what needs to be done at your retreat program. These retreat meeting agenda template samples mentioned above show you how the agendas look and work so that you can prepare a standard agenda successfully for your retreat program.