Checklist Templates
10+ Reservation Checklist Templates
We are all aware that considerable planning is required to make an important event a success. Making reservations is the first step in that direction. Our reservation checklist templates can be of immense help to you, whether you are planning an event, a trip for students or leasing out the property to clients.
Table of Content
5 Steps to Create a Reservation Checklist
Step 1: List All Reservation Details
This section can be used to enter reservation details. Hence, leave space to enter relevant information such as the name, date and time of the event, and complete details of the person who has made the reservation which will include his/her name, contact number, email, and complete address.
Step 2: Specify Custodial Services
You might need to take certain services into your custody sometime before the event begins so that you can make specific arrangements. Make sure that you list all such services that will be provided because you will be charged for them, and you will have to return them soon after the event.
Step 3: Make a List of Equipment and Facilities
Make a list of the equipment and facilities that you will need so that you can get them checked and installed beforehand. Especially, if you are using an auditorium to hold your event, you will need equipment such as a projector, monitors, microphones podiums, speaker stands, and stage lighting.
Step 4: Specify the Estimated Number of Guests
Leave space to enter the approximate number of guests or visitors. This will help you make appropriate seating arrangements and take care of refreshments, tea, and snacks which will be served during breaks. Accordingly, you may decide to hire other catering services who will take care of your guests.
Step 5: Terms and Conditions
A reservation checklist usually mentions certain terms and conditions at the bottom which will include handing over of equipment and facilities in proper condition after use. You may have to pay extra charges for exceeding your time or damages that may be caused to equipment or property during the event.
10+ Reservation Checklist Templates
1. Table Reservation Checklist Template
If you are in the restaurant business, this standard table reservation checklist template in Word can help you easily track reservations, keep a record of meal preferences of calling customers and advanced orders thereby making the reservation experience a smooth and memorable one for customers. The template is fully editable and accessible right after download.
2. Reservation Checklist Example
skillsusafl.org
This reservation checklist sample template is the right choice for you if you are traveling abroad for a conference along with school students and need to book rooms for your group. You will need to finalize the number of students who are participating in the conference and get their documents ready before you can complete the procedure.
3. Basic Reservation List Checklist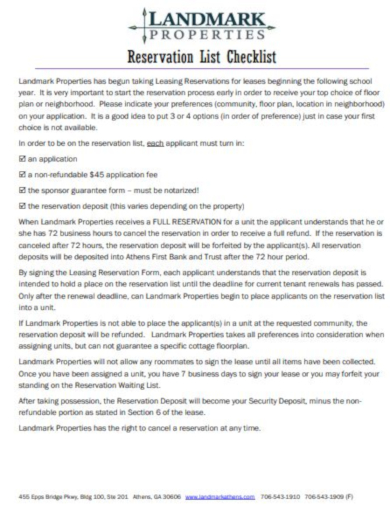 landmarkathens.com
This reservation list template is a perfect solution for those who are planning to lease property in the upcoming year. The checklist specifies the booking process and amount as well as the conditions for refund of booking amount in case of cancellation of bookings due to any reason.
4. Event Reservation Checklist Sample
events.utk.edu
Booking a venue for an upcoming event can be made stress-free and simple by using this event planing checklist template and reservation checklist that will help you sail through the reservation process with ease. You can use the online link to check whether the venue is available for that day and time and submit your application for reservation. You will get an approval within a few days.
5. Simple Room Reservation Checklist
occma.org
Are you looking for a room reservation checklist that will help you reserve a room to conduct meetings? If yes, you will find this checklist template sample very useful. It will help you reserve a room and make arrangements to set up a boardroom meeting with all the necessary furniture, equipment and accessories.
6. Sample Reservation Checklist
accessibletourism.org
This reservation checklist example can be used by travel agencies to make traveling services accessible for differently abled people. It will help you arrange for suitable seats, ramps, medical facilities, and assistance while boarding as well as storing and retrieving luggage during the journey.
7. Studio Rental Reservation Checklist
hbstudio.org
If you are in charge of a theatre group at school and need to reserve a studio for your group practice sessions, this studio reservation checklist is just the perfect way to get things rolling. It will help you get your time slot approved as well as keep the props and accessories in order after you finish your rehearsals and before the next group arrives.
8. Facility Reservation Checklist Sample
swainartscenter.com
Are you stressed out by the thought of handling an upcoming event? Relax and breathe easy as this ideal facility reservation checklist sample can make planning an event much simpler than you think. It will help you arrange basic facilities in addition to stage equipment including sound systems and lighting that will need to be arranged in the auditorium.
9. Editable Tent Reservation Checklist
carolanrental.com
Interested in going on a camping trip or arranging one? You will surely find this tent reservation checklist template in PDF useful while going about the process of booking tents and getting them delivered directly to the camping location. You will need to provide the delivery company with details such as the date, address, and location of the camp-site.
10. Reservation Checklist Format
robertcrown.org
Planning health education trips for students can be made more simple by using this reservation checklist template that will guide you through the entire process of arranging a health trip for your students which will include taking care of bookings, payments, accommodation, safety measures and emergencies that may arise during the trip.
11. Facilities Reservation Checklist Layout
iccwilm.org
Need a checklist to help you wrap up things after an event? This facility reservation checklist template example can be used by the supervisor in charge, to quickly get the facilities rooms in order after a hectic and tiring event. It will help straighten out things and make sure that you leave the facilities in the same condition they were before the event.
More in Checklist Templates