An advertising contract, sometimes referred to as a marketing contract, is a document that bears the simple agreement between two parties. The two parties involve: the provider of the service or products that need to be advertised; and the advertiser providing the space and time to market those goods to the public.
In the process of negotiating for  sample advertising services, a payment contract may be drafted so as to clarify the agreement made by both parties. With so many contracts and agreements to keep in mind, you might just need an advertising contract template to make matters easier for you. Scroll through our list, and take your pick.
82+ Advertising Templates in PDF, Word, Excel, PSD, Google Docs, WordPress, InDesign, Apple Pages, HTML5, Google Sheets, Publisher, Apple Numbers, Illustrator - START DOWNLOADING
Advertising Contract Template
Simple Online Advertising Contract Template
Simple Restaurant Advertising Contract Template
Digital Advertising Contract Template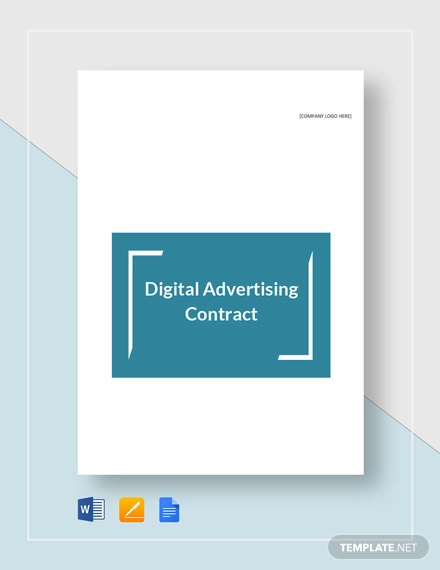 Advertising Space Contract
Display Advertising
Magazine Advertising Contract
Digital Advertising Contract
Sales Contract
Importance of an Advertising Contract
The business world is very complex. It's hard to keep track of those agreements and contracts being drafted and amended over and over again.
However, a contract is the most powerful document when it comes to negotiations. Luckily, we have sample contract templates at your disposal.
Advertising contracts are necessary for the following reasons:
Contracts are very important because it is a written document that defines the the demands, expectations responsibilities of both parties. You can take a look at some service contract templates for more details regarding this.
It guarantees security between both parties as well as generates some level of respect.
You can use contracts to ensure that both the rendering of services and the payment for those are properly executed.
It can also be used as evidence in case of payment disputes. Payment contract templates could also guide you in this.
It also emphasizes the completeness, legibility and credibility of the said agreement.
It also serves as a protector of a specific party's resource.
Example of Advertising Contract
Business Advertising
Internet Contract
Advertising Contract Sample
Elements of an Advertising Contract
Before making a business agreement it is important to know what a business contract looks like, what it includes, and the components that it must bear.
It is important to note that an advertising contract is different from, say, an investment contract. You have to know the specifics of each to be able to create an effective and usable one. There are several contract templates in DOC that you can compare.
With regard to an advertising contract, it must contain the following:
Information of the Provider – This includes the company name and director, address, fax, address, e-mail and VAT I.D and court registration.
List of Advertising Materials – It details what materials to use, whether they are digital or print.
Printing Materials/Data Online Advertising – Orders for such materials should be positioned ahead of time.
Terms and Conditions – This defines the agreement between the advertiser and the client with its general stipulations.
Liability and Warranty for the Advertising Tool – The advertiser must ensure and guarantee that the advertising reproduction meets the clients expectations.
Payment Deadlines – Payment dates and deadlines must be clearly stated.
Conclusions – The conclusion of an advertising contract must synthesize the over all desires of both parties with respect to each others accountability.
Advertising contract templates in PDF can be of great assistance to you should you be planning to make your own. Get ahead of the game and craft your advertising contract now!