There are those who may have missed work because of medical-related reasons. If that has ever happened to you, then you'll definitely need a doctor's note to give you a proper excuse for missing work. This article will teach you all that you need to know in regards to how you should go about in making one.
7 Steps for Making a Doctors Note
Step 1: Information on the Medical Company
The person going through the note will want to know what medical company or institution the doctor is from as this will be helpful for confirmation purposes. This means that the note must contain details such as the establishment's address and contact details. The company's logo design should also be on the note.
Step 2: Start With the Doctor's Information
The next thing that the note will need is information on the doctor who is responsible for its creation. This is the part of the note where you'll need to put in the doctor's complete name. Be sure to check the name's spelling as even one mistake could potentially invalidate the excuse note.
Step 3: Name of the Patient
It is here where the note will need the name of the employee who is either must be excused from work or is returning back to work. Again, be sure to put in the employee's complete name as this will be very important in the event that the company must confirm the patient under the doctor's care.
Step 4: The Date
Once that's done, the note must then contain the number of working days that the employee has either missed or will miss. There are instances wherein you will need to be specific in terms of when this may be. In that case, just be sure to provide the month, day, and year to avoid any questions regarding "when".
Step 5: Explain the Reason
The next part is simple. All you have to do is to point out the exact reason as to why the employee has to or will have to miss work. Every doctor's excuse note will need this and it is very important that you are able to specify the details.
Step 6: Share any Restrictions
In the event you're making an excuse note for an employee that's returning to work, then you must share any restrictions that the doctor has placed on him/her. This is to guarantee that the employee is not forced to do anything that may cause more injuries or render the treatment useless.
Step 7: The Doctor's Signature
The last thing that a doctor's note will need is the signature of the doctor that is responsible for its creation. Having the signature on the note will be used to confirm whether the document actually came from the doctor who has claimed to have made it, or if it is a fake that was made by the employee or another party.
5+ Doctors Note Templates
1. Return to Work Doctors Note
Download
In the event that an employee has been cleared to return to work, he/she will need proof of that. That's why this template is available in the event that such a note is needed. It should help point out the reason why the employee was not able to attend work and that he/she has been medically cleared to return.
2. Simple Doctor Note Template
Download
In the event that you want to create a simple doctor's note, then know that this template is available for you to use. Know that you can use different programs such as Microsoft Word, Apple Pages, or even Google Docs to open this template and make whatever changes you wish.
3. Doctors Note Template for Work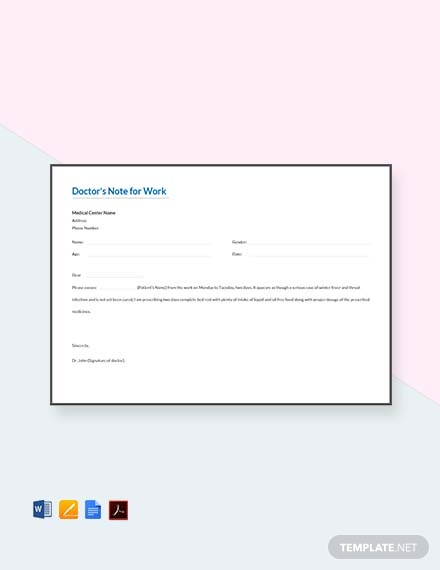 Download
There are some doctors who may not have enough time to come up with a doctors note on the spot. If you're a doctor that simply wishes to create one in the quickest and simplest manner possible, then you should definitely use this template. With it, you won't have any problems in providing notes whenever you need to.
4. Blank Doctor Note Template for Work
Download
If your medical establishment creates a good amount of sample doctors notes on a daily basis, then you'll want to have them ready whenever they're needed. Using this template will ensure that all the doctors within your establishment can create whatever notes they have to provide by simply filling up the document with the right information.
5. Sample Doctors Note Template
If you're a doctor and you're having trouble when it comes to coming up with a doctor's excuse note or letter, then this template will definitely be useful. With it, you'll know exactly how you should go about in sharing whatever information is needed by the employee in order for him/her to return to work.
6. Sample Doctor Note Template in Word
One of the easiest formats to make doctor note would be in Word. In the event that you wish to make use of a program such a Microsoft Word to make a note in that particular format, then you'll need this template. Using this template will help you make a note in Word and one that contains all of the right information.