You were a child once upon a time. A teenager, not too long ago. Surely you know that there are certain times in the life of a person that can be very tough, with peer pressure and the constant need to prove yourself. And even if you are not young, you aren't immune to years and times in your life that are the hardest to cope with. Even when you have family and friends as your support system. Even when you have people around you always telling you how much you are loved. Even then, you would still have skeletons in your closets and monsters under your bed, and getting rid of them just doesn't seem easy. Especially when you don't want to acknowledge them. You may also see doctor note templates.
Treatment Doctor's Note for School
Treatment Sick Note
Evaluation Patient Note
Progress Note Checklist
Progress Note Individual Sample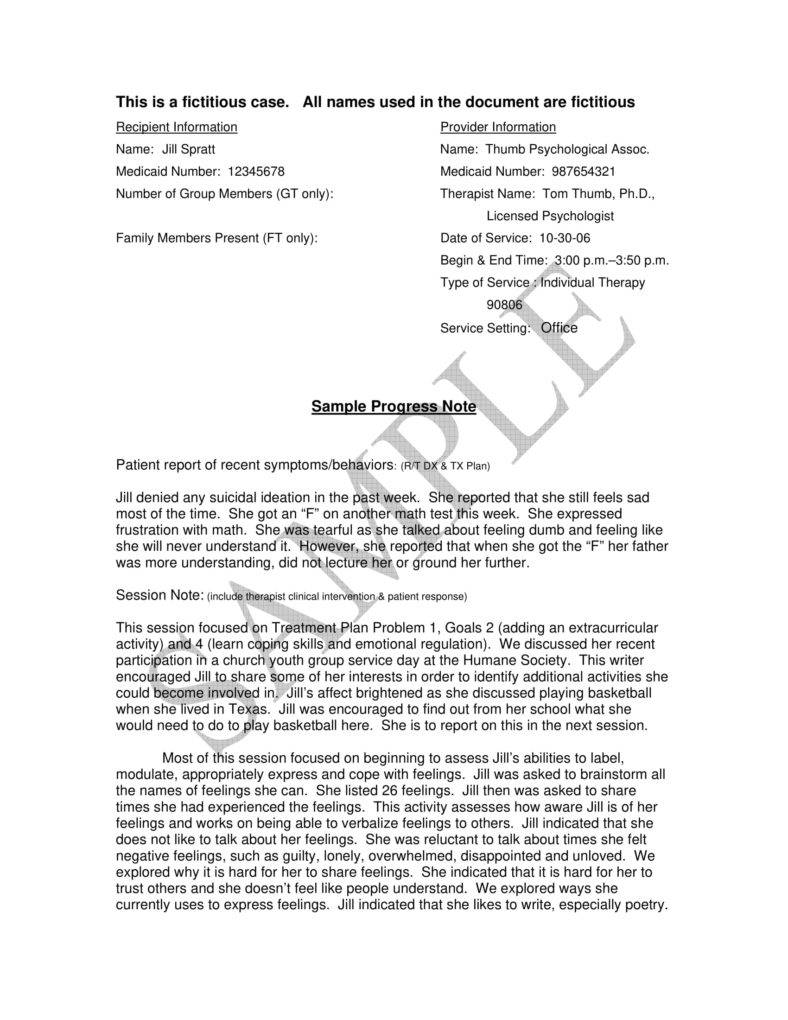 Importance of Treatment and Therapy
1. Treatment Helps
Sometimes it is best to get help from those who have spent years studying matters of the emotions and matters of the mind. In fact, there is a skyrocketing demand for therapy these days. What with all types of anxiety disorders becoming more and more common that it is also part of a social issue we cannot just brush aside. What with society never helping by demanding too much conformity on people, especially among young adults and their peers. You may also see meeting notes.
What with the system lacking open discussions over mental health to educate people better that it is not normal, would never be normal and should never be considered normal.  Even people who seemingly live perfect lives sometimes need professional help too. And help, the professional kind, would not hurt. Therapists have some programs and treatment designed for each unique problem. Depending on what you or someone you know is going through, there's never a problem or a personal issue too big or too complicated to understand and come to terms with. You may also see delivery notes.
2. Getting Treated is a Commitment
This is so you will also know what certain programs will be tailored to fit your needs in your future treatment sessions. Go with a practice that will encourage you to open up about the options they provide you. Check if the hours set or the length of the session will be good enough for you. Ask for suggestions. Do not be afraid to negotiate some terms you find to be not suitable. It is vital that you understand what this demands from you. You have to be willing to attend the session and be there when you need to be there. Otherwise, you will be wasting a lot of money. You do not want that to happen. If anything, that will only add to your problems, instead of helping you out of it. You may also see free note templates.
You may just be in a deeper and more difficult state when worse comes to worse. So be careful who you work with, and be committed. A good counselor can help you identify negative thought that had been lurking there and can help you make sense out of it. The facility you choose to have your treatment or therapy sessions in, should also be able to gauge the root of all the things that make you feel so low about yourself. Whether it comes from a deeper or a simple place, depression is still depression. The more you succumb and give way to it, the more it consumes a person to the point of hopelessness. You may also see case notes.
3. Misconceptions
Do not be fooled by the common misconceptions that surrounds therapy and getting the appropriate treatment, especially for the state of your mental well-being. Talking to a shrink, is not at all that bad. In fact, it might just be the best choice you will have ever made for yourself. With professional treatment, you will ideally have weekly sessions, depending on your availability. This depends on how often you might need them. Each session will typically last for about thirty minutes to an hour. It is important that you know what you are getting into so you can ask for a copy of the program designed for you, in the form of notes the clinic has kept on record. As a patient, you have a right to request for it, to also see future recommendations as well as findings from your sessions, which would bring us to the difference that good record keeping in the form of treatment notes can do. You may also see application notes.
Good Documentation, Less Worries
The healthcare profession is a broad one. But what all healthcare professionals in any area of the healthcare industry probably agree on, is the risk management discussions that has been going on around as a management cliche for years: Records or it didn't happen. It's hardly arguable though. If there is no written document, then you didn't do it, since you cannot prove otherwise. If the client or someone close to him or her decides to take legal action, your case notes will be required in court as part of the evidence. Poor record keeping, or lack thereof, for a client's treatment sessions can be vital to a lawsuit. It could well be the deciding factor. You may also see promissory notes.
1. The Basics of Treatment Documentation
As a medical professional, it is your call in each session to include several points in note-keeping.
1. Purpose:
You should be able to define the reasons which lead the patient to treatment and counseling.
2. Flexibility:
The treatment style and your treatment program should be tailored fit to the character of each client or patient and to the relationship intended.
3. Respect:
A professional should always view the client as someone unique and not like any client he has ever had before, complex, with a different set of values, behavior and beliefs. Do not ever let your personal biases affect your judgement of a client. That would be very unprofessional. You may also see advice note templates.
4. Communication:
Establish an open, two-way communication with the client using spoken language, nonverbal actions, gestures and body language. Effective counselors listen more than they speak. They know how to listen and they know how to listen well. They also know when to just let the client express and give way to his thoughts during the sessions why he or she observes and take notes of his observations for any changes.
5. Support:
The end goal should be a client more confident and sure of himself. He may not have found every answer to his problems, but a good treatment will let him walk away with a better and healthy understanding of what is happening to him and his life and what steps he can take to face it. The counselor should show support with actions to encourage the client and make him feel he has received the treatment he hoped for. You may also see credit notes.
Your records should correspond with what was included in the sessions you had with the client. Failure to write about the business assessment you made or the lack of explanation for the type of treatment you performed wouldn't save you when the client takes you to court. It would be your word against theirs, and your word wouldn't hold much weight without records. Once again, as far as the judge is concerned, nothing that's not on record ever happened. Keeping tabs of the client's progress, as well as his initial evaluation would be detrimental in a lawsuit. You have to include how the treatment was received, how it affected him at all. You also have to indicate your answers to any questions or concerns the patient raised. Most therapists keep copies of tape recordings of sessions. Make sure that these recordings are also transcribed into the client's documentation with your corresponding notes and observations of the sessions. You may also see demand notes.
Additional Guide to Proper Documentation
To ensure an organized and accurate record-keeping, several experts recommend that counselors, doctors, and other members of the healthcare profession remember to keep these things documented:
1. Initial observations at the start of each session. This is to ensure that you know the patient's responses to the type of treatment you have designed for him or her. Keeping tabs of the patient's responses allows you to monitor and compare it to his or her responses during the last sessions. Restate the goal setting of the treatment again, the patient's current behavior, mood, and actions and assessment of body language. Monitoring facts like these will help your targets and the deciding of an action plan for the following sessions or appointment. You may also see promissory note templates
2. Subject matter of each visit/appointment. Make an simple outline of what each session with the client includes. With the data gained from past visits, identify the key points of treatment and discussion. Anticipate and take  down notes on possible questions that would be directed so that you can keep the focus of the treatment focused on the patient and hep him or her take it one step at a time, improving with every stage. Although to be fair, you never really know what a client would do and whether he or she would always be in a cooperative mood. hence drafting an outline makes the sessions more organized and on track, thereby increasing chances of positive results. You may also see cornell notes.
3. Open communication. In most cases, a doctor would be able to encourage a patient's cooperation if the treatment approach is explained openly from the very beginning. By having this terms and discussions recorded, you will have a better reference to the business plan that both of you have agreed upon. The patient's progress, issues with the treatment or any difficulty and misgivings he or she might have, will also be properly documented. This way, the person would be more comfortable to share and also open up about their expectations for the treatment proposed. You may also see medical notes.
4. Results. Take note of every response your patient have to the treatment he or she is being given. In fact, take note of his reactions to what you do or say during each visit. Record the tone of voice, the type of reaction, mood changes and what subject he or she refuses to acknowledge, as well as the body language. This is especially necessary with patients who have tendencies for self-inflicted harm or being vindictive to others, including those who are currently on a state of devaluation. Always pay attention. You may also see sales notes.
Sample Counseling Progress Notes
Sample Progress Notes
Sample Treatment Provider Letter
This is also why people need to choose the professionals that can discuss these things for them carefully. A good doctor in any area of the medical profession, will be able to point out, and explain things that a patient might find hard to understand. Just remember that this is not the fast track to making all your physical and mental health problems go away like magic. It has its advantages, but no amount of therapy or treatment will ever help a person, if at the back of his mind, he isn't committed to helping himself too. You may also see concept notes.