When going into business, it might be necessary for you to make use of different document tools in order to make your work easier. For example, you might want to use proposal templates in Doc format to give yourself an easily reusable tool for making any business proposals you might need to make, such as catering proposals. But in order to be certain that you are making the most of the catering templates you use, it would help to know about some of the steps you would need to take.
Restaurant Catering Proposal Template
Catering Services Proposal Sample
wiki.auckland.ac
Event Catering Proposal Template
thymeandagain.ca
In the case of catering proposal templates, there are certain steps involved in making them that can ensure that these documents are made correctly. It would be prudent to know about these steps so that you can make sure that you have all the knowledge you would need to ensure that your own proposals are as well-made as possible. These steps can also be used when using other, like catering contract templates, as those kinds of documents can overlap.
Catering Bid Proposal Template
purchasing.ri.gov
Standard Event Catering Proposal Template
liberty.edu
Annual Catering Services Bid Template
fortlauderdale.gov
How to write a catering proposal
While there is no denying that tools like sample proposal templates can be invaluable, it is also important that you have an understanding of how to make your own proposals yourself. With that in mind, you do need to be aware of some of the steps to making a catering proposal. In any case, some of the steps you would need to take include:
First, prepare a cover letter
The first part of your proposal should be the cover letter. Here is where you can state your intention to request catering services in the first place. The cover letter should include the nature of the event you have planned, as well as the date and venue. You should also include space for how many guests an event will have so as to let others know how many people to prepare for. This part of a catering proposal template you would likely have to do yourself since this is most dependent on the particular host and event.
Next, include your menu selections along with their prices
The next step in making a catering proposal is including what selections your clients can choose from. This includes what foods and beverages you can offer, as well as how much each one costs. Some simple proposal templates for catering include meal sets if you have them, which can make the task of placing orders easier for your clients. It is vital to include the menu selections precisely because your clients can use this information to help decide what they want from you for their particular event.
Catering Truck Service Proposal Template
sandiegocounty.gov
Catering Proposal Template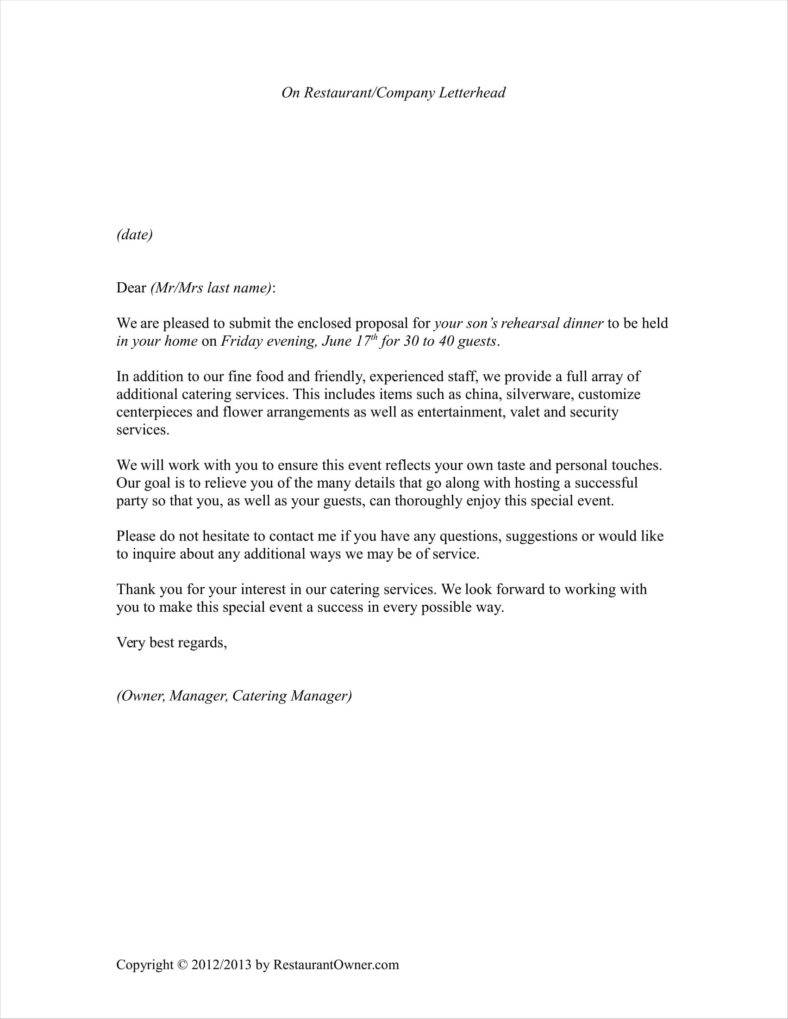 mymission.lamission.edu
Blank Catering Proposal Form
liberty.edu
Blank Sample Request for Catering Proposals Template
universityevents.uchicago.edu
Sample Catering Proposal Request Form
cscc.edu
Be sure to include incidental prices not counted as part of food and beverages
Caterers can also provide more than just food items for events. You would also need to include these additional services in your catering proposal so that clients can have the complete idea of what you can offer. This includes such things as labor, linens, silverware, and so on. In order to make sure that your clients understand what this section is for, it would help to explain what these prices are meant for. This section can be dependent on knowing how many guests you can expect at any given event as this can help you prepare by letting you estimate how many people you would need to accommodate.
Have space at the end for a final tally of all the charges
At the end of any printable event proposal template, you do need to have space where you can tally all the different costs together. This can make it possible for you to show your clients how the costs for their particular event adds up, making it easier to show them how much everything costs. This can also go some way to making sure that your tally stays accurate since both parties can see the tally themselves.
Also, dedicate one page to explain your company's policies regarding contract terms
Some catering business proposal template examples also take the time to include space for the company's policies regarding the terms of a particular agreement. This can be used to let your clients know about some important details regarding making requests for catering. Some policies you may want to include might be cancellation policies, payment information, the minimum number of guests, and so on.
You should have an easier time of making and using any document if you have a clearer idea of what steps to take. After all, this is exactly the kind of information you can use to make certain that your arrangements with other parties can be carried out as smoothly as possible. This can ensure that you make each section of a catering service proposal understandable to your clients.