Resume
9+ Sample Student Resumes
Writing a resume for a student can be difficult. Due to the lack of work experience in their field, it becomes difficult to make a resume that would impress the recruiters. If you are a student or a recent graduate and are facing such a problem then you can benefit from the below-listed sample student resumes. These are useful resume samples which can assist you greatly in the making your own student resumes with ease.
High School Student Resume Template
aie.org
If you are a high school student and are looking to create a resume for yourself and need help for it then you can make use of this sample student resume. You may also see Resume Objectives.
Sample Engineering Student Resume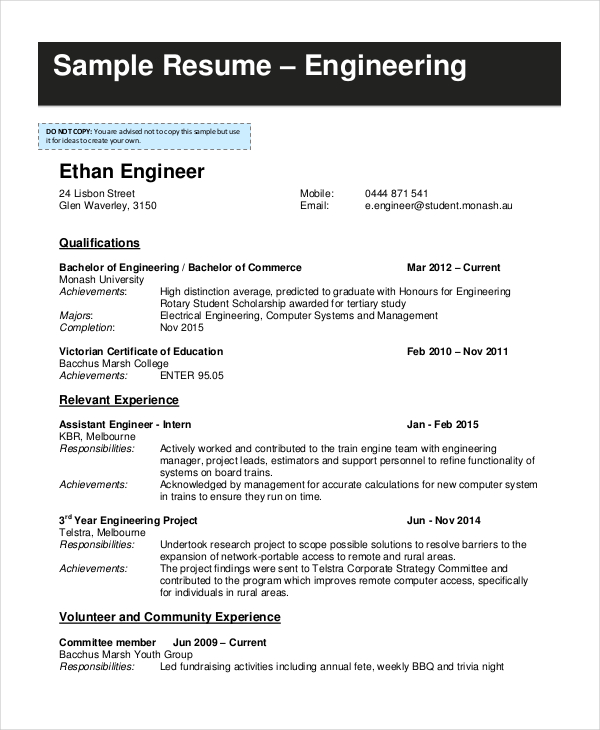 monash.edu
If you are an engineering student or a fresh engineering graduate and are looking to make a resume for yourself then this sample student resume can be of great help to you. You can also see Academic Resume Templates.
On-Campus Student Employment Resumes
uwgb.edu
If you wish to apply for a position on your campus to simultaneously work while you are studying there, you can make use of this sample student resume.
1. Who can use the Sample Student Resumes?
The Sample student resumes can be used by those who are still studying in schools and colleges and are looking for jobs. Students who have just graduated can also use the resumes. A high school student resume sample can be used by a student who is still studying in high school. An engineering student resume sample can be used by those who have majored specifically in different fields of engineering. Similarly, computer science resume sample can be used by only those who are having a degree or pursuing one in the field of computer science.
Undergraduate Student Resume Example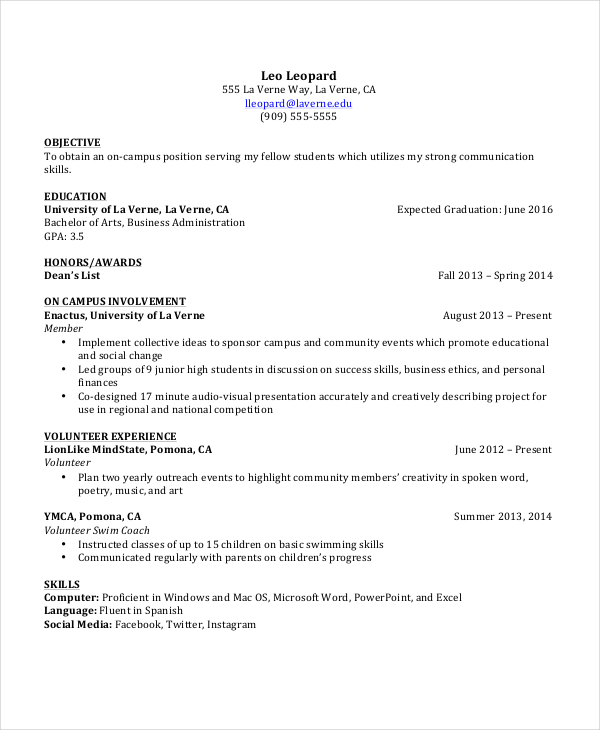 sites.laverne.edu
This is a sample student resume which contains various kinds of samples for students having different types of undergraduate degrees in various fields. You have 6 different resume samples here to choose from.
Sample Computer Science Student Resume
careerhub.uow.edu.au
If you are a computer science student or a fresh graduate in the field of computer science then you can benefit by using this computer science student resume to make your own resume.
Medicine Student Resume
hubash.edu
Sample Nursing Student Resume
baylor.edu
Transfer Student Sample Resume
gwlawcareers.org
International Student Sample Resume
du1ux2871uqvu.cloudfront.net
Sample First-Year Student Resume
auburn.edu
2. How to use the Sample Student Resumes?
A sample student resume should be used as a reference for making your own resume. You should first select a sample resume that best suits you. This decision you should make based on the field for which the sample resume is being made for. Then you should go through the sample resume a few times. This will help you understand how to make your own resume. By reading the sample resume examples you will understand what format you should follow and what content you should include in your own student resume. You will also get an idea of how to present your skills in your student resume.
A college resume template can also help you in making a resume if you are still in college. Resume objectives can assist you in writing objectives in your resumes while applying for various posts. If you have recently graduated then you can also benefit by using resume templates for a fresher.