Cover Templates
21+ Illustration Book Cover Designs & Templates – PSD, AI
If we're talking about literature, how do you think you'd be able to direct people's attention to a particular book without even saying anything? Or how can people be attracted to a book simply through perception? The answer to that is through the book's cover page, which is the very first part of the book that they can lay their eyes on.
Try to compare a book's cover with a movie poster, it works almost the same way since both are meant to attract audiences. For people who have not yet seen the trailer of a movie, the poster of the movie will be enough to let people know who stars in the movie, the people who have directed and produced it, the possible genre or what it might be about, and much more.
With books, the cover page is what provides people with an initial idea as to what the book might be about. In other words, it serves to set the tone for the rest of the pages, and if a prospect likes what they see on the cover page, then they will most likely be interested in reading the book. Which is why it is very important to give prospects with a good impression of your book by making its cover page appealing.
Below are some professional book cover page templates that we have gathered for you, and all of these templates contain illustrations on the design. You may want to check them out and see if you can make good use of any of them.
It is said that we should not judge a book by its cover but we also can not deny the saying that goes "the first impression is the last impression". And if you have written a book, you would want to leave your readers a lasting impression by looking at the book cover. So, check out these book cover templates for your book. They can easily be edited and customized in Adobe illustrator.
These Book Cover Templates in Adobe Illustrator will be of great help if you are looking for that perfect book cover for your book. Check out these Book Cover Templates and grab the attention of your readers.
Fantasy Book Cover Template
Recipe Book Cover Template
Fiction Book Cover Template
Fashion Book Cover Template
Novel Book Cover Template
Vintage Book Cover Template
Creative Book Cover Template
Finance Book Cover Template
Colorful Brain Illustration Book Cover Template
Check out this beautiful book cover template which shows an illustration of a human brain. As you can see from the image above, only half of the illustration is colored, which puts emphasis on that hemisphere of the brain. For some interesting facts about the brain's right hemisphere, it is responsible for controlling the left side of the body, as well as make creative and imaginative thoughts.
Cartoon Illustration Book Cover Template
Ornate Illustration Book Cover Template
Benefits Gained from Reading Books
Ever since we started going to school, both our parents and teachers would constantly encourage us to read books since we can gain a lot of knowledge and wisdom out of that. As we start to grow older, some of us may probably continue to enjoy reading and even make it as a pastime, though others would also start to lose interest in it because of technology. You may also see love book cover templates.
But you know what? Books are still as relevant in today's generation as it was back then, and to really motivate people to start or keep reading, there are even electronic books—or e-books—that serve as an alternative to traditional printed books. But what really are the benefits that we can gain from reading? You may also see wattpad book cover templates.
1. Books can help stimulate our brains to keep it functioning at its best. Just like any other muscle in the body that is able to work properly if we exercise them regularly, the brain works the same way. The only difference is that, exercising our brains don't involve lifting weights or doing cardio, we do it through reading books and other mind stimulating exercises. You may also see thriller book cover templates.
Realistic Illustrations Hardbook Cover Template
Illustrations Children's Book Cover Template
Illustration Book Cover Template
2. Here is another thing that's different between brain stimulation and physical exercises. While the latter usually involves getting your muscles in some level of stress, reading books has an opposite effect. Reading novels and books can help relieve stress and can be a perfect pastime after a long, stressful day. Speaking of novels, we have a collection of novel cover templates here for you.
3. And of course, books are a very good source of knowledge and other relevant information that we can use as we go on with life, and we're not even talking about textbooks that we used back then in school. A single book is capable of storing various information that can teach us a thing or two. Cookbooks teach us how to cook certain dishes, fashion books teach us how to mix and match pieces of clothing, inspirational books teach us how to deal with stress, and many more. Also, we have a collection of cookbook covers that you may want to check out.
Kid's Book Cover Template
Above is another good example of a book cover design intended for young audiences. On this design are illustrations of Doraemon, a character from a Japanese manga created by Fujiko F. Fujio. To those who are not familiar with this manga character, Doraemon is a robotic cat from the future who travels back in time to serve as an aid for a young boy named Nobita Nobi.. You may also see free social media book cover templates.
Comics Illustration Book Cover Template
Elegant Illustration Book Cover Template
Simple Illustration Book Cover Template
Line Illustrations Love Book Cover Template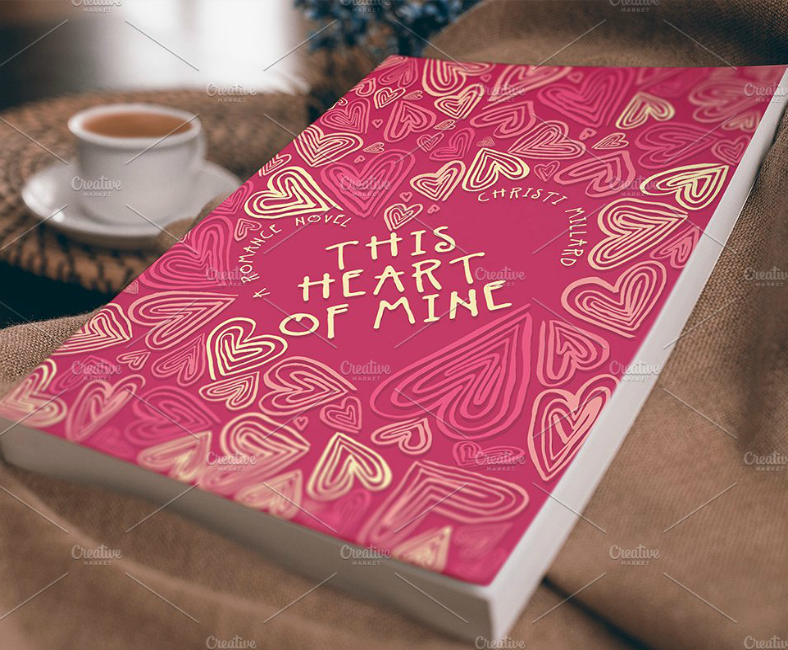 Guidelines for Aspiring Book Writers
Writing a book is definitely no walk in the park. Some people find it harder to start writing a book than to keep up with the momentum, while some also find it harder to continue writing than to initiate it, with the latter usually resulting from writer's block. It takes a lot of brain power to write a book that is able to captivate its readers from the first page to the last. If you're an aspiring writer and you want to start writing a book, here are some guidelines that you may want to consider in order to make your book worth reading. You may also see free non-fiction book cover template.
1. First and foremost, decide on what the book is all about, and it has to be something that's interesting, of course. This may sound like a simple thing to do, but it's not, and to help you out, you can list down a few guide questions with regards to the content of your book. To give you a head start, you may want to include questions such as "what is the plot?", "who are the characters?", "where does the story take place?", "what are the conflicts encountered?", and "how is the conflict resolved?". You may also see free children book cover template.
2. Set a total word count for your book, and you can then split the total word count according to the number of days that it will take you to finish the book. Of course, you will also need to set a deadline for your book to enable you to predetermine your daily word count. To help you out, check online for some standards with regards to the word count range for specific kinds of books. You may also see vintage book cover designs.
3. Don't wait until you have finished writing your book to ask for feedback from people, you should do this while still in the process of writing. This way, it allows you to only make minor adjustments as opposed to making a lot of them if changes need to be made in the early parts of the book. You may want to divide it into chapters, wherein after you reach a certain chapter, you would ask a friend, a family member, or an editor to read that finished chapter and give you some insights and suggestions. You may also see free graduation photo book cover template.
Abstract Illustration Book Cover Template
Abstract Illustrated Diagram Book Cover Template
Elegant Illustration Book Cover Design
Tips to Make Your Book Cover Stand Out
As mentioned earlier, the cover of the book is what gives people their first impression on what the story might be about, the theme of the book, or at least an idea as to what the book might be about. Because of this, it is very important for a book to create a good impression, the saying "good impressions last" can also be applied to books. That said, how are you able to make your book cover stand out to make them easily noticeable? We have some tips below to help you out. You may also see birthday photo book cover template.
1. A striking book cover design doesn't need to have a lot of words, just an image that is able to capture people's attentions, some covers even use minimalist designs but are still able to get the attention they need from people. One way to do this is to pick out a certain something or someone from the story that conveys clearly the idea of the book, or you can also pick out a particular scene that you want to visualize on the cover page.
2. On the other hand, if you really want to put emphasis on your text on your book's cover, then you may want to do it properly. Your font style should always fit appropriately to the theme of your book, but to keep it safe, you may want to use either a serif or sans serif font. The title of the book and the name of the author should be the largest and most emphasized texts on the design. Though optional, you may also add a tagline and a review phrase, but be sure to make it small so as not to overshadow the title and the author's name.
3. You can't write a book if you haven't even read one, writers are also readers at the same time, and it is through this that drove them to start writing their own stuff. As a reader yourself, you should know how to put yourself in other people's shoes, and you should ask yourself "what is it with this cover page that tempts me to pick up this book?". As much as you want to incorporate all your ideas on your book cover, you should also take into consideration the interests of other people. You may also see free floral photo book cover template.
More in Cover Templates