Design Templates
25+ Book Cover Templates – Free Sample, Example Format Download
It is a well-known fact that most people judge books by their cover. If the cover photo and design is impressive, many will be enticed to flip the pages of the book to know more about the book and its contents. So, it goes without saying that the Book cover Design Template can very well help in selling a book. you may also see bookcover templates.
Fantasy Book Cover Template
Recipe Book Cover Template
Fiction Book Cover Template
Fashion Book Cover Template
Novel Book Cover Template
Vintage Book Cover Template
Creative Book Cover Template
Finance Book Cover Template
Vintage Book Cover Template
Free Download
eBook Cover Mockup Design
Realistic eBook Cover Mockup Design
The Lighthouse Keeper

The dark colored template features a face of an old man and in the backdrop there is a lighthouse and a clock.
Abstract Colorful Triangle Pattern

It is an ideal book cover for romantic novels and stories.
Antique Vintage Paper Background

The blue colored cover design can have a vibrant appeal with book title placed right at the top. The design is quite suitable for non-fictional books such as motivational books.
Tranquil Moments

It is a simple book cover template that has a picture of a large duck. The title of the book is quite evident at the top and the name of the author can be printed below the picture.
bookcoverkitty.com
The Sun Shines on a New Day

As the name goes; the template is most suitable for books on recipes of desserts and bread preparations.
bookcoverkitty.com
Breads & Desserts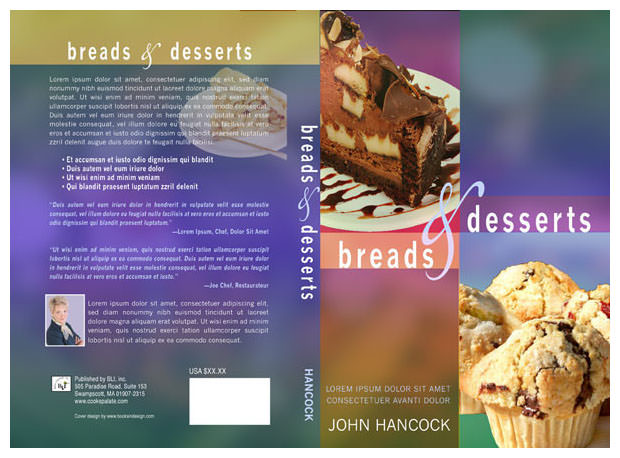 Want to show-off your cooking skills to the world through a cookbook? If yes then this cookbook template can exactly meet your requirement.
bookcoverkitty.com
General Cookbook

It is wonderful design with lots of white space and colorful triangles.
bookcoverkitty.com
Abstract Bright Blue Cover Design

You can use any of the templates that are listed here for your book. Most of the template includes a PSD file which can be edited to add your details. All you need to do is replace the book title and author name provided in the template. The modified template can then be printed and used as a cover for your book.
There are plenty of book cover templates available online. Here is a list of 12+ best book cover design templates that you can refer to for designing your next book