Want to create a business plan to start your small business to grow and succeed? Are you a startup businessman trying to make a name and a statement in the world of business? It's time for you to rise and get yourself ready for what's coming. Try our Ready-Made Blank Business Plan Templates so you may get yourself ready as you set your future goals and vision for your company. They are all 100% customizable, easily editable, and printable. A4 and US sizes are available for you to print. Download our blank business plan premium templates now and begin your journey in the world of business to succeed!
What Is A Blank Business Plan
A business plan is your mission and vision for your company to reach its peak of succession. It is everything you want and plans your company to be in the next five to ten years. A businessman's vision is for their company to succeed and prosper sales and productivity-wise. It applies in any layout of professions given in the world of business. It can be a medical pharmacy, a fitness gym, a coffee shop, a bakery, a food truck business, or even a spa and salon. You want to have a good company plan for your company to prosper and profit. Make that your main agenda.
How To Create A Blank Business Plan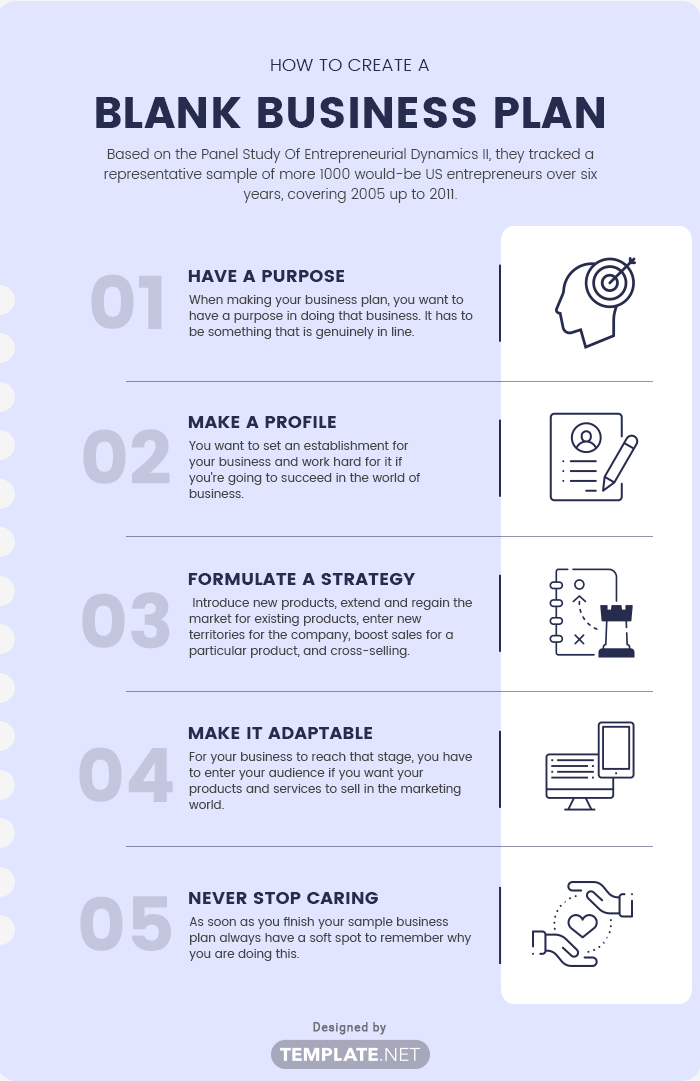 Based on the Panel Study Of Entrepreneurial Dynamics II, they tracked a representative sample of more 1000 would-be US entrepreneurs over six years, covering 2005 up to 2011. Entrepreneurs grow more in number as they establish their business and spread all across for the world to notice. After knowing this, we hope to get your hopes up even more as we give you these essential tips on making your modern business plan a reality.
1. Have A Purpose
When making your business plan, you want to have a purpose in doing that business. It has to be something that is genuinely in line with what you vision your business to be. If you plan on making a fitness business plan, then the goal and purpose should be related to fitness. Don't sway away from your main agenda because that will lead to a disadvantage towards your business plan.
2. Make A Profile
Once you have the purpose of your basic plan for your business, its time to make a profile. Write about your organization and describe the product and services you offer in the industry for marketing. You want to set an establishment for your business and work hard for it if you're going to succeed in the world of business.
3. Formulate A Strategy
Adding a strategy is one of the critical movements in formulating your product business plan. Introduce new products, extend and regain the market for existing products, enter new territories for the company, boost sales for a particular product, and cross-selling are some strategies you may apply in developing your business.
4. Make It Adaptable
You want to use adaptability to your strategic plan if you want your business to profit. For your business to reach that stage, you have to enter your audience if you want your products and services to sell in the marketing world. You want to connect to their interests, so you can convince them to buy your product.
5. Never Stop Caring
As soon as you finish your sample business plan always have a soft spot to remember why you are doing this. You must have a connection to whatever business you plan to build based on your personal passions in life. If you love coffee so much, then run a business by running a coffee shop. If you love music, create a studio business to produce music based on the genres you like. Passion can be expressed in many ways and always take that to heart. Always be passionate personal and business-wise.
Read More
Earn 20% commission on every sale from your Share
Bloggers: Publish/Mention Template.net products on your website, blog, Social Media or Via Email & Earn affiliate commission of 20% for every sale