Tutorials
How to Write a Professional Resignation Letter – Tutorial
Of course it is a no less achievement to land a new job in a new organization. However, if you're already working in a company, the transition into your new job has to be a smooth one. It is professional etiquette to submit resignation prior to leaving an existing job for new employment. For a lot of outgoing employees, writing an apt resignation letter is difficult, but not anymore. Readymade and fully editable samples of resignation letters are easily gettable now!
Now you wouldn't wish to announce your resignation to the world in the New York Times like a former Goldman Sachs executive did in the year 2012 or by rudely declaring "I quit" to your boss. It takes a politely and perfectly written resignation letter sample to maintain good ties with a company even if you don't want to continue with it. You never know when you might have to switch back to your previous job or get interested in a better job offer from them later.
Why is it Important to Write a Good Resignation Letter?
Resigning appropriately will help you to keep updated on any new upcoming projects or something that may be of interest to you. Here's how to organize the perfect resignation letter that should always be an important component of your exit plan.
Resignation letters, like all letters, should be typed keeping in mind whether they will have to be emailed or printed. But all resignation letters should be kept short and simple. Don't narrate stories, rather be formal and stick to the point.
Constructing a Professional Resignation Letter
When you have received a job offer that you wish to pursue, do not take this opportunity to throw criticism at your employer. Being rude will not gain any advantage and when your resignation letter becomes a dark component of your permanent personnel file, you will have little chances to prove your credibility to future CEO's of the company, in case you wish to rejoin.
On the other hand, utilize your resignation letter template word as an instrument to build long lasting work connections. Burning bridges not only hurt your career prospects but decreases your chances of attaining good reputation in your business niche.
When writing a perfectly drafted resignation letter, make sure you follow these steps to leave a good last impression:
Clearly, State that you are about to Resign
Clearly, mention that you are about to leave and be as positive as you can about it while doing so. There should be no doubt or confusion about whether you intend to resign in the coming days or are actually doing it.
Give a valid Reason for your Resignation
Whatever the reason may be, don't make it sound like an excuse for a job that you cannot do. Your reason must be logical and clearly stated. Maybe, your next job is providing you more opportunities for professional and personal growth or is relevant to your field of interest.
Elaborate your emotions and reasons in the most sensible manner possible. Do not mention any problems that you've had with your subordinates, peers or managers as this will make you appear as an immature employee. Choose your words wisely.
Mention the Last Working Day at the Company
This can be based on the notice period policy of your company. You can also ask to negotiate the notice period but only if you must as not completing your notice period can leave a bad impact on the company.
Politely Thank the Company
Courteously thank your employer for giving you the opportunity to play your part in the company's success. Briefly, ention any noteworthy accomplishments that made room for personal and professional development.
Sign your Resignation Letter
It is best to submit your resignation in written. Even if you have to fill a form or email your resignation, make sure you submit a hard copy of it with your own signature for future reference.
In several cases, it is apt to resign orally in person; and follow up with a nicely drafted resignation letter. Phone calls and emails should be avoided unless you're working virtually for the company.
Morever, your resignation letter can also include these pointers:
Positive and memorable accomplishments of your work experiences that helped you to develop your professional career and benefited the company.
An offer to train somebody else to execute the tasks you were performing for the company.
Formal Resignation Letter with 2 Weeks Notice
northeastern.edu
Simple Resignation Letter
youthcentral.vic.gov.au
Professional Resignation Letter Sample DOC
hostos.cuny.edu
Formal Resignation Letter 1 Month Notice
iauk.co.uk
Professional Resignation Letter with Notice Period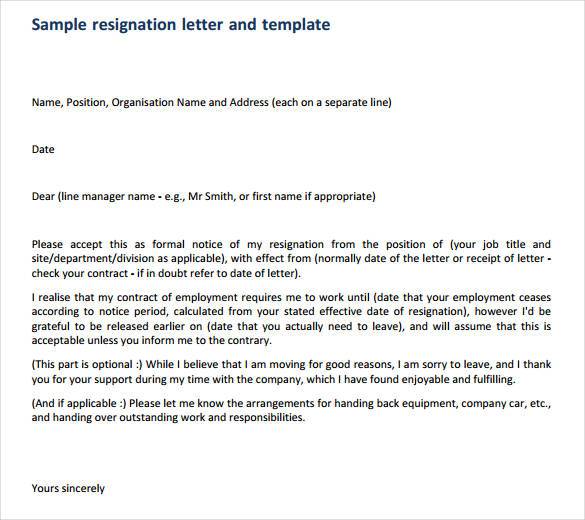 itthread.com
Simple Resignation Letter for Personal Reasons
ipmu.jp
What Should not be Included in the Resignation Letter?
Make sure there is no work gossip or degrading remarks about your boss in the letter. Once you decide to part ways with your employer, don't let any hard feelings come in the way. A resignation letter is not for letting your grudges known to the entire office so don't let them reside in your employment file for future employees to view it.
Putting in your resignation a week or two in advance is a good step. This is important because your current employer would be willing to give you a good reference letter as a token of your honesty and dedication. The letter would work wonders for your image and reputation in your new workplace. (Do's and Don'ts)
Use a Resignation Letter Template
For your convenience, there are hundreds of resignation letter templates available on the internet for writing a winning resignation letter. A multitude of websites provide samples of nicely written resignation letter formats.
However, make sure to use the right template and customize it according to your job and work experience. Don't copy other people's resignation letters as they may have resigned under different circumstances and because of diverse reasons.
Final Thoughts:
For all those who are resigning to start their own business, it is natural to have a desire to burn all your bridges so you can successfully get on with your dream business. Do not do it, ever!
We recommend you to keep connected to your former employers for promoting your services/products and expanding your circle. You never know when they become handy to get something done or can even become one of your biggest clients!
What to Write in a Resignation Letter?
A resignation letter is a notice given by an employee to the organization informing his/her exit from the organization. The resignation letter should be written in a crisp, short and polite manner as it is a part of an employee's personnel file and it is a bad remark if the resignation letter is written in a rude manner or in a criticizing manner.
The resignation letter should mention the reason for resignation, the last working date and should express the thankfulness to the organization for providing an opportunity to let him/her work in the organization. There are various Resignation Letter Templates and Examples online which are easy to edit and use.
What to Include in a Resignation Letter
A resignation letter should be professional and crisp. The resignation letter should mention the last working date of the employee, the reason for resignation and also the learning experiences and gratitude towards the organization. The resignation letter should not include any criticism of sub ordinates or higher authorities. It is always advisable to end a resignation letter with a positive and thankful note. There are various Retail Resignation Letter Templates and Examples available online which can be used as it is by including the required fields or which can edited as required.
Tips for Writing a Resignation Letter
The resignation letter should be crisp, professional and short. It should be taken care that the resignation letter does not include any criticism of the higher authorities or the subordinates. The resignation letter should mention the reason for resignation whether it is a personal reason, medical reason or better opportunities. While mentioning the reason it should be taken care to include how the experience of working in the organization helped to improve the employee's skills.
The last date of working should be clearly mentioned and the employee should be clear of leaving the organization on the specified date. It is always advisable to submit the resignation letter with a 30 day notice period. There are various Medical Resignation Letter Templates which can be used by the employees if the resignation is being done on medical grounds.
Purpose
The resignation letter is a notice submitted by an employee to an organization informing his/her exit from the organization at a certain date as mentioned in the resignation letter. Even though the exit can be announced vocally, the professional way to inform the exit an employee from organization is through submission of a resignation letter. This forms a part of personnel file of an employee and so care should be taken that it does not become a negative remark of the personnel file. The Sample Board Resignation Letters are an easy and hassle free of writing a resignation letter.
The resignation letter templates are an easy and hassle free of writing a resignation letter. As there are various templates of resignation letters based on various reasons, it will be beneficial for the employees to use the online Work Resignation Letter Templates.