Resume
16+ Artist Resume Examples
The resume of an artist is somewhat different from that of other resume samples. While a regular resume is mostly focused on academic qualification, experience, and skills, the resume of an artist highlights chiefly his/her exhibitions, achievements, and awards.
Most of them even include media coverage and publications. It may or may not include an objective but a summary is a must at the top of the resume. If you are looking for some ideas, there are plenty of readymade simple artist resume templates online.
Simple Assistant Art Director Resume Template
Professional Makeup Artist Resume Example
dayjob.com
You have a brilliant professional makeup artist resume here that begins with a strong personal resume summary and lists every important aspect of such a resume- work experience, duties, areas of expertise etc.
Makeup Artist Resume In PSD
You have a nicely laid makeup artist resume template here where you have all the different sections presented with colored headings and clear divisions. The bars and stars to designate a level of skills and languages have given a nice creative touch to it. You can also see Theater Resumes
Visual Arts Artist Resume In PDF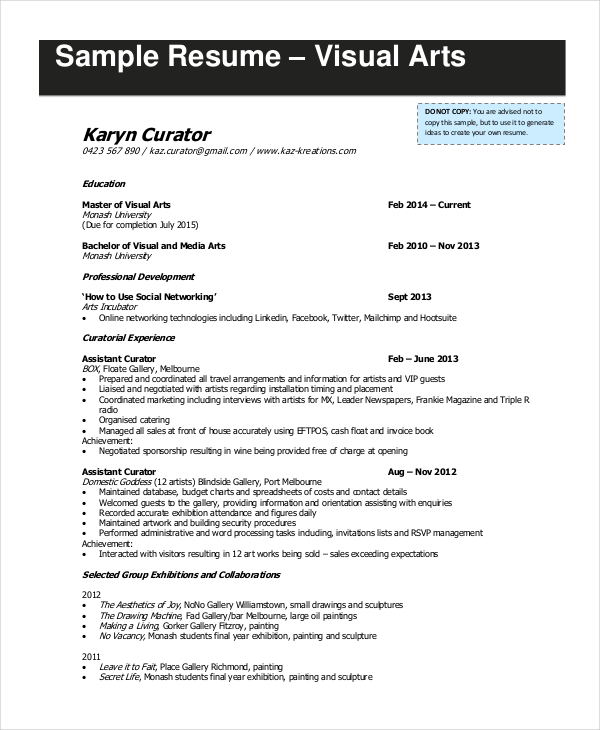 monash.edu
This visual arts artist resume would be great for a seasoned curator and it begins with education and work experience in chronological order. The template also houses sections on skills, reviews, publications, and referees. You may also see Free Resume Templates.
Experienced Artist Resume Template
energyandartistry.com
If you are looking for a professional theater resume to advance your career as an actor, this resume template here shows here how to begin it and what sections to highlight. You can also see Animator Resume Templates
1. What Constitutes an Artist Resume?
An artist resume template would generally come up with a summary where the artist would talk about his years in the industry and offer a brief about his coverage by the media and achievements. Then, you can list down your education, achievements, exhibitions, and work experience. If you are a seasoned artist, mention your work experience and education in chronological order.
Further, there would be a separate section for your licenses, especially if you are a makeup artist. If you are an actor, you have to jot down your physical dimensions as well. Besides, you must mention your areas of expertise and professional and personal skills. You may also see Resume Objectives.
Graphic Artist Resume Sample
You have a very neat and smart graphic artist resume sample here that begins with your headshot at the top. It includes all the main sections like experience, education, skills, and awards. You may also see Media Resume Templates.
Free Teaching Artist Resume
statenislandarts.org
Concept Artist Resume
stylus-monkey.com
Visual FX Artist Resume Download
jeffwolverton.com
3D Artist Resume Sample
Sculpture Artist Resume Example
haggardstudio.com
Certified Artist Resume Format
jenniferlittle.net
Designer Artist Resume
fluxstudio.net
3D Artist Resume Template
jariensky.com
Multimedia Artist Resume Template
michelafilzi.com
Artist Resume Sample
murielguepingallery.com
Concept Artist Resume Template
yangtianli.com
2. What are the dos and don'ts of Artist Resume?
You must mention your achievements, awards, licenses, publications, and media coverage in your resume. It's good to mention the achievements chronologically so that the reader can have a serial view of your accomplishments. If you are an actor, do post your artist resume with a clear bright headshot because your physical appearance is important here.
Then, you can mention the referees in your resume for an added weight. However, do not list down those academic qualifications and skills that are not related to your art career. Be careful about the spelling mistakes, grammatical and typo errors, especially in exhibitions or awards. You may also see Best Resume Templates.
The templates mentioned above would be helpful when you need some help in formatting an artist resume- whether it's a painter's resume or that of a makeup artist or a graphic artist. All the resume templates here are drafted by professionals and you are promised a standard reliable artist resume format.