Resume
9+ Entry-Level Resume Templates
An entry-level job is usually designed for students and career shifters. The job designation most of the time does not require prior experience and professional backgrounds. If you are not familiar with a job and want to try if you can do good should you be hired for that post, being an entry-level employee is the right thing for you to aspire as of the moment.
Applying for a job where you have a little to no experience doing can be hard especially with the growing competition nowadays. Being able to curate a comprehensive entry-level résumé will help you do the trick.
We also have in stock in our website résumé templates that you could download and use. You may also see Sample Resume
High School Entry Level Résumé Template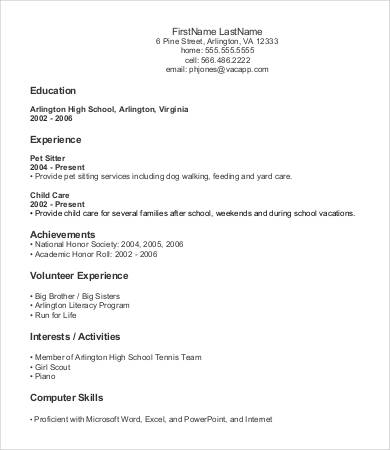 centura.org
Entry Level IT Worker Résumé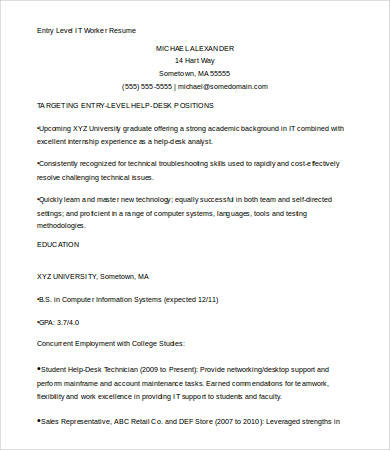 monster.com
Entry Level Dental Assistant Résumé Template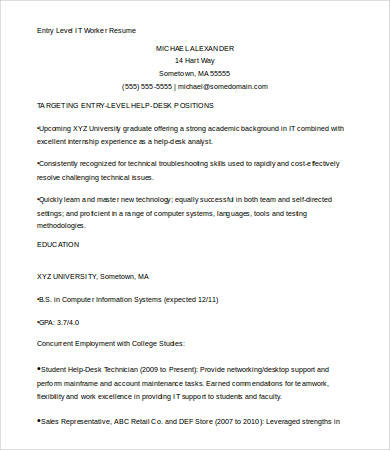 bestsampleresume.com
Entry Level Sales Professional Résumé Template
monster.com
Entry Level Nurse Résumé Template
resumegenius.com
Entry Level Accountant Résumé
best-job-interview.com
If you are familiar with the standard types of resume (chronological, functional, combined, and targeted), focus on the functional type.
If you are a fresh graduate or someone who wants a career shift, this resume is just for you.
A functional résumé helps applicants to highlight their abilities and skills more than their work experiences. It helps them assure the employer that the lack of professional experience can be supplemented by their abilities to do the job and work properly as an employee.
If you are a career shifter and you think that you need to enumerate a few of your work experiences as well, there is no need to worry as you may put them at the latter parts of the résumé. Again, more than indirect experiences, the ability to do the job and its functions are more important as of the moment for bigger chances of getting interviewed or even hired.
Since there is no basis on how you will be able to do the job that will be assigned to you, an assessment of your skills and talents is needed to be done by your prospective employer. You need to list down all of them, especially the technical skills that the job requires. Again, be keen to details and make sure that you are ready to the answer should you be asked on how you can use a certain skill work for the job that you are applying for.
We have a Blank Resume template where you can start practicing filling the needed information by the employers.
Entry Level Project Manager Résumé
bestresumewriting.com
Entry Level Résumé Sample
money-zine.com
Entry Level Financial Analyst Résumé
livecareer.com
Sample Entry Level Marketing Résumé
bestsampleresume.com
Though it is an entry-level job, you still need to make sure that you put your best in all that you do, starting with the résumé that you pass. Make everything proper, formal, and coherent. Let them know your job application purpose and why you have chosen to apply for that job.
We offer here below other information that can give you an edge compared to your competitors:
Your work ethics as specified in your résumé.
Your educational background. A good track record of grades usually translates to good work performance.
Internships taken related to the job.
Your technical skills needed for the job.
Your awards and citations. If it is a habit of yours to excel at what you do, it is most possible for you to excel on the work to be offered to you too.
For a more industry-specific entry-level résumé you may browse a sample of an entry-level administrative assistant résumé we have in stock.
More in Resume