Resume
33+ Professional Resume Templates
A professional resume is a must when you are applying for a job- regardless of your industry and designation. The resume is your primary representative to the hiring manager and hence you have to be very careful about the tone you use, the information you provide, and the layout you present. If you are an experienced pro, a chronological resume would be good, while for freshers, a professional functional resume template would certainly do. Go through the below-mentioned Resume Samples to create an exceptional resume yourself. You can also see more on Professional Resume in Word.
Professional Resume with Experienced Template
Professional Resume for Freshers Template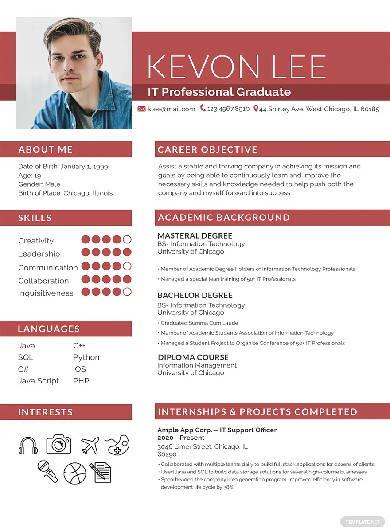 Modern IT Professional Resume Template
Paraprofessional Resume Template
IT Professional Resume Template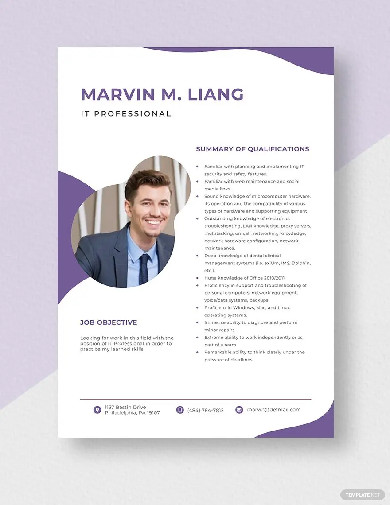 Medical Professional Resume Template
Professional Banking Resume Template
Professional HR Resume Template
Sample Professional Fresher Resume Cover Letter Template
Professional Developer Resume Template
Professional Executive Resume Template
Professional Engineering Resume Template
Professional Civil Engineer Resume Template
IT Professional Experience Design Resume Template
Professional HR Resume Cover Letter Template
General Professional Art Director Resume for Job
Professional Web Developer Creative Resume Template
HR Professional Consultant Resume Template
Professional Driver Resume Layout Template
Professional Fresher Resume Cover Letter Template
/ns_col]
Details
File Format
Professional Chef Resume Template
Professional Android Developer Resume Template
Professional Accounting Resume Template
Free Business Administrative Assistant Resume Template
collegegrad.com
You have a neat and professional administrator resume template here that begins with job objective and then goes to include all important aspects of a sample resume like a career summary, education, and experience.
Free Sample Entry Level Nursing College Student Resume
baylor.edu
If you are looking for a chronological simple resume example for your nursing job, this is the basic resume for you which offers space for both clinical experience and work experience- along with education and certifications. You can also see more on Professional Banking Resumes.
1. What are the tips to write a Professional Resume Template?
When it comes to creating a professional good resume, it's best to start with a solid job objective that will present you as a highly potential candidate for the applied job. If you hold a long illustrious career, you can begin your cool resume with career summary. It's suggested that you highlight your education, training, work experience, and skills in bullet points for easy legibility. You can also see Elementary Teacher Resumes.
In case, you had a career gap, it's wiser to go for a functional printable resume rather than a chronological one. Use actionable words, figures, and measurable data on your professional resume design template that can offer a tangible picture of your expertise and achievements. You can also see more on IT Professional Resumes.
Free Professional Resume in Doc Format
ibiblio.org
If you are looking for a professional resume layout template that will extend sizeable space to detail about your huge work experience in chronological order, this template would make your day.
You have a great sample of engineer resume here that highlights all the important areas of a custom resume like a career profile, technical skills, computer knowledge, personal qualities, and key projects managed.
Free Professional Sales Manager Resume Template
curriculum-vitae.in
You have a mid-range sales manager resume template here that comes with customizable space for key skills, education, and work experience which can be easily modified with your own data. You can also see more on Manager Resumes.
Free Beginner Teacher Resume Template
bc.edu
Free Functional Resumes for Experienced Professional
marquette.edu
Free MBA Professional Resume Template
mgt.buffalo.edu
Free Sample Professional Resume Example Download
uhasselt.be
Free Leap Leadership Resume Template
tsaweb.org
Free Functional Resume Template
writing.colostate.edu
2. What are the mistakes to avoid in A Professional Resume Template?
First of all, you must be careful about the spelling, grammar and typo mistakes in your modern resume. No matter how qualified you are, these silly mistakes go a long way in creating a negative impression about you. Do not list hobbies that are not pertinent to the applied job. Don't forget to mention the license and certifications if the job requires a certified professional. You can also see Student Resume Templates.
Besides, do not use multiple fonts and too much of color on your professional creative resume template. Stick to 2 fonts and 2 colors maximum. Finally, do not cram up your resume outline with elaborate information- just mention the points and you can discuss them in detail in your sample cover letter.
Are you looking for the best advice on drafting your personal resume? Well, nothing to worry now as the resume templates mentioned above would be an able help for you here. You have different types of ready-made academic resume templates here for various job positions and all of them can be easily edited with your own details. You can also see more on Blank Resumes.
More in Resume