Resume
25+ Resume Templates for Freshers – PDF, DOC
If you have just graduated from college or university and have nothing other than excellent academic qualifications to boast about in your resume, well, a fresher's resume needs just that. But how do a fresher's resume stand out? Well, the way the resume is built and worded makes all of the difference. In this article, we have compiled a collection of fresher resumes which are loaded with the goods required to represent a fresher in good light. You can also see These resumes templates for focus.
Banking Resume for Freshers Template with Objective
Professional Resume for Freshers Template
Mechanical Engineer Fresher Resume Template
Engineering Student Fresher Resume Template
Basic IT Fresher Resume Template
Sample Technical Fresher Resume Template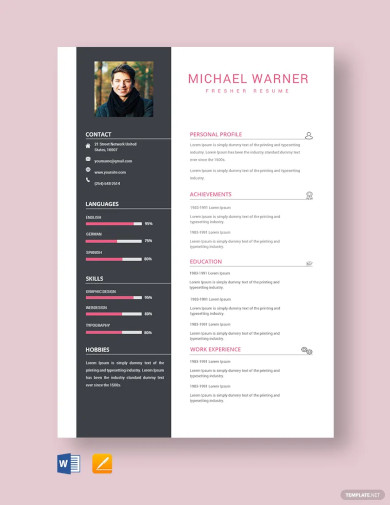 Fresher Resume Template with Photo
Simple Fresher Resume Template
Basic Fresher Resume Template
A fresher's resume in a word may be lacking in professional experience and that can be compensated by highlighting a fresher's personality attributes which make them a good fit for the corporate-level environment. The resume examples featured here, as you will see, give more weight to portraying a fresher candidate as a valuable employee, which works in winning over employers. You can also see Resume Format.
Creative Software Engineer Resume for Fresher
MBA Business Analyst Fresher Resume Template
BCA Fresher Resume Template
HR Fresher Resume Template
Civil Engineer Fresher Resume Template
Printable Bank Accountant Resume Template
Jump-start Your Career With A Perfect Professional Fresher Resume
"I'm going to crack it"- is what every confident graduate says while out on a job hunt. Are you too on the same line? Well, it's great that you are positive about your academic qualification, skills & achievements that you have gathered over the years but your mere skills & stunning scores are not enough to get you through the job market. You may also see IT Resumes.
A fresher's job resume needs to be appropriately and meticulously designed because it will make an impression on your potential employer before you get a chance to. So be in on paper or as a soft copy, your fresher's resume needs to sell you like an organizational asset, and our fresher resume templates do just that!
BSc Graduate Fresher Resume Template
Job CV/Resume Format For Freshers Example
mykalvi.com
Professional Student Curriculum Vitae Samples Template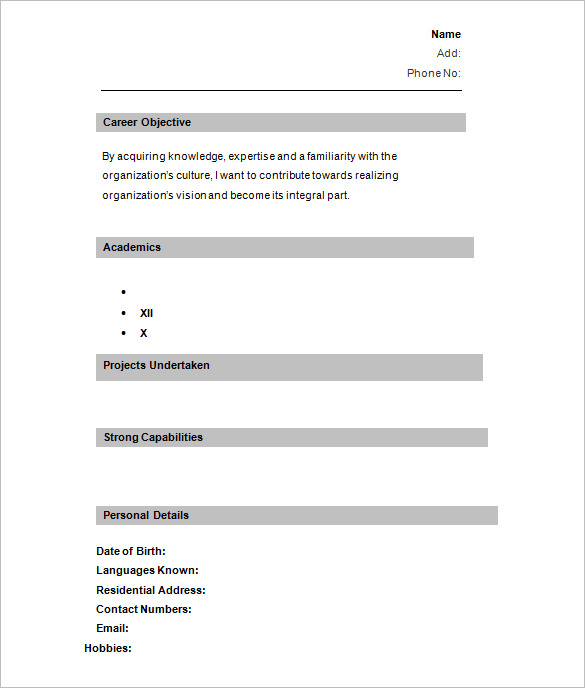 Professional Btech Graduate Fresher Resume Template
Free Diploma Fresher Resume Format Example
techcybo.com
Free Computer Science Freshers Resume Sample PDF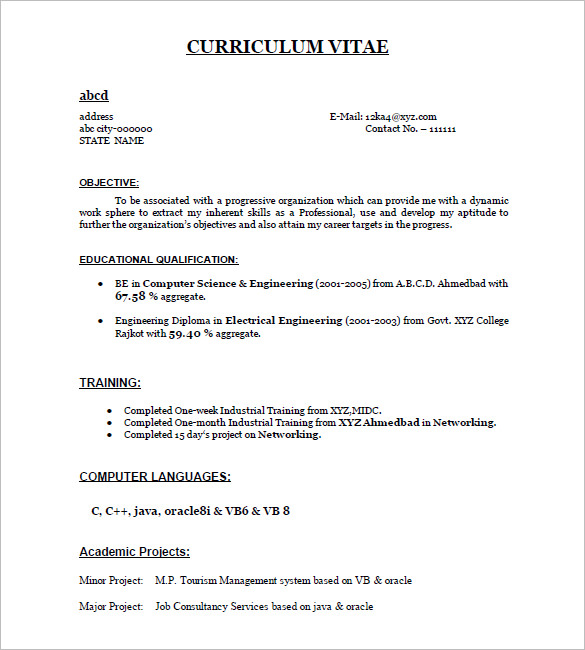 myjobsresumes.in
Free Diploma IT Freshers Resume Template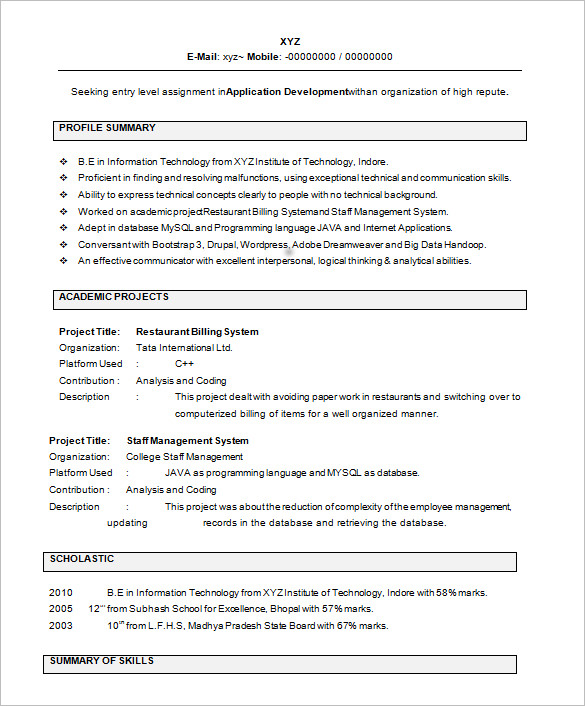 static1.shine.com
Finance Teacher Resume For Fresher In Word Format
mykalvi.com
Travel Industry Resumes Template For Freshers
Sample CV Format For Freshers Template
simplesolutionshrdservices.com
Simple Civil Engineer Fresher Resume Template
Technical Internship Resume Format Template
American Student Fresher Resume Template
rit.edu
Pro guide to your fresher resume
Good readability
One of the main points a fresher candidate needs to remember when designing a resume is that it must be readable and reader-friendly. The format and overall appearance of the resume must never be jarring; instead, it has to be neat and organized. Also, make sure to populate it with only relevant information which fits the job criteria you're applying for. You may also see Professional Resume.
Use Good Keywords
A good CV template format for fresher must be backed by sound resume keywords. Search the web to find out sample resumes as per your industry where you can have some idea on the most relevant keywords for your resume. Use headers and dedicated sections to segregate the resume in simple segments according to different groups- such as qualifications, personal skills, etc. there must be adequate spacing in between each section- the resume must not look crammed up. It must be easy on the eye of the reader.
Typography
Typography is an important point when it comes to the latest resume format for freshers. Your resume is a formal document and hence it's best to stick to simple corporate fonts and avoid the artistic or ambiguous ones here. The best fonts for your resume would be Times New Roman, Georgia, Arial, or Calibri. The font size would be 12 and keep it 14 for the headings. You may also see Modern Resume.
Your Resume Layout
In a student's resume, formatting is very important. Whether or not you've designed a resume earlier, it is vital that you adhere to some textbook rules such as titular headings and sub-headings should be left-aligned. Maintain a chronological order: objective, educational qualifications, internships (if any), additional courses or projects (if any). You may also check out here Simple Resume.
Effective Titles & Sentences
Remember you would be judged for every aspect of your entry-level resume and hence you have to make a unique impression from every corner. Don't write boring paragraph-long objective statements and you must make it brief within a couple of lines. Avoid vague words like "dynamic" or "hardworking". Definitely, your potential employer would appreciate such soft skills but you have to be more specific here to highlight your resume format in pages as a compatible one for the specific job application. For example, if you are applying for an MNC, you can add a sentence like – "fluency in major international languages like Spanish & French".
So, what does a Standard Fresher Resume Look Like?
Name & contact information
Your career objectives- be brief & clear
Your qualifications- Make sure that the qualifications or skills you mention are pertinent to your job application.
Software skills- It's a digital world today where you have to have basic computing know-how for any kind of job.
Pertinent practical experience- The fresh graduates might have no such professional experience but you can definitely include data about your internships, project descriptions, or research works if they are relevant to your job application.
Achievements- If you have mastered any achievements relevant to your job resume in word, make sure to mention them.
The Yes & No with your Fresher Resume
The Dos
Be Careful about Recruiters' Instructions
When you design a fresher's resume, you must always follow the formatting rules which are commonly preferred by recruiters and HR managers. This is very important because recruiters and HR professionals are very particular; otherwise, your resume runs a big risk of getting screened out without getting consideration. You may also see Resume Design.
Upload the Resume on Several Job Boards
You have to upload the resume on several job boards. Try to focus on the niche job portals that especially focus on fresher recruitment. Subscribe for the JobAlerts so that you are always updated on the upcoming opportunities. Don't forget to update the resume whenever you acquire some new skill. You may also check out here Graduate Resume.
Be Honest
Whatever you write on your resume, whatever skill or qualification you mention on your resume, must be true to the core.
Covering Note
Make sure to never submit or forward your college resume if there is no cover letter attached to it. A cover letter is a prerequisite and integral part of resume etiquette. An apt cover letter contains introductory lines about you, and mainly focuses on you expressing interest in a particular job profile and why your qualifications and skills are perfect for it.
Visually Appealing
In order for a fresher's resume to be readable, it has to look its part first and be appealing too. Make sure you use a formal-looking font in your resume and avoid using colors other than black. Ensure that the look of your resume is consistent from start to finish. The use of bullet points for the elaboration of a certain point is encouraged. You may also see HR Resume.
Positive & Professional
Your resume must maintain a positive & formal approach throughout.
The Don'ts
No Grammar or Silly Mistakes
You cannot present a half-baked resume to your prospective employer. Make sure to proofread it, again and again, to ensure there are no silly or grammatical mistakes.
Generic Sentences or Words
Avoid generic lines like "I am confident & hardworking." Focus on lines that can highlight your unique or special skills and can make you stand out in the crowd.
Don't Send Resume when you don't Fit Eligibility Conditions
Do not send your resume just randomly to places where you don't meet the eligibility conditions.
Too Much of Colors
The employers want a creative resume for fresher that is not unnecessarily laden with too much of colors.
Funky eMail-ids
Do not offer any funky email-ids on your resume format in publisher. So, if you have got something like samplename@gmail.com, change it to something formal like sample.name@gmail.com.
Don't Lie
Do not mention anything on your resume that has no connection with your reality.
Beware of the Common 3 Mistakes in your Fresher Resume
Typo Mistakes
Run a grammar check and scan the resume for typos and other spelling errors. This is the one last and most important step before you proceed to take a printout of a printable resume. Should you miss out on this step and a recruiter spots an error or two in the body of your resume, it will reflect on you being a reckless and irresponsible candidate. You may also see Teacher Resume.
Lengthy Resumes
Your prospective employer is a busy man and has no time to go through daunting lengthy resumes. Your presentation must be crisp and to the point. Do not jumble it up with unnecessary extras.
Improper Attachment Title
Do not send your resume with an improper attachment name such as "Resume 3". The employer won't need this information on how many versions of the resume you have made. So, even if you have saved the file that way, be sure to rename it properly while you send it.
Heading for the First Interview? What to & What not to
It's natural to have butterflies in your tummy when you are being called for your first interview. But, here are some tips that will help you to shine bright on your first interview. You may also see Basic Resume.
Research on the Agency
Your potential employer would want to see how much you are compatible with his agency. So, make sure to take up a background study on the company so that you can explain confidently how will fit in the structure.
How you Will Benefit?
Your prospective employer would also want to know how much your academic qualifications and skills or internships would benefit his agency. Reflect on your expertise and talents, to sum up how your presence will benefit the firm.
Be Confident
It's not unnatural that you won't be tensed at your first interview but stress won't help and might lead you to fumble. Take a deep breath and try to remain composed & confident.
Dress Appropriately
You must be dressed in formal attire as you go for your interview.
Ask Questions
It doesn't mean just questions about salary or your benefits. In fact, it means questions that you are genuinely interested in the job- such as "which demographic niche are you about to target with your new product?"
Looking for Best Resume Templates? We Are Ready to Help
It's wiser to follow resume templates when you are on the hunt for ideas on how to prepare a resume for fresher. Well, you can go for our resume templates here at template.net that offer you a good lot of samples for perfect two-page resumes. You may also see Resume Objectives
You will have a thorough idea of how to prepare a standard resume layout, what to write for the profile, career summary, objective sentence, and what skills to mention. This way you will have a comprehensive idea of what to state and what to avoid. We have got expert-designed resume templates for fresher in various formats to choose from- whether you prefer a bullet structure or a tabular format. You may also see Accountant Resumes
All the templates are easily customizable with your specific details. You would simply have to download the one you want, modify and send it to your prospective employer. Our templates will save from all the hassles of creating a beautiful resume outline right from the scratch. So, what next? All the best with your resume and we wish you immense success with your interview.
If you have any DMCA issues with this post, please contact us!
FAQs
How to Make/Create Resume/CV for Fresher Subheading
To make a CV/Resume add your bio-data and contact details. Write a professional summary of your achievements and experience. You can also add a photo, preferably a new/latest one. Try to keep your admin resume up to one page especially since you don't have any job experience.
How to write About me & Profile Summary in Resume
After you've designed your resume with the standard way, add your personal and contact information so recruiters can reach and identify you for an interview. For your profile summary, write about your skills and objectives. This will make your resume a lot more interesting and an attractive option for recruiters.