Resume
12+ Personal Resume Templates
A personal resume must be neat, and it should be easy to read. Employers don't have the time to strain reading your document, which means it must be simple, well-written, short, and direct to the point. When writing resumes, many employees give more emphasis to their skills, accomplishments, personalities, and their offers. By using the best personal resume templates, you should also do the same thing – write a top-notch resume. You may also see Lawyer Resume Template.
Executive Personal Assistant Resume
Fitness Personal Trainer Resume
Personal Shopper Resume Template
One Page Personal Resume Template
Certified Personal Trainer Resume Template
Simple One Page Personal Resume Template
Personal Trainer Resume
docresume.com
If you have an attractive resume, it should be easy to get a job as a personal trainer. Personal training is more about relationship building, so your resume should prove that you have worked with people before. You may also see Business Analyst Resume Template.
Free Personal Chef Resume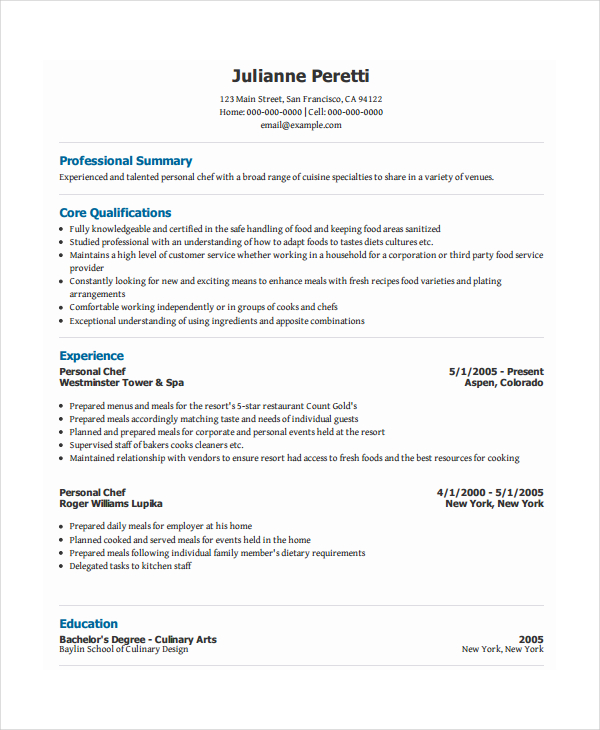 livecareer.com
If you have seen an advert for a personal chef, and you would like to apply for the job, simply write a professional resume to a potential employer. A good resume is a suitable sales pitch.
Personal Assistant Resume
dayjob.com
There are many job openings for personal assistants these days. Of course, it is possible to get the job; all you need to do is to write a resume that can capture the attention of a potential employer.
Free Personal Banker Resume
coverlettersandresume.com
Bankers are amongst the highly-rewarded employees. So, if you would like to be a part of the banking team, you can use a Personal Resume Template in word to write an interview-winning CV. The template is easy to customize.
Personal Nanny Resume
coverlettersandresume.com
As the demand for personal nannies continues to increase by leaps and bounds, you should write a resume that will help you get a job in a reputable home. In addition to telling an employer who you are, a personal resume outline also speaks of your skills in a way cover letters can't.
Free Military Personal Resume
career.utk.edu
> How Does one Market their Experience in a Personal Resume?
The preliminary goal of writing down your experience is to let a potential employer know that you've not only had an opportunity to work in the same job you are are applying for but also you can do the job even better after gaining experience. The experience section is important because it helps an employer know that you properly used your skills and always knew your responsibilities in the previous company. It is important to understand that experiences aren't just the paid ones; they can also include volunteer, community, family business, and unpaid experience. You should outline all these in your editable resume template. You may also see Photographer Resume Template.
> What are the Rules for Writing Experience Descriptions?
The rules of writing down experiences in a simple resume are often so simple, but very few job seekers ever pay attention to these guidelines. In the end, they write more than necessary, making the document boring and difficult to read. To make sure you don't make the same mistake when outlining your experiences, follow these rules:
It is important to start each statement with an action verb.
It is not ideal to write subjectively; write objectively, instead.
Write your experience in a telegraphic format. Complete sentences are irrelevant.
Write the present position in the present tense. Write all your experiences in the past tense.
> What is the Goal of a Personal Resume?
The most common mistake that many people make when writing a resume is to believe that the document will get them jobs. The idea that an employer will look at your resume and then ask you to start your job the following day, month or week is almost always flawed. You may also see Web Developer Resume Template.
Think of it this way: if a potential boss was only interested in getting your application and hire you straight away, they would ask you to write only an application letter. That means there would never be a need for resume templates. Mark this: the purpose of a resume is to help you win a job interview, not to get you a job. You may also see Dental Assistant Resume Template.
Personal resume layout writing doesn't have the one-size-fits-all instruction manual. For some people, it is appropriate to make the resume action-oriented to reflect a more active and confident job seeker. For others, a more neutral tone is enough to demonstrate qualifications and experiences. In the end, the tone to use depends on your career's choice.
More in Resume
| | |
| --- | --- |
| Basic Resume Template – 51+ Free Samples, Examples, Format ... | Personal Assistant Resume - 4 Free Word, PDF Documents ... |
| Best Resume Formats - 47+Free Samples, Examples, Format Free ... | Federal Resume Template -10+ Free Word, Excel, PDF Format ... |
| 15+ WordPress Resume Themes & Template Free & Premium ... | Resume Template - 71+ Free Resume Templates in Word, PSD ... |
| Banking Resume Template – 21+ Free Samples, Examples, Format ... | 21+ Personal Joomla Themes & Templates Free & Premium ... |