There is quite a lot of work and skills required in embroidery. Even so, you do not have to shun from expressing your ideas on fabrics because of the numerous Embroidery Fonts that exist online. You simply require embroidery editor software to use in blending letters, numerals, and symbols to create phrases, words, and monograms. Most of them come in a wide range of sizes and formats for download. Also, they are ready for use.
61+ Designer Templates in Word, Excel, PSD, Google Docs, InDesign, Apple Pages, HTML5, WordPress, Publisher, Apple Numbers, Illustrator - START DOWNLOADING
Embroidery Font
The embroidery Font containing Upper case alphabets with character maps comes in TrueType Format. They are free for personal use and you can share them on social platforms.
Home Sweet Home Font Family
Download the Home Sweet Home Font in True Type Format. It contains waterfalls, character maps, and gallery in regular and outline styles. You can embed them in apps, graphics, fabrics, and ebooks.
Goodbye Crewel World NF Font
The Goodbye Crewel World NF Font is freely available for download for personal use. You can share the upper & lower case alphabets with numerals, punctuations, and glyphs in OTF and TTF styles.
Kierin Script Embroidery Font
The Kierin Script Embroidery Font requires editing software and suits names, monograms, and words. The downloadable file contains different formats for download in a ZIP file. It comes in five sizes.
Chubby Trail Font
Freely download the Chubby Trail Font for personal use. The embroidery fonts for needlework, posters, and outlined stitches in TTF format comes with waterfall, character map, and gallery.
Disney Embroidery Font
Download the Disney Embroidery Font that features upper & lower case letters and numerals. This typeface comes in four sizes and ART, DST, EMB, CND, XXX, SEW, PEC, PCS & PES formats for sharing.
Old Script Embroidery Font
The Old Script Embroidery Font in different sizes and formats for download contains complete alphabets in upper and lower case formats with numerals and some symbols. It comes in four beautiful sizes.
Back To Black Embroidery Font
Available in five sizes is the Back to Black Embroidery Font that comes as a set of five sizes and varying formats. The file for single users contains alphabets in small and capital formats, numbers, and punctuations.
Baseball Embroidery Font
Download the Baseball Font for embroidery that comes in diverse sizes. You can select the format of your choice and send it to your friend. It contains uppercase letters and numerals.
Diamond Monogram Embroidery Font
Download and share or freely use the Diamond Monogram Embroidery Font while stitching. It contains left, middle, and right uppercase letters and two brackets in different formats and four sizes.
Living on Love Embroidery Font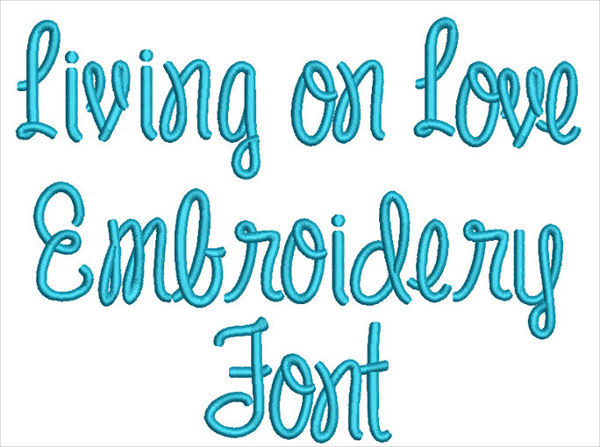 Download the different formats of the Living on Love Embroidery Font and use them in designing names, words, and monograms with the aid of software editors. They vary in sizes and formats.
Merkin Font Family
Download the Free Merkin Font Family for personal and commercial use. The set of round, black & comic typefaces is ideal for headlines, 3- D graphics, and constructions. It comes in four styles in TTF format.