Hand-drawn fonts carry a certain natural flow because of how it is made to mimic how a drawing tool interacts with a surface to draw its letters. Hand lettering fonts start with a pen and might make use of light upstrokes and heavy downstrokes, similar to calligraphy, and are eventually digitized to make available on the screen.
Because hand lettering fonts tend to be more decorative, they also come in a variety of styles that convey a different personality and feel in their strokes. If you can't find what you want here, head over to our archive for more lettering fonts.
61+ Designer Templates in Word, Excel, PSD, Google Docs, InDesign, Apple Pages, HTML5, WordPress, Publisher, Apple Numbers, Illustrator - START DOWNLOADING
Vintage Hand Lettering Font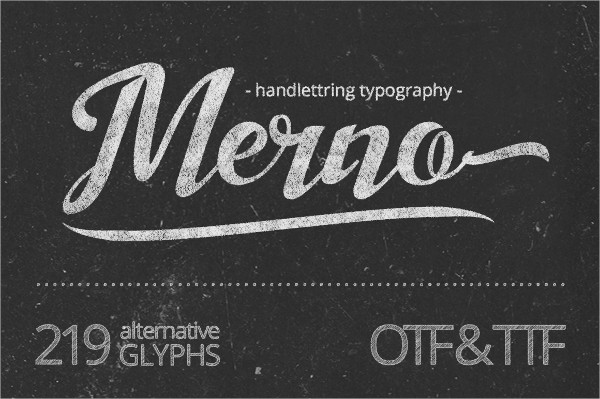 Download
Cursive Hand Lettering Font
Download
Hand Lettering Brush Font
Download
Script Hand Lettering Font
Download
Chalkboard Hand Lettering Font
Download
Hand Lettering Variations
Drawing letters by hand instead of writing them lends hand lettering a little more control and precision than calligraphy. This also allows hand lettering to show off more design styles in its letters, sometimes even mimicking calligraphy or certain forms of typography.
The hand lettering fonts collected here have a distinct construction that could have only come from a practiced hand. Unlike typography, no two hand-drawn letters would look the same. Of course, when handmade letters are digitized into a usable font, only a certain number of variants can exist per letter. But that there are variations to a single letter at all can already improve the overall unique feel of beautifully crafted lettering.
Decorative Use of Lettering
If you're designing posters, menus, or invitations and are looking for the perfect font type to complement your design theme and event, you can start with these fonts.
Hand lettering can find utility wherever you might need decorative lettering that could benefit from looking more natural. If you want some important words inked onto your skin, you might find one that works or you can try out these tattoo lettering fonts we collected from all over the web for you.
Hand Drawn Lettering Font
Download
Hand Lettering Calligraphy Font
Download
Elegant Lettering Font
Download
Modern Hand Lettering Font
Download
Hand Lettering Typography Font
Download
Personality in Lettering
There are hundreds of handmade fonts out there, and each one brings out a certain personality in the words they spell. The fonts are even marketed that way sometimes, with the artists describing their hand lettering as goofy or fun. Using hand lettering in your blogs or personal websites will certainly give your online content a more personable voice. Printed material meant to draw in people and entertain them must have a certain personality to better engage readers with.
Unlike calligraphy, which leans on muscle memory and writing, hand lettering is more closely related to drawing. A letter's stroke and form is planned and deliberately designed. Because hand lettering is more free form and is less tied down by rules found in calligraphy, each one comes out with a distinct style that is both deliberate and intrinsic to the artist, making up its own visual flavor and personality.
More Lettering Fonts
With plenty of lettering fonts to choose from, it's useful to have a jumping-off point to start from. There's certainly a kind of theme you're going for when designing your prints or planning your website's design themes.
If you're looking for some cool fonts for your invitations and greeting cards, have a look at these cool letter fonts from our gallery that you can use.
Free Handwriting Font Download
Download
Trawll Handwritten Font Download
Download
Handwritten Typeface Font Free Download
Download
Artistic Handwritten Font Download
Download
Diablo Holiday Handwritten Font Download
Download