Whenever an employee decides to hand in his or her resignation letter, then naturally, an employer would be worried as to what the employee would do once he or she leaves. The reason for this is because the employee might use the information, as well as the skills and abilities he or she has gained to open up a similar business to the company that he or she previously worked for. You may also see Agreement Templates.
Simple Non-Compete Agreement
Employee Non-Compete Agreement Template
Editable Vendor Non Compete Agreement Template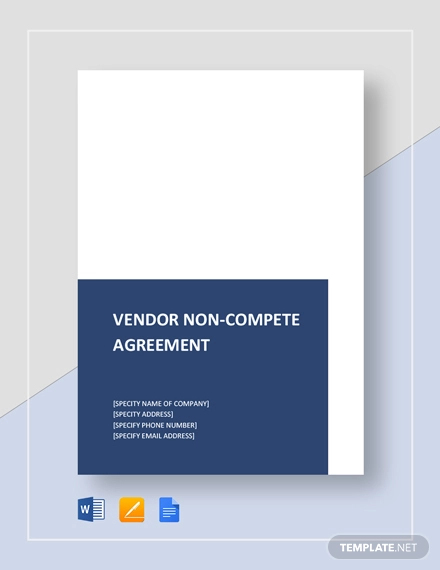 So, to help make sure that something like that doesn't happen as soon as an employee walks out the door, employers set up non-compete agreements with their employees from the very beginning of their employment. This article will focus on how you will go about making such a document.
Real Estate Non-Compete Agreement Template Download
siordata.com
Salon Non-Compete Agreement Sample
cpp.edu
Subcontractor Non-Compete Agreement Template
cpp.edu
How Do Non-Compete Agreements Protect Your Business?
Aside from the fact that this will prevent resigning employees from using sensitive information about your company to open up a similar business, it will also help in retaining these employees. If they know that they can't compete with your company once they've actually left or that they can't enter another similar business for quite a while, then naturally,, that would make them not want to leave your business for a good and long while.
With a simple non-compete agreement, you'll help make sure that your company trade secrets are safe from the hands of your competitors. A trade secret is basically information that will give your company the advantage over your competitors. So, it can be anything from a secret recipe, formula, device, program, etc.
Because there's always that small chance that a resigning employee might just head on over to one of your rival companies and divulge bits of your trade secrets, either unknowingly or intentionally. That will just end up hurting your small business since your competitors know what advantages you have and use it against you.
So, with the help of a well-drafted non-compete agreement form, you can help make sure that the employee will not be able to share vital information about your company to your competitors unless he or she would like to face immediate consequences.
What You Should Consider When Drafting Your Non-Compete Agreement
You're going to want to make sure that the non-compete agreement that you draft is one that's legal. While non-compete agreements are an effective way to protect your business's trade secrets, you should also remember that the legal system will highly value the rights of a person to earn a living. So, to help ensure that your business non-compete agreement is able to take into account the rights of your employee as well your company's protection, then you have to consider the following:
1. A Strong Reason for Requiring Your Employees to Sign
The first thing that you'll need is that your business is going to need a very good reason as to why the employee has to sign the non-compete agreement in the first place. The document isn't just to punish the employee if he/she ever decides to leave the company, but you just want it to point out that the document is meant to protect specific trade secrets or a customer base that you have worked so hard to create. You may also see non-compete agreement samples.
If you are selective about the employees who sign non-compete agreements, you will increase your chances of success because it's  judges are much more likely to enforce non-compete agreements against those employees who have knowledge about important company information. You may also see attorney non-compete agreements.
2. A Benefit for the Employee
The next thing that you should consider when drafting your non-compete agreement is what the employee will stand to gain for not leaving your company. Making a job offer contingent on signing a non-compete agreement probably satisfies this requirement, considering the fact that the employee is gaining employment for the simple exchange of not revealing vital information about your company. You may also see contractor non-compete agreements.
It's always best to do this while you're still giving the job offer and before the signing of the employment contract as it's much more difficult if you're trying to let an existing employee sign the non-compete agreement. Although it may be more difficult, it doesn't necessarily mean that it isn't doable. All you have to do is have the employee sign a non-compete agreement in the event that he or she requests a promotion or a raise. So long as the employee has earned either of those rewards, you can have him or her sign the document as a condition before getting what he or she wants. So, it's a win-win situation.
3. It Must be Reasonable
This should be pretty obvious as nobody is going to want to sign a non-compete agreement if it's not reasonable. Also, if the court sees that your non-compete agreement seems a little bit too much in terms of what it's asking from the employee, then don't expect this to pass through court inspection. So, here are several factors that the court will consider a reasonable non-compete agreement:
Out of all the things that you have to consider, the one major concern that's on a lot of people's minds when drafting a non-compete agreement is how long the sample agreement is supposed to last. While there is no set rule, noncompetes ranging from six months to two years are generally considered reasonable. Anything that goes beyond that may seem a bit skeptical and you can be sure that those in court who will be judging the duration of the non-compete agreement will definitely look into why the duration is as long as it is.
Standard Non-Compete Agreement Template in Word
macroccs.com
Independent Contractor Non-Compete Agreement Template
asa.edu
Confidentiality and Non-Compete Agreement Sample
centuryprotective.org
Sample Non-Compete and Non-Solicitation Agreement
hr360.com
Business Non-Compete Agreement Template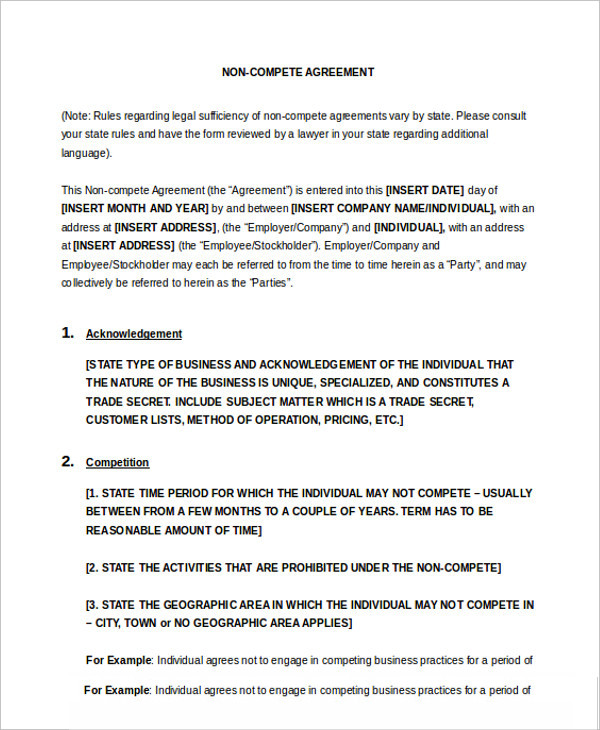 fastbusinessplans.com
Creating Your Noncompete Agreement
When you've thought about the different factors that you should consider when making your noncompete agreement, then the next step is to actually create the document. So here's a summary of the main areas that you're going to have to think about when creating your noncompete agreement:
1. When you're deciding as to whether or not you want an employee to sign a non-compete agreement, you have to think about the goals of your company. Is the employee so valuable and have you invested so much time and effort training this employee to the point that if you lose him/her to a competitor it will do serious damage to your business? Does the employee know about valuable company information that could potentially ruin your business if he/she shares it with any of your competitors? Make sure you can come up with a valid business reason for asking an employee to sign a non-compete agreement. Otherwise, you won't be seeing any signatures on that document and you'll be left wondering why.
2. Is there a risk that the employee may just decide to leave your company if you decide to ask him/her to go through and sign the non-compete agreement? Also, do you think that a potential candidate for employment will refuse the offer once he/she sees that he/she is required to sign a non-compete agreement form before signing the contract agreement? Think about those carefully as they're the difference between protecting your company and losing a valuable employee.
3. Although it may be tempting to draft non-compete agreements wherein you drive the employee into a corner where he/she will have no choice but to sign the document, it won't exactly pay off. Remember, most courts will not enforce an unreasonable noncompete agreement, meaning that it'll be pointless to make one if it isn't fair on both ends. Remember that you're going to have to create an agreement wherein you secure your company, as well as making sure that the employee is able to gain something upon signing the non-compete agreement. You may also see vendor non-compete agreements.
If you would like to learn more in regards to how to create a non-compete agreement or anything related to this particular topic, then all you have to do is go through our site, find the articles that contain the information you need, an utilize whatever information that you're able to find to help you and your business out. You may also see insurance non-compete agreements.