As a country develops, so as to infrastructure and land development grows, it needs and hires people with specialized training and education to complete the task of work related to civil engineering service. A civil engineer is a person responsible for building roads or bridges, thus a person who wants to apply for this job must take a look at Construction Resume Templates that can be stated in the form of Microsoft Word. You may also see Resume Templates.
Free Civil Engineer Resume Template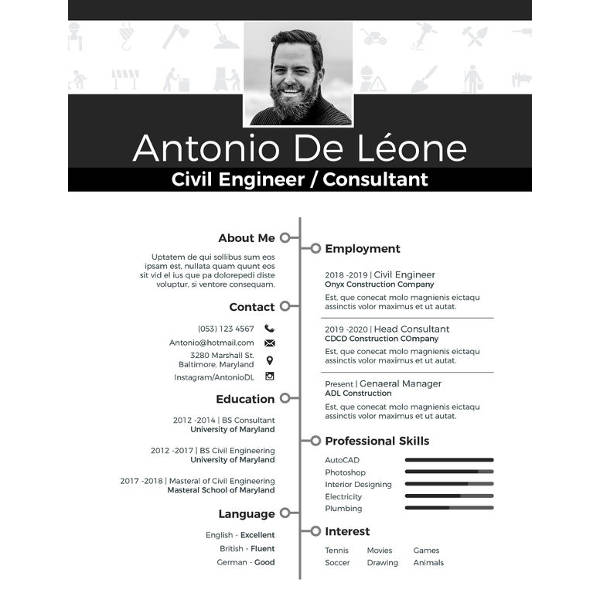 Civil Engineer Sample Resume Template
Free Professional Civil Engineer Resume Template
Free Experienced Civil Engineer Resume Template
Free Senior Civil Engineer Resume Template
Civil Engineer Planning Resume
It's a very basic and simple resume which starts with career objective and then proceeds to your educational qualification and degrees. Then, you will write about the important professional projects.
QC Civil Engineer Resume In Word
You are getting simple, neat & organized resume here which begins with career objective then goes on to detail about your prospective designation, skill, employment record as well as a job description.
Professional Civil Engineer Resume
You are getting an elaborate resume here where you can note in detail about your key skills, education, and professional experience. This professional resume is for seasoned civil engineers who have acquired a wide range of professional skills over the years.
Entry Level Civil Engineer Resume
If you are looking for an organized and decorated resume, this resume is ideal for you. The separate boxes for educational qualification and professional experience offer a neat outlook overall.
Junior Civil Engineer Resume Template
If you are a junior civil engineer who has got good professional experience and awards, this resume samples would be perfect. It begins with educational qualification and you can also mention about your relevant skills.
Experienced Civil Engineer Resume
You are getting a detailed resume format here which offers you huge space to write elaborately about your personal summary, followed by work experience as well as key skills & competencies.
Key Skills Civil Engineer Resume
Site Civil Engineer Resume Template
Civil Project Engineer Resume in PDF
Civil Engineer Resume PDF
Specifying their achievements and past projects will have an additional point when creating their resume; any changes like font styles or sizes and bullet points are available in this Free Resume Templates so any changes you want is just a single click away in creating your own resume. The advantage of using a resume template is, convenient and easy to use.