Art
20+ Awesome 3D Street Art Illusions
Ever since the graffiti boom, street art started evolving with various forms and subsets such as 3D art and flash mob. In fact, graffiti and street art are inseparable. Street art painters don't want their paintings to be kept in the art exhibitions and spacious auditoriums. They want to execute their works outside those traditional venues. To be precise, wide walls and tall buildings are their painting canvas. Below are some examples for you.
Guinness World Record 3D Street Art Illusions
This is the longest and largest ever 3D Street art design measuring at 116.04 square meters. A team of 7 artists spearheaded by Joe Hills painted this masterpiece in London. As the public is allowed, a Japanese couple is having a click here.
Beautiful 3D Street Art Illusion
Source
Next in this series is a 3D Street art painting that shows a white cladded woman taming a wolf while another wolf is just coming out of the snow den.
Commercial Painting Street Art Illusion
Source
A waterfall running through a stream. This proves that the art is not confined to a museum. Of course, here it attracts even a wider range of tourists cum audience.
Artist Painted Dolphin on Street
Source
A 3D illusion of a Dolphin coming out on a street. Though it is dated back to July 2009, it looks afresh. The 3D magic might be noticed instantly and the artist might have surely made a good amount.
Beautiful 3D Street Art Illusions
Source
Rock climbing on street. The artist unleashes another world with the art. All of a sudden you feel that the earth under you is slipping. Needless to say, an illusion that is perfectly presented before the public.
3D Art Designed as Above the Sea Level
This 3D Art by Kerim Musanovic makes you speechless. This groundbreaking art took place in a spacious balcony, probably that of the artist. We should appreciate him for being so calculative.
Awesome Street Art 3D Painting
Source
This waterfall road art was presented at an Art Week in Hamburg, Germany, which featured a multitude of artists. It measures 15×8 meters. The Artists admitted that the painting was done with acrylics.
3D Illusion Painting on Street
Here a part of the pavement cordoned off and the artist had been pulled out by police. If you are skilled enough, you can get the payment for your work from the pavement itself.
Tracy Lee Stum is famed for his chalk art. Here her 3D Street Art Design challenges the vertical limit of the road. It's easy to bluff people with 3D art.
Nice Street Art Painting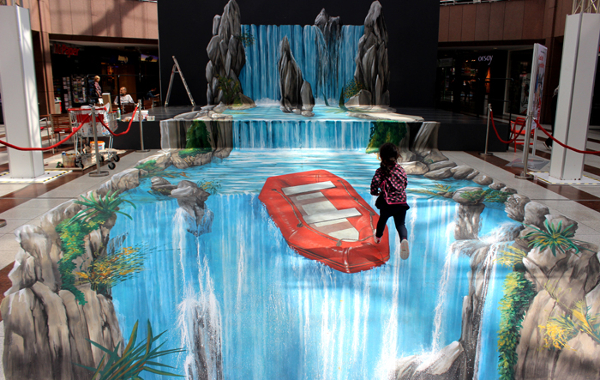 Waterfall on the floor. A sweet hallucination. This was painted at a 3D-Street Art- Nordwestzentrum, Frankfurt, Germany. See how meticulously the artist have painted each and every curve of the painting.
3D Anamorphic Street Art Illusion
Illusion of Shark on Street
Source
3D Street Art Dice Illusion
Mind-Blowing Street Art Painting
3D Street Art Illusion of Underground World
3D Art Illusion Painted on Road
Source
Beautiful Woman on Street Art
Source
Natural Lake 3D Street Art
Guinness Book World Record Street Illusion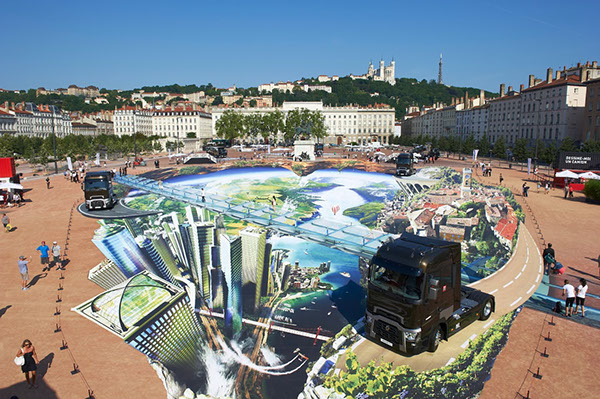 Source
3D Chalk Street Art Illusion
Source
Street Art turns busy shopping malls and other road squares to unusual museums. Thus they reach people instead of people coming to them. Now street art is nonetheless crazy and profitable than its counterpart traditional art. Hope the above examples are useful for you. But remember that Street Art is unsanctioned in many areas.