Art
24+ Best Christmas Tree Templates – PDF, PSD
Christmas trees are always significant. That is why they decorate our homes for the last ten days of every twelfth month. Christmas Trees can also be in the form of attractive and unique color painting on high-quality pieces of printing paper hanged on your living room's walls. Our collection of Christmas tree templates and samples can help you prepare the best Christmas tree prints with just a little effort.
Free Coloring Christmas Tree Template
Make Christmas fun and special this year by downloading this ready-made coloring Christmas tree template that is available for free download. You can get creative with this template by adding your own version of colors to the tree. You can instantly download and print it anytime, anywhere!
Christmas Tree Coloring for Children Template
Here's another adorable Christmas tree coloring template that you can easily print for children to use. It has an adorable design and allows kids to have fun designing the trees with different colors. You can download and open this free template in any available file formats.
Free Blank Christmas Tree Template
Free Simple Christmas Tree Template
Christmas Tree Paper Template
Sketching or desiging Christmas tree graphics is a fun and easy activity to do. You get to play with their appearances and print them afterward. You can use them for multiple purposes. So, to make your work easier and hassle free, we have prepared a list of printable Christmas tree templates that are stunningly beautiful and creative. Let us take a look! You may also see Christmas templates.
Free Small Christmas Tree Template
Free Decorated Christmas Tree Template
Christmas Tree Craft Pattern Template
Bare Christmas Tree Template for School
Layered Christmas Tree Template
Christmas Tree Printable Coloring Page Template
3D Christmas Tree Template
3D designs are popular even on Christmas paper, and that is a good thing because it makes Christmas look like 3D Christmas. If you have never used the 3D paper before, this is the best time to get started.
Christmas Tree Cut Out Template
thisreadingmama.com
Download it, cut it out well, and then use it for decoration. If there is one thing that you must do this season, it is to make sure that Christmas comes with all the decorations necessary.
Paper Christmas Tree Template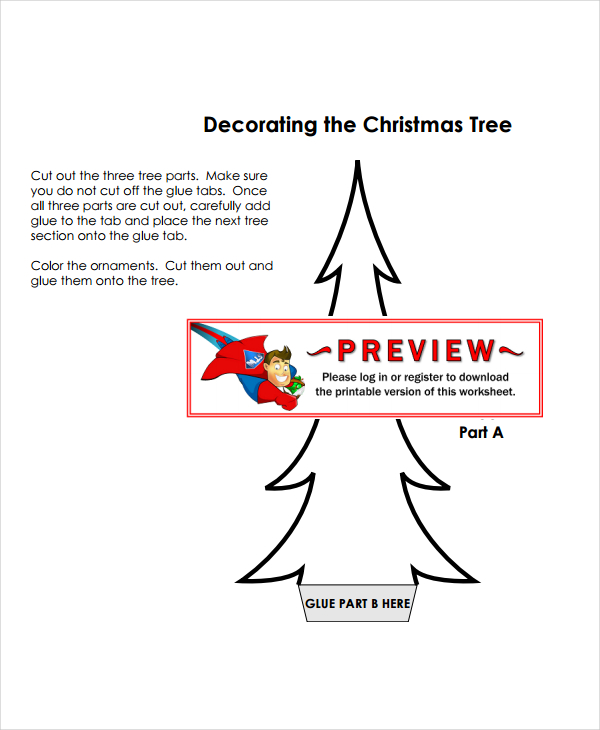 superteacherworksheets.com
This above-shown Paper Christmas Photo Templates are freely available for download. They are easy to edit and you can also use them for any purpose other than Christmas. Click the link below to download.
Small Christmas Tree Template
Coloring Christmas tree before Charismas can create special festive season fantasies in the mind of your child. This is a good way to introduce them to positive thinking about the coming D-Day.
Large Christmas Tree Template
Have some bucks to spend for large-scale printing of a Christmas tree? You can use this file as your art piece and have a printing company produce a neat poster for you. The template costs $0.00 per download.
Christmas Tree Template for Kids
Start early Christmas by downloading these templates for your kid(s). Let them color the Christmas trees for special fantasies. While a mix of crayon colors may be good, green is as good as enough.
Cardboard Christmas Tree Template
shopify.in
Chances are you've used these ones before. And you are definitely going to use them this coming Christmas because they are necessary. Lucky for you, they are free to download.
Christmas Tree Ornament Template
Your child will love paper Ornaments for Christmas; so this paper is definitely the best thing to use if you seriously want to keep them smiling this festive season. Just hit the download link below and get the file for free.
Christmas Tree Star Template
kinderteacher.com
Christmas is not here yet, but chances are you have already started thinking about it. As you keep cherishing the moments that are to come, add this template to your collection of decoration kits.
Christmas Tree Craft Template
planetark.org
If you don't have time for in-depth art and craft for Christmas, there is a better way to still make your home look beautiful. You just have to use these sample files and you are good to go.
Christmas Tree Angel Template
Put a Christmas angel tree in your home this season. That is what your kids want, to say the least. Make their room look as beautiful as they would wish it to be by using this sample file.
Christmas Stocking Tree Decoration Template
Christmas decorations are just as good as you remember. They are an addition to your decor. They don't just add life to your surrounding, they also make the areas around you quite comfortable.
Gingerbread Christmas Tree Template
Remember those Christmas tree papers you used last year at a friend's party? You can download them for free and use them to decorate your home this festive season. Click the link below to download the file.
Christmas Tree Box Template
Christmas is almost here. It's time to rock and roll. Prepare to decorate your surroundings with free box models. Here is the best template to use if you are looking for a cheaper option.
Christmas Tree Template for Cards
If you are a card designer, use this sample file to add more decoration to your cards and then use them to attract the target audience.
These Christmas tree templates are available for free download this holiday season. Every home can now decorate its walls with the best Christmas tree printouts. Get the best crayons and present the Christmas Coloring Pages to your kids.