Art
24+ Amazing Examples of Digital Space Art
Digital Space Art is a specific art genre with the galaxy of stars, the moon, and the solar system. Below are crafts of Space (you can call them art attacks) that melt the distance of light years and inaugurate the unbelievable in front of your eyes. Have a look at that photo-manipulation. They look so 'other-worldly' with natural details. Also, now this science of "Digital Space Art" is not only for geeks. Take your camera and shoot some fantasy scenes.
Space Port Digital Space Artwork
'Once-in-a-lifetime' collection of artwork, both for artists and for art fans. This "Expressions" is a collective effort of Slashthree creative directors and artists. Their five long months of dedication and hard work perfectly mirrors here.
Digital Space Clock Art
Now this younger generation has something to offer for oldies and the generations to come as well. This crack in time is a collaboration between Grigori Shevtsov and Stu Ballinger. Add this to your spaceship collection right now.
Fantasy Space Station Artwork
Another interesting concept of Digital Art Photography with a great use of colors. The artist admitted that he painted the above space station (of course, it's a bit eerie) by following Digital Tutors.
Space Station Ansarious Digital Art
Space Station Ansarious had reportedly emerged from from a trans-dimensional jumpstation on 3011:12:19 hours during a regular maintenance and fire up testing procedure. This ansarious was believed destroyed when the insin 7 systems in sector 8527 imploded.
Abstract Sci-Fi Digital Space Artwork
When we say digital space art, you need not stick to those binary stars, 9 planets, and 15 moons. Look at this. This core 29 is an artwork that the artist has drawn with his good mate and long time collaborator.
Space Fregate Scientific Digital Art
The artist created this Cool Art Design during a workshop on science fiction. Though you might not have seen such a ring in a spaceship before, the piece will be liked by many.
Space Desktopography Digital Art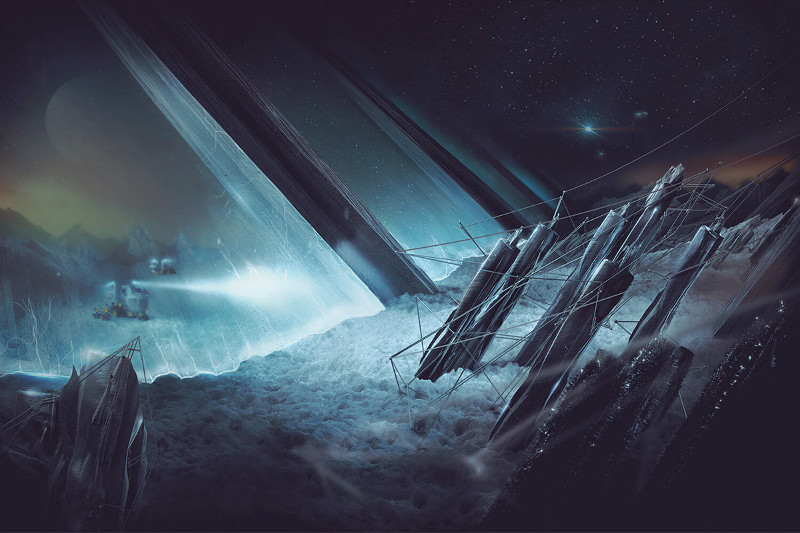 The artist participated in the Desktopography for the fifth time with this Fields artwork. The world renowned digital art community creates wallpapers for the world and it's an honor to be invited for such competitions for any artist.
Space Town Digital Art by Marijeberting
You will say a lot of wow's after seeing this. Take a snap like this and go to your computer through the night while rendering the tweaks.
Jupiteraya Series Space Digital 3D Art
This Jupiteraya series features the most anticipating digital space artworks by the artist, those are exhibited in Malaysia's renowned art gallery, Galeri Petronas, KLCC Kuala Lumpur followed by Penang State Art Gallery, Penang
Fantasy Astronomical Blue Gas Giant Art
This Blue Gas Giant Art is one of the two wide paintings by the artist measuring 600 pixels of width where the horizontal format does not really show many details.
Cool Digital Space Art by Flavio Montiel
Space Art Series 3D Abstract Poster Art
Epic Space Digital Art Illustrations
Osris Digital Space Artwork Download
Commission-Colonization Space Art
Sci-Fi Digtal Space Art by Julian-Faylona
Digital Space Art Inspired from Poem
Galaxy Digital Art by Roxalew
Digital Interactive Space Art by ANTIFAN-REAL
Sci Fi Planet Digital Art
Digital Space Art Poster with 3D Effect
3 Dimentional Sci-Fi Digital Art of Space
Spacial Tether Digital Space Art
Science Fiction Digital 2D Artwork
How is the collection? It is a perfect challenge for your photo capturing and photoshop skills. If you feel that your editing skills are lame, now is the time to get updated. Artists who are adept with traditional oil and acrylic painting can also try the above. These are so beautiful as Desktop Background.