Typography is an important aspect of designing. Today, with so much of evolution in design and technology, typography is also taking on the graphic aspect of designing. Yes! Artists and graphic designers have gone out of their ways to creatively used typography in designing. As a result we have had some fantastic graphic designs with a creative and intelligent use of typography. We have some examples of animal typography here that would help you in understanding the art and how to conceptualize it. You see how typography has been used to create a graphic like figure of various animals given below.
Cat Typography Art
The art plays very interestingly with color, design, graphic and typography. The image describes a cat with a creative amalgamation of graphic and typography.
Tiger Typography Art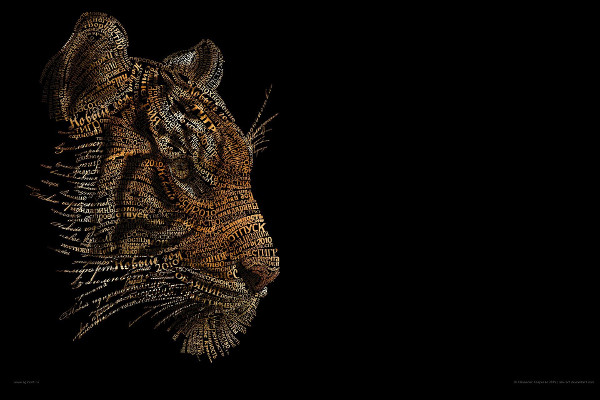 This one looks very realistic. This is a fine work of graphic design,combining rich graphic with typography. The tiger here looks very realistic in spite of being formed out of typography. This is the magic that detailing and hard work brings.
Lion Typography
Animal typography is not an easy task. It requires a well perceived mind and a knack for designing. We loved the execution of the animal typography given here.
Typographic Elephant Design
This typography poster is a part of an awareness campaign created for World Elephant Day which is celebrated every year on 12th August. It brilliantly uses typography to bring out the issue and the main subject of the campaign. We loved how elephant has been projected with typography.
Word Art Cat Design
Camel Typography Art
This digital art looks awesome and wonderfully portrays a camel with the help of typography.
Dog Typography
Animal Typography by The Sassy
This animal typography has the regular element of graphic and typography but what is more interesting about this art is the use of colors and how various shades of the same colors have been use to make it look realistic.
Dinosaur Typography Illustration
Another exceptional work of art is here. It has used the letters in the Dinosaur to create a caricature of the animal. Not only is it looking like an animal, moreover it is looking the skeleton of the animal giving a surreal vibe to the work done here.
Rhino Typography Poster
WWF used a brilliantly designed poster that used typography to bring forth the issue surrounding the endangered Rhinoceros. The typography given here forms the shape and outline of a Rhinoceros which happen to be the main subject of the campaign.
Zebra Typography Design
And here are some more colors. If we imagine a zebra we would imagine it as black and white for the obvious reasons. The artiste here has well perceived his subject and has given the animal a different dimension by including colors in the typography.
Scorpion Typography Art
Dear Typography
Another example of brilliantly used typography for an advertisement campaign. This poster was used to issue a public service notice for The Prevention Plan campaign. Apart from scorpio, the campaign used snake and fish typography.
We love the color, the art, the typography and the concept of the given typography design.
Character Typography Art
Elephant Typography Art
Creative Animal Typography Art