We may not always be actively aware of them, but plants have been our life-long companions since the beginning. They give life to every living organism and perform a wide range of significant functions that keep the earth alive. They are also just as relevant in design. Botanical illustrations have always been sought out as design elements that play important roles in various fields like the academe and high fashion—from educational books to fashion couture.
Whether you've got a personal or professional calling that is simply in need of digitally enhanced and/or hand drawn illustrations, this list is just for you. We've searched the internet for the best botanical illustrations and we're excited to share what we've found. Download free and premium quality designs right here, and easily customize them to fit into your product designs, label tags, stationery, wallpapers, and more.
Wildflowers Watercolor Illustration
Get yourself a beautiful watercolor illustration with this hand painted wildflower bundle up for download. It's a simple and delicate design you can use for your greeting cards, menu designs, wall art, or product labels. You can get this botanical illustration for free and easily incorporate it into your designs.
Black and White Vintage Botanical Illustration
If you want a black and white illustration for a more dramatic effect, download the Black and White Vintage Botanical Illustration. It's a seamless pattern of vintage botanical leaves you can use as background, wallpaper, fabric patterns, and more. Totally free of charge and stylish, get started on your monochromatic vintage art project now!
Botanical Leaves Illustration
Design in color with these vibrant illustrations of botanical leaves. There are several types of botanical leaves you can get from this illustration, giving you plenty of design options to choose from. You can use each piece separately or combine them to create a garden of your own. Use these elements for your invites, posters, social media posts, and the like.
Tropical Botanical Illustration Collection
Looking for tropical vectors? The Tropical Botanical Illustration Collection has all you need. You'll get individual illustrations of tropical leaves and other botanical plants for you to put together seamlessly. Get this set of botanical illustrations for high quality and high customization for your products, book covers, flyer designs, invites, and more.
Hand Drawn Botanical Illustration
If you want a classy shabby chic design, this Hand Drawn Botanical Illustration is up for download. Get this illustration for free and create wistful designs for your greeting cards, invites, business cards, stationery, and/or wall art. This floral illustration has an unmistakable vintage quality that makes it look like it came out of a dream.
Hand Drawn Branches Set
The Hand Drawn Branches Set is available for your to download and edit should you want simple and straightforward designs. Get this modern doodle for free, and use it on your cards, tags, products, blog posts, and the like.
Baobab Vector Illustration
This beautiful landscape illustration of Baobabs is simply unique and charming. Get this vector illustration for your digital artworks, desktop wallpapers, or event pages. You can download this design for free and easily incorporate your own design elements and texts to complete the look, and call it your own.
Botanical House Plants Illustrations
Utterly adorable in sketch, and with such great quality, download this set of Botanical House Plants Illustrations. These are hand drawn watercolor illustrations of potted succulents that are sure to be very much welcome in any millennial's home. Get this design piece for free for your journal artworks, wall art, greeting cards, and typography artworks.
Hand Drawn Bouquet Illustration
Get yourself a classic flower illustration that's timeless and nostalgic all at once. This Hand Drawn Bouquet Illustration is available for free and can be edited to fit into your wall art, stationery, framed presents, or book illustrations seamlessly.
Delicate Botanical Collection
The Delicate Botanical Collection is here to give you high quality and highly detail vector illustrations to make your dream design projects come to life. Get a variety of botanical and bird illustrations you can use separately or customize to create patterns, bouquets, and unique illustrations of your own.
Hand drawn vintage illustrations are pretty diverse in style and design method. This seamless Gold Leaves and Herbs Illustration is one design piece that exudes elegance and sophistication. Download this botanical illustration for free and use it for your formal invitations, event posters, and websites.
Hippie Love and Flowers Background
If you're looking for cool hippie patterns with botanical illustrations, then this illustration design is sure to make your day. The Hippie Love and Flowers Background is absolutely charming and youthful, you'll want lots of it for different products and designs. Download this illustration for free and use it for your book covers, wrapping and packaging designs, posters, shirts, and more.
Seamless Herbs and Wildflowers Border
A unique new design you'll want in your kit, the Seamless Herbs and Wildflowers Border is a sight for sore eyes. Get this border design illustration for your website background, product packaging, promotional posters, flyer ads, and banners. It's got intricate designs and patterns that are appealing and intriguing in their own way.
Garden Leaves and Flowers Illustration
There are plenty of uses for tropical patterns that you never have to worry about having too many designs at your disposal. This Garden Leaves and Flowers Illustration, for example, is such a refreshing tropical botanical pattern you can use as a restaurant or cafe wallpaper, t-shirt print, menu card design, or handbag pattern. Get this for free and create high quality products with such a high quality design.
Seamless Exotic Botanical Pattern
Going for more exotic designs is never a bad idea. This Seamless Exotic Botanical Pattern for example, offers a vibrant and unique design you can use for your product designs, fabric printing, packaging, stationery, and more. Get this exotic botanical illustration for free and easily apply it to your existing mock ups and templates.
Rhododendron Watercolor Illustration
A modern and minimalist approach to botanical illustrations, the Rhododendron Watercolor Illustration definitely has a personality of its own. Download this design for your home/office/store wall art, t-shirt printing, personal cards…etc. It gives off a unique vibe with its splashes of muted colors and detailed floral outlines. Classy with a bit of edge.
Cute Succulent Illustration with Quote
Ready to make anyone's day? This adorable little botanical illustration design ought to do it. Download the Cute Succulent Illustration with Quote and frame it on your walls or somebody else's as a present. It's a pretty lively design containing positivity in both illustration and typography. You can freely download this design and easily customize it to fit any of your works.
Seamless Vintage Botanical Leaves
We're never running out of vintage illustrations for you to choose from because vintage is pretty much a timeless theme or concept. The Seamless Vintage Botanical Leaves, being one of them. Download this seamless pattern for your phone casing, laptop covers and wallpapers, or actual interior wallpapers.
Pink Botanical Illustrations
Keep it simple and feminine with Pink Botanical Illustrations. This is a vector seamless pattern that can easily be customized to fit frames for digital prints, poster and flyer templates, stationery designs, website layouts, and more. Get this botanical illustration for free and have a new edgy design up your sleeve.
Vintage Rose and Floral Botanicals
Get more vintage flower patterns right here with Vintage Rose and Floral Botanicals ready for download. This illustration set can give you plenty of roses and flower drawings to choose from. Incorporate them on your vintage invitations, hand written letters, personal greeting cards, business cards, product labels, and more.
Seamless Watercolor Roses Pattern
Make beautiful art with watercolor floral patterns and hand drawn botanical illustrations. The Seamless Watercolor Roses Pattern is an elegant and timeless piece of design you can use for your wallpapers, phone casing, fabric printing, and the like. Easily edit and customize this design to fit your products and design projects for a sophisticated finish.
Vintage Exotic Flowers Vector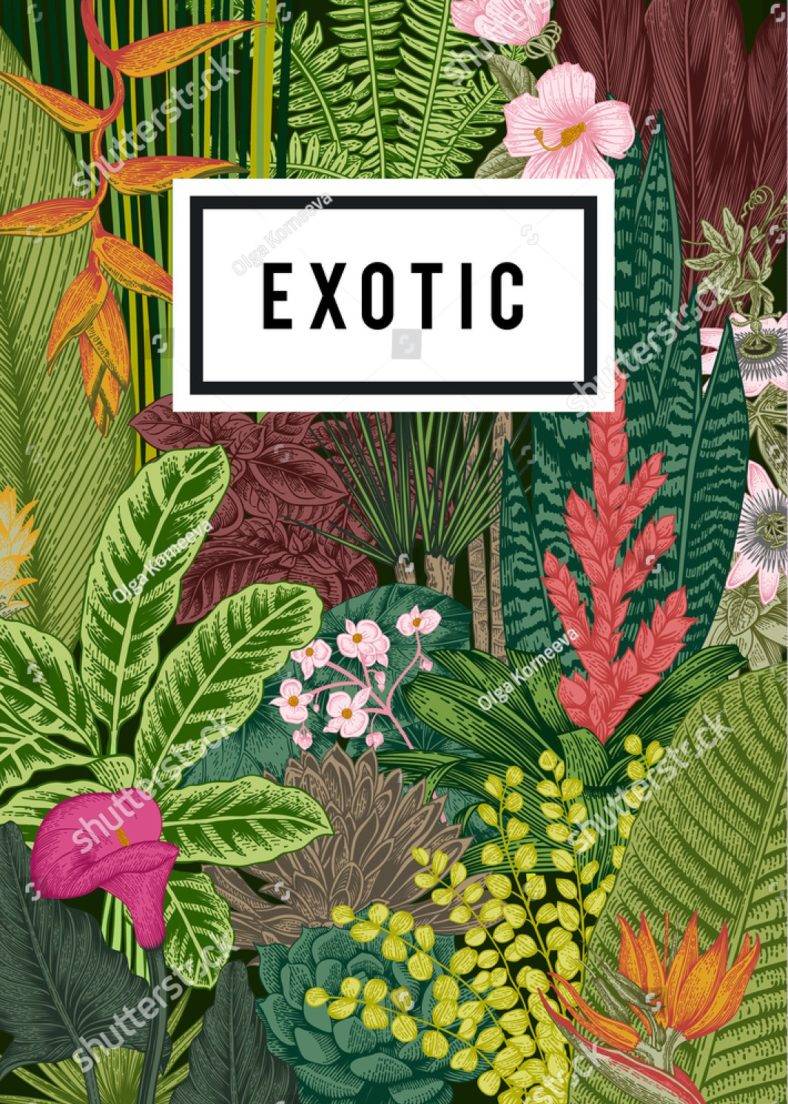 The Vintage Exotic Flowers Vector is available for download with high customization for you to use with ease and convenience for your designs. Download this botanical illustration for free, and create high quality outputs like posters, social media and blog posts, printed pillow casing, and wallpapers.
Seamless Tropical Palm Leaves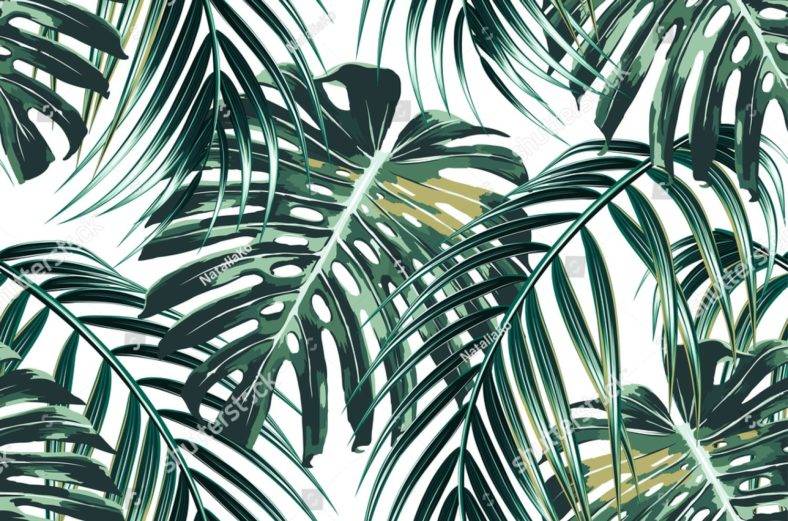 Looking for a tropical pattern you can call your own? The last, but definitely not the least, botanical illustration we've got listed is sure to make anyone's list of must have designs. Get the Seamless Tropical Palm Leaves for free, and use it for your cards, stationery, office wallpaper, framed typography wall art, and so much more.
Download these amazing illustrations to work on your products, designs, models, or personal trinkets efficiently and in style. These botanical illustrations are widely available for your use and are easy to customize to make your design pieces effortless and seamless. Carry nature around with you at all times by owning these illustration designs.
You may also browse for more jungle patterns and floral vectors for further experimentation with design.