Art
19+ Word Art Designs
It's inspiration time. We all know that words have a huge effect on our lives. If you are looking for a unique gift or struggling with gift ideas, the below list of lovely hand created word art designs will help you with any occasion. You can also incorporate them into birthday parties, wedding or engagement cards, and frames. The words and colors are of your choice. You can produce these designs in a personalized format. Once you get accustomed to these, you will never get tired of making them.
Beautiful Word Art of Car
This Beautiful Word Art was done by the artist "Jonsibal" as a part of an ad design he did for BMW in 2011. Here he carefully sculpted a BMW E92 M3 with words related with Active Autoworke.
Conceptual Black Tree and Grass Word Art
As a graphic designer, you might have done many fun loving things. This time, combine your love of fonts and State silhouettes. It won't take longer for you to do this than your normal photo-realistic style.
Typographic Art Design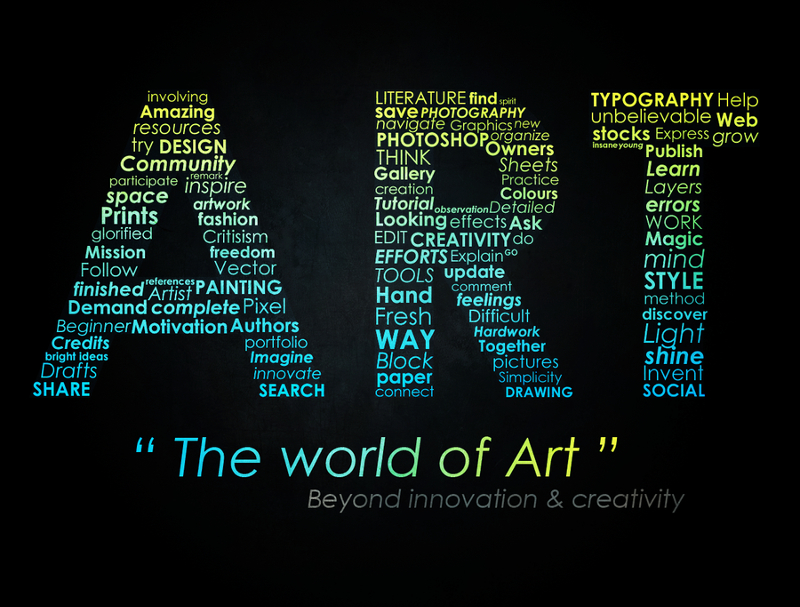 A kind of group icon. Here the artist framed his choice of words in the form of "ART". He admitted that it is the second Typographic wallpaper he created using Adobe Photoshop. This helps you express yourself in the 90s.
Education Concept Background Art
It's very obvious that people have a more visual form of memory and they remember images more than names. In this regard, rather than developing an idea from the beginning, you can easily use this education Concept background art.
Personalized Dog Word Art
Wordart in the form of a dog. Do you love your labrador? Then dedicate this Personalized 'Dog'able Word Art to him/her with his/her "name". This brings smiles on those faces who have sadly lost their pet dogs.
Health Concept Word Art Design
An apple a day keeps the doctor away. You can use this for health-related programs and awareness clinics. It's all filled with nutritious and fitness related words. After all, education and health should not remain as mysteries.
Dancer Personalised Word Art
A word art of a dancing damsel. This girl is tapping her foot to some tunes. This is the perfect gift for any dancer. Create a special memory for her with this.
Coffee Cup in Different Languages
Wordart with a morning coffee story. What story will your cup tell? Here the words are scattered in the form of a Coffee Cup. It's time to make something similar to this.
Dancers Personalised Word Art
A word art of two salsa dancers lunging together during practice. This handmade item with Calligraphy Fonts costs approximately $16. Present it to the twinkling stars to highlight the little dancer in them.
Word Cloud Concept on Dark Background
A bespoke house Wordart. Present this with natural frames to your friends who are moving into their new home as a house warming gift.
Clean Horse Word Art Design
Communication Word Art
Personalized Word Art for Occasion
Happy New Year 2016 Champagne Bottle
Word Art Design of Elephant
World Map in Typography Style
Christmas Tree Word Art
Source
Architecture Word Art Design
Wedding Anniversary Word Art Design
Source
Social Media Concept Word Art Design
If you have spent a few years in the 90s, you will definitely know the importance of WordArt designs. Wordart designs are one of the elements of surprise. From throwback 90s to the latest ones- they are the most sought after elements. You can gift them to your peer who is leaping into retirement and to your parents who are anything and everything in your life.
If you have any DMCA issues on this post, please contact us!