The presence of arts at the airports is an ever-growing, ever-changing showcase of cultural diversity and creative talent. The public art on display in airports often forms a traveler's introduction to the city. As travelers make their way from the plane to the exit, their travel-weary eyes keep looking for clues about the new environment. Airport art helps them with those cues, giving them hints about what this new city might be like. You can also see Pixel Art Illustrations.
A well-designed airport can complement an excellent travel experience by making it easy for passengers to find their way through check-in, bag drop, security check-up and to get to their gate. It also provides travelers with opportunities to eat, shop, and relax along the way.Here in this post, we will discuss a few airport art illustrations which will put light on some airport-based designs.
Color Airport Illustration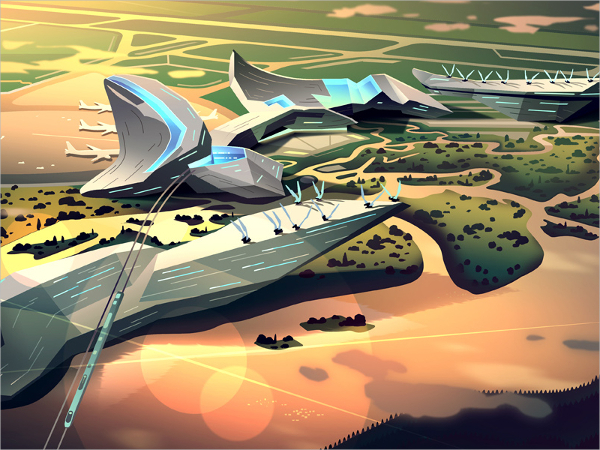 The above airport illustration is a creation by famous architect Matthew Lloyd, and he had created this magnificent airport design for his thesis project. This is a beautiful illustration of how an airport can be designed. The designer has used many vibrant colors and the different shaped designs give this illustration a fascinating look.
Airport Landscape Art Illustration
Airport Landscape Art Illustration is a fine example of how a modern airport should look like. Here the designer has given ample importance to detailing and has looked into all aspects of an airport like plane landing space, security towers, luggage carts, etc. The designer here has created a fantastic landscape of a modern airport. Furthermore, this vector illustration is available in different sizes and that too in high-resolution to fit the need of your projects.
Airport Service Illustration
Airport Service Illustration is a set of flat design concepts for various services being provided at an airport like airport transfer, boarding desk, luggage service, etc. Here the designer has looked after all the possible needs that anyone may come across when it comes to designing anything related to an airport. All these designs can be used separately for various design projects. Compatibility with Adobe Illustration allows designers to bring in further modifications in the designs as per the design need.
Airport Terminal with Control Tower
The above illustration is a beautiful concept layout design of a trendy airport using the flat design medium. This illustration can be used by various airways for advertising their brand as it covers everything that you may look for in an airport. You can see a beautifully drawn airport terminal with a control tower, airplane on the runway and much more.
Airport Illustration With People Free Vector
Airport Illustration With People Free Vector is a wonderful airport illustration wherein the designer has focused on the arrival and departure area. Here in this art, you can see travelers passing through the arrival and departure area and through the glass, you can even see an airplane which is parked just outside. You can further customize this design using Adobe Photoshop as per your design requirement.
Airport Illo Illustration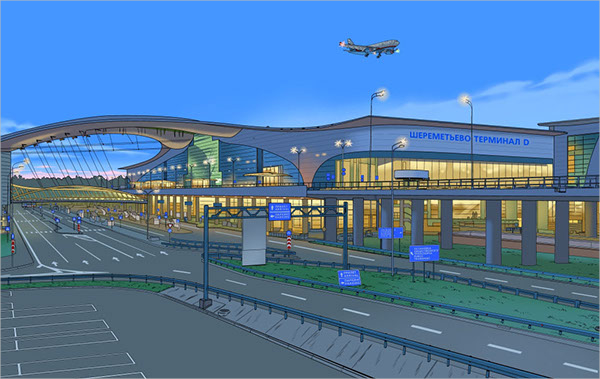 In this Airport Illo Illustration, you can get an idea of how the outside area of an airport looks. The artist here has focused more on creating the exact atmosphere that you will experience outside an airport. Although it is an illustrated image, still the designer has managed to make it look realistic. Airport Illo Illustration can be used for animated movies as a background. You can further customize this illustration using Adobe Photoshop as per your liking.
Vector Plane Window Art Illustration
Vector Plane Window Art Illustration provides the viewers with a sneak-peek of the airplane from a close quarter. In one image, the designer has focused on the windows of the plane and in another, he has again focused on the windows along with passengers. The use of bright colors complements the overall design. Vector Plane Window Art Illustration can be further customized through Adobe Photoshop.
Airplane Cutaway Illustration
Airplane Cutaway Illustration provides us a view of a passenger jet with an open roof which reveals various classes available in a plane. Here you will get an idea about the first class, business class and economy class facilities available in a plane. The designer has created a close up picture to give an even closer view.
Airport Art Illustration
Here in this Airport Art Illustration, the designer has highlighted the various facilities available inside an airport. Just by looking at this picture, any layman can get an idea of how the inside area of the airport actually looks like. Here, you can see people being seated at the airport waiting lounge, passengers using the escalator to reach another floor, passengers walking across carrying their luggage, and also one can see aircraft parked just outside of the airport lobby. The excellent use of color complements the airport design wonderfully well. Designers can use this Airport Art Illustration for various design projects.
Businessman Passenger Airport Art
Airport Vacation Art Illustration
Airport Art with Infographic Elements
Business Traveler Waiting in the Airport Art
Passengers at the Airport Art
Art of People Waiting in Airport
People Inside Airport Scene
Vector Airport Art Illustration
Airport Isometric Art Illustration
First Voyage Airport Art Illustration
Car Parking in Airport Art
Illustrations for JFK Airport
Travelling can be stressful. That's why the infrastructure surrounding an airport like the roadways, parking spaces, walkways, etc. are so vital. They are often the first thing that the passengers experience and these designs will help you in creating a first impression which will be positive and lasting. You can also see Digital Illustration Artworks.