Voucher Templates
25+ Microsoft Word Format Voucher Templates
A voucher is a kind of bond, though not of a legal kind, which is associated with some kind of redeemable transaction that can take places between two parties. It can also be described as a kind of certificate which states clearly that you are entitled to something or that you have already paid the money for it. Let us consider a situation where you have received a printable voucher to a store or your favorite spa. What do you do with it? You take it to the store and redeem it, in turn, you are given what you are entitled to – a free product or a spa treatment. You can also see Simple Voucher Template.
Ticket Voucher Template
Vintage Voucher Template
Elegant Gift Voucher Template
Simple Gift Voucher Template
Expense Voucher Template
Daily Expense Voucher Sample
Gift Voucher PSD Template
Shopping Voucher Gift Illustrator Template
Photo Session Gift Voucher Photoshop Template
Modern Food Voucher Word Template
Business Voucher Template MS Word
Unique Gift Voucher Template in iPages
Valentine Discount Voucher Photoshop Template
Shopping Fashion Voucher Illustrator Template
Drink Voucher Photoshop Template
Promotional Fitness Coupon Word Template
Blue and Pink Payment Coupon Template
Modern Gift Voucher Template in iPages
Fashion Gift Voucher PSD Template
Restaurant Food Gift Voucher Template
Food Gift Voucher Illustrator Template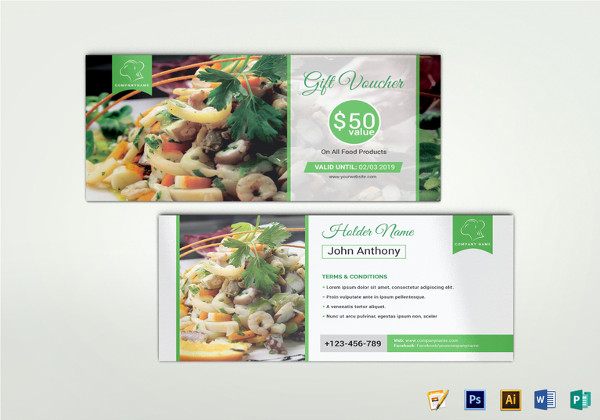 Child Care Voucher Template Free MS Word

hr.qmul.ac.uk
Word 2010 Format Travel Voucher Template Free Download

spartanburg4.org
MS Word Payment Template Free Word Download

officetemplatesonline.com
Expense Voucher Template Free Word Format Download

giftvouchertemplates.org
Blank Massage Gift Voucher Word 2010 Format Free Template

vwi.micloopstore.com
A voucher can serve as a promotional tool as it helps build and grow the reputation of a company. It must be attractive and eye catching enough to grab attention. Otherwise, they might dismiss it as insignificant or even forget about it. You don't want that, do you? In that case, you need to look up some Voucher Template samples online. Go online, look up the templates and select the one that you like the most!
> Types of Vouchers
There are quite a few kinds of vouchers. Some of them are-
Payment voucher– A Payment Voucher, as the name suggests, requires the bearer to make a certain amount of money to acquire the voucher. Having got hold of it, the holder of the voucher is guaranteed a particular service or product as the case may be.
Gift voucher– Nowadays, Gift Vouchers are popularly used as birthday gifts or tokens for other special occasions. The best part about a gift voucher is that the recipient can purchase whatever he wants. The name of the store is provided, along with other details.
Promotional vouchers– Building a reputation can be quite tough if you do not know how to go about. Vouchers can be powerful marketing tools since everyone loves free stuff. If managed and handled properly, these vouchers can do wonders for your business.
> Why Should You Use Voucher Templates?
You might think that creating a voucher is easy, but you are sure to be stuck in a rut when it comes to the actual execution of the plan. What design to choose? How to arrange the details? Is it too clumsy? Does it look attractive enough? To avoid such questions, simply look up voucher templates in word. Once you click the download button, rest assured, half of your work is already done. All you have to do is customize and edit the Free Word Templates.
> What To Look For in a Voucher Template?
Now that you have decided to use voucher templates on word, well done! Now these are a few things you must keep in mind-
Be careful while selecting the design of the voucher. Yes, it must be beautiful and stylish. But make sure you do not go overboard with the design. It is better to keep it simple and minimalistic.
Insert your details in a methodical and organized fashion. Make sure it doesn't appear too clumsy. Insert only the details you have to and leave out extraneous matter.
The best way to design a voucher MS Word template is to keep it simple and short.
> We Can Help You!
If you are looking for simple, professional and downloadable voucher templates, then you must visit template.net today!