Voucher Templates
31+ Shopping Voucher Designs & Templates – PSD, AI, InDesign
A shopping voucher's presence may trigger the inner thrift shopper within us. It feels like it releases a certain sweet fragrance that attracts an army of customers. Whenever a company announces that they are giving away vouchers, people would go flocking into their stalls, stores, or buildings to personally ask for it. Most of the time, they even rummage through the company's customer service portal the company's website, social media sites, and other online platforms that they have an account on. Once their availability is announced, a battle commences that tests one's will and determination to obtain the prize that everyone covets.
Sample Shopping Voucher Template
Shopping Spree Voucher Template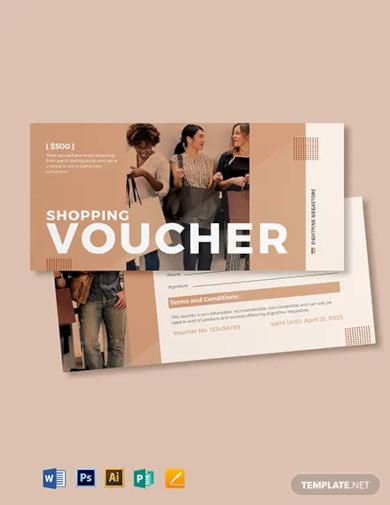 Christmas Shopping Voucher Template
Sister Shopping Voucher Template
Editable Shopping Voucher Template
Shopping Gift Voucher Template
Sample vouchers can be considered as gifts from the business owners to their customers, whether they be old, new, or prospects. In shops, vouchers are given for certain items such as clothes, jewelry, shoes, bags, or anything the people can shop for and offer a discount or a specific amount that will be deducted from the item's original price.
Shopping Promotion Voucher Template
Since the voucher lures customers with just its presence, why not step it up and add an attractive design to it? This way, the voucher not only satisfies the customer's yearning for cheaper purchases but it also feeds their eyes with a visual feast. We have prepared a list of exceptional designs that you can use for your vouchers to gain a lot of customers. Check them out below!
Simple Shopping Voucher Template
Printable Shopping Voucher Template
Baby Shopping Voucher Template
Shopping Gift Card Voucher Template
Complimentary Shopping Gift Voucher Template
High Street Shopping Voucher Template
Fathers Day Shopping Voucher Template
Free Fashion Voucher
Free Gift Voucher Template
Shopping Gift Voucher
Underwear Shopping Voucher Template
Stylish Shopping Voucher Template
Jewelry Shopping Voucher Template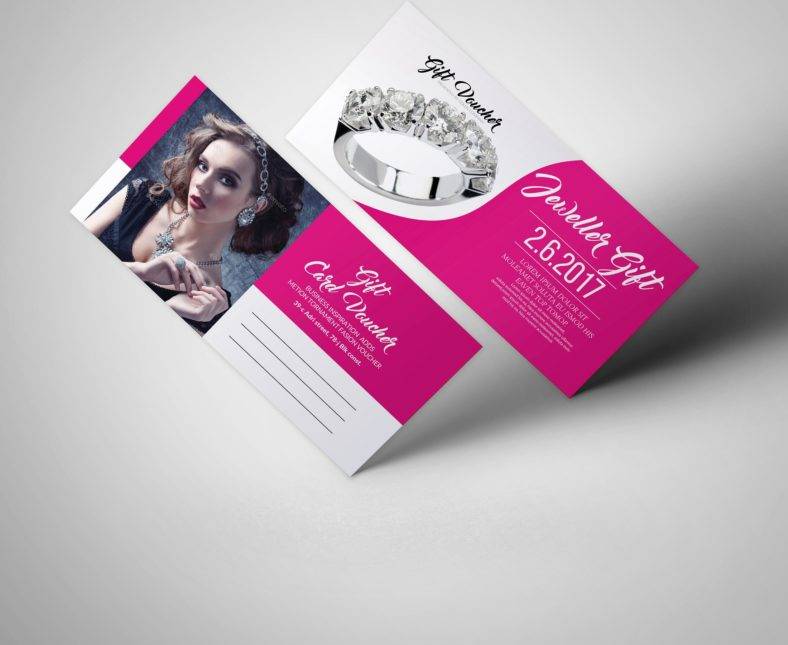 What is a Voucher?
A voucher or coupon is usually a card that contains information about the discounted item and its corresponding discount percentage or the amount that can be used to deduct from the item's original price. Vouchers are given to show that business owners care for their customers; that even if you are in a financial crisis, you can still avail the items that you are not able to buy at their original prices. There are some vouchers that do not have conditions in order to be used, but there are others that have them. Examples of the conditions are the threshold of the number and price of items that can be purchased, the date of validity, and the branches where these items can be purchased. You may also like coupon voucher templates.
Ways to Use Your Vouchers
There are a lot of ways you can use discount offers to drive customer conversions and acquisitions. Check out the following:
1. Weekly/Monthly Goals
Discount offers aim to attract customers and, with the expected increase in traffic, your sales will most likely go up along with it. So, if you are concerned about reaching the target sales for your weekly or monthly smart goals, offering discounts through vouchers will definitely help you.
2. Holidays
This would be a perfect time for you to lure in customers because people always look forward to discounts during the holidays. Since they have to do a lot of shopping during this season or during any holiday of the year, they are often on the lookout for ways to lessen their expenses. Expect a lot of traffic when you offer discounts during these times. And, when we say "a lot", we mean your store would definitely be crowded. You may also see blank voucher templates.
3. Email Subscription Offer
It is important to reach out to your customers online, and communicating with them through email is one example. If you offer a discount in exchange for subscribing to your business, it creates an opportunity for you to market new products or services through email. That way, customers will always be updated with your latest offerings, making them interested enough to purchase your stuff. Also, this will help you reach customers faster. An email can be sent with just a single tap or click on your computer, laptop, or smartphone. You may also see voucher templates in word.
4. Pre-Launch
If you are still in the pre-launch phase, it would be perfect to advertise your business by offering discounts. It would surely attract customers, especially if your business is still new. They would wonder as to what products or services you offer and their curiosity will get the best of them. Of course, there would be some hesitation. But, if you offer discounts right away, they certainly will not be able to resist visiting your store.
5. First-Time Shopper
What is a better way to welcome a new customer than by offering discounts? This way, there is a bigger chance that they will purchase again from your store if you wow them with their first experience. First impressions last, so make sure yours would. You may also see gift voucher samples.
6. Social Media
It is common to ask people to like, follow, or subscribe to your business' social media sites, especially if you are new to the game. So, in order to gain likes and followers, it would be nice to give vouchers as incentives for every like, follow, or subscription. It is an inexpensive way of spreading your online presence on the web. An increase in the number of followers and improvement in follower engagement will also help you promote your vouchers.
7. Referral
Referrals are probably the best word-of-mouth communication used to spread the presence of your small business. People will most likely go to your store if they are referred by a friend because, obviously, they trust their friend's choices given their experience with your business. So, in order to get more people to refer your store, give them incentives by offering vouchers for some items.
8. Minimum Purchase
One of the most common ways for customers to avail of vouchers is by letting them reach a minimum purchase. If they hit the minimum purchase, you can offer them discounts for their purchased items or you can offer them vouchers that they can use for other items in your store. You may also see voucher samples.
9. Influencers (Celebrities, Bloggers, Vloggers, etc.)
With the rampant use of social media, businesses have extended their reach further than they used to. Celebrities and bloggers use their influence to advertise products on their social media accounts. If you want to expose your business to more people, you could partner up with these influencers and offer exclusive deals to their followers on social media. Their credibility and charm allow them to "influence" their followers to avail of the vouchers that your business offers.
Vintage Shopping Voucher Template
Simple Shopping Voucher Template
Fashion Shopping Voucher Template
Modern Shopping Voucher Template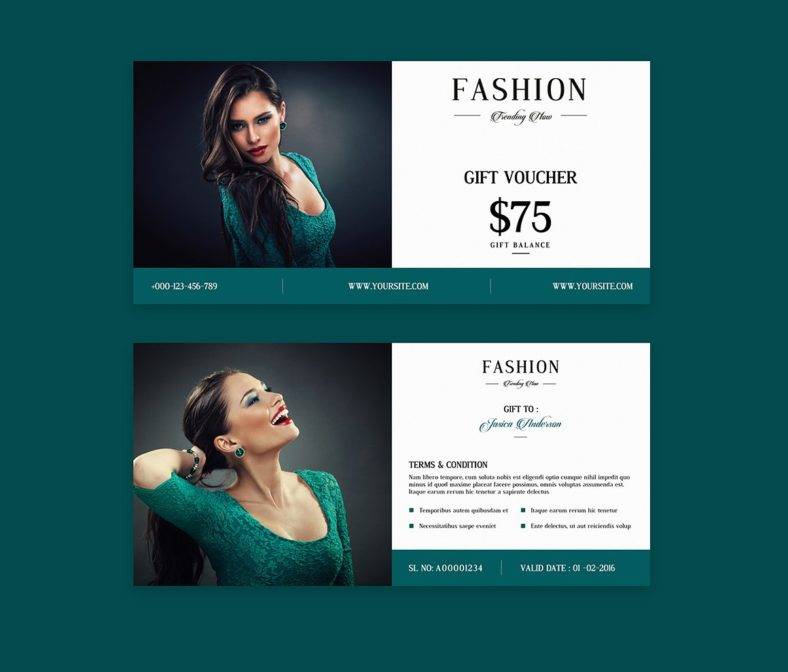 Flat Design Shopping Voucher Template
How Vouchers Can Benefit Your Business
Discounts and special offers attract a lot of customers, especially those who are on a tight budget. It is common knowledge that discounts help your customers, but did you know that they could also help your business? If you want to improve your sales and reputation, offering discounts are the way to go. Listed below are the advantages that your simple business can enjoy if you offer discounts on vouchers.
1. More Customers
People do not always have enough money to buy things, that is why they wait for discounts. Discounts give them hope that they can buy the glamorous shoes that they have always wanted or the expensive flagship phone that they incessantly craved for. The earlier you announce it, the more they will anticipate it. Expect a lot of traffic in your store on the day that the vouchers are ready for distribution. You may also see gift voucher designs.
2.  Improve Reputation
Offering discounts to a certain type of group, like the elderly or the marginalized, could give your business a positive image. It puts your business in a good light when you offer discounts to those who cannot afford certain things or those who have troubles with their finances. It gives off the impression that you truly care about your customers and you want them to at least purchase the things that they thought they wouldn't be able to. You may also see discount voucher designs.
3. Sales Increase
Increased sales are the results of increased traffic. Although people will most likely purchase the discounted items, there will still be people who will purchase other items even if they are not on discount. The traffic will not only expose your discounted items, but also the ones with regular prices. For example, if you have placed discounts on jeans, some customers will likely buy accessories or other items that will be compatible with those jeans. You may also see coupon voucher designs.
4. Savings
Aside from an increase in sales, discounts may help you save money when it involves payment methods. Debit and credit card transactions take additional fees to process compared to transactions using cash. You help your customers and your business save up money if you offer great discounts to customers who pay with cash rather than debit or credit.
5. Achieve Goals
Businesses always have goals in their sales, whether it is weekly, monthly, quarterly, or yearly. So, if you have problems achieving your goals, offering vouchers could help you with this issue.
6. More Space
Unsold items or those that you do not have a plan on selling anymore can take up too much space in your storage. If you sell them at discounted prices, it will surely clear a few meters of space in your storage area. You may also see vintage voucher templates.
Men's Clothing Shopping Voucher Template
Black and White Shopping Voucher Template
Women's Clothing Shopping Voucher Template
Corporate Shopping Voucher Template
Beauty and Fashion Shopping Voucher Template
Minimal Shopping Voucher Template
Elegant Shopping Voucher Template
Preapre Your Customers to Shop!
Shopping is an essential part of everyone's lifestyle, regardless of how often they shop or how much they spend on it. As a business owner, gaining profit is the utmost priority. After all, business is business. Offering vouchers to your customers create a path towards your goals in terms of sales as it attracts customers in a flash. In business, an increase in the number of customers equates to increase sales. Also, it helps build your reputation for being considerate of your customers. And, to further level up your presence, you should use attractive designs for your vouchers. You may also see voucher templates.
Choosing a design might be a difficult task for you given that the templates that we have shown you are all attractive in their own right. You can pick one, two, or even all of these templates if you have sample plans on offering your customers various vouchers on multiple occasions. One caveat though: since you won't be the only one looking at these templates, it would be better if you put your personal touch on your chosen design. This will help separate yourself from the others and create your own identity.
If you have found this article helpful, make sure that you bookmark this page and share this article with your peers. We wish all the best in your endeavors and your business' success. Good luck! You may also like sample voucher templates.
More in Voucher Templates