We have so many celebrations in a year-weddings, birthdays, baptisms, etc. It is astonishing how much we spend in a year just for these occasions. Some of these expenses include the outfits that we wear, the venue for the celebration, the food for the guests, and other necessary stuff that make up a successful event. And, although it is not mandatory, we still bring gifts to some of these events. We exhaustively hop from one store to another hoping to find the perfect gift, and as the ever-mischievous fates would have it, we do not always end up triumphant. In these trying moments, we have nowhere else to turn to other than gift vouchers.
From the perspective of both a customer and a business owner, gift vouchers are life-savers. They can turn any hopeless situation into an optimistic one. So, to show how special these gift vouchers are, we have curated the best designs and templates that will add a creative flair to them. But, before we dive into the list, let us first know what a gift voucher really is. You may also see voucher designs.
Simple Gift Voucher Template
Elegant Gift Voucher Template
Editable Gift Voucher Template
Cash Gift Voucher Template
Dinner Gift Voucher Template
Spa Gift Voucher Card Template
Spa Gift Voucher For Husband Template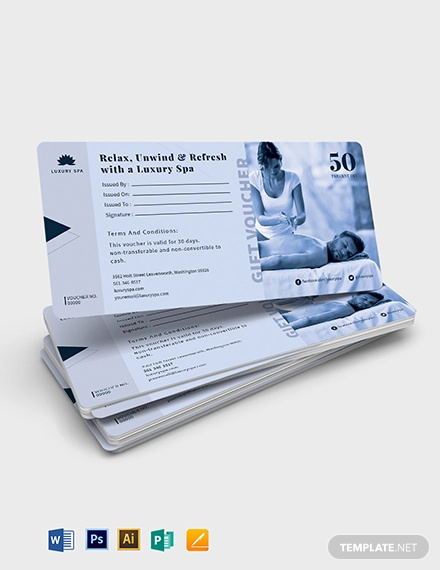 Thank You Gift Voucher
What is a gift voucher?
You may have seen gift vouchers from different stores or during holiday seasons. A gift voucher is a card that contains a certain amount that could be used to purchase items at a certain store. They have other purposes such as using them as alternative gifts for people with their names written on it to indicate ownership. You could also use a gift voucher as a gift to yourself, especially if you need a little pampering.
These vouchers sometimes come with conditions before you can use them and they vary from every store. For example, the receiver of the gift voucher can only use it during a specific period of day and time, like being able to purchase between 10 AM to 12 noon from Monday to Friday. But that is not always the case as there are stores that do not include conditions before using their gift vouchers.
Now that you are acquainted with gift vouchers, we will show you a curated list of impressive and creative gift voucher templates that you can use for your business. Check them out below!
Birthday Gift Voucher
Wedding Gift Voucher
Spa Gift Voucher
Christmas Gift Voucher Template
Photo Session Gift Voucher Template
Photo sessions can be quite expensive, but these vouchers can lower the price a little bit for those who are on a tight budget. If you are offering photography services, this gift voucher template will help you improve your reputation. The design lets you show your sample shots so people would know how skilled you are as a professional photographer.
Also, space is provided for the receiver's name to make it more personal. And, if you have conditions before the receiver can use your gift voucher, there is an area at the back to list them all. Impress people with this design and expect a few new entries to your list of customers! If you want to promote your photos more, check out Photography and Photo Studio WordPress Themes.
Unique Gift Voucher Template
Shopping Gift Voucher Template
Shop till you drop! Take your customers on a shopping spree with this gift voucher template. It is a very straightforward design that lets you show how much the gift voucher is valued at. Also, you can change the featured photo to anything that you like, whether you want to put the models of your store or just the products that people can avail of with the voucher. Get this one now so customers will start rushing to your store! If you want an extensive list mainly composed of shopping vouchers, you can visit Shopping Voucher Templates.
Modern Gift Voucher Template
Fashion Gift Voucher Template
Fashion always has a price, but it does not have to be an expensive one. Get your customers rolling in with this fashionable gift voucher template. The layout features photos of your models so people will have an idea of what kind of fashion your business is into.
Also, if you want to change colors, you can freely do so as this template is fully customizable and editable. It is a simple design that lets you flaunt your fashion designs. If you want to add a promotional tool to go along with this gift voucher, you can look at Hair & Fashion Business Card Designs & Templates.
Stylish Gift Voucher Template
Restaurant Food Gift Voucher Template
Food gift vouchers are something that cannot simply be ignored. So, to further entice people, use this simple yet attractive gift voucher template. The design is mainly composed of the standard elements for a gift voucher, like the validity period, the amount of the voucher, the featured photo, the conditions, and the placeholder for the receiver's name. If you want to look for more voucher themes for restaurants and food, check out Restaurant Food Coupon Designs & Templates.
Vegetarian Gift Voucher Template
Business Gift Voucher Template
If you truly care about your employees, then giving them gift vouchers is one of the ways to show it. This design has a formal tone to it but with a bit of style. As with any business, there are rules to follow, and this layout has enough space for all the conditions that the receiver needs to comply with before using the voucher.
Also, you can put your contact details in case people will get curious and want to know more about your business. Get this one now and let your employees know that they are special to you. You can also take a look at Sleek Business Card Design & Templates for more promotional tools for your business.
Sparkly Gift Voucher Template

Wedding Gift Voucher Template

You cannot go to a wedding without a gift. So, if your customers are having trouble finding the perfect gift for the newlyweds, you can help them by offering your gift voucher. This template allows you to personalize the voucher by putting a photo of the couple that your customer is giving it to.
You can even put personal information such as the couple's names and wedding date and venue. The black and white color combinations perfectly match a wedding theme. Buy this template now so you can start giving them to your customers! Also, if you want to check out other wedding templates, visit Wedding Catalog Designs and Templates.
Multipurpose Gift Voucher Template

Christmas Gift Voucher Template

There is no other perfect moment for a gift voucher to shine than during the Christmas season. This particular season is the busiest and costliest of all, so it would be a great help to your customers if you offer gift vouchers that they can use to lessen the expenses and time spent on searching for gifts.
The design is as direct as it gets, putting up bells and a reindeer accompanied by the snow and trees to make it feel like Christmas. There is a dedicated space for a QR code if you want your customers to know more about your business. Also, if you want to view more Christmas-themed templates, check out Free Christmas Design and Templates.
Black Friday Gift Voucher Template

Fast Food Gift Voucher Template

If you are planning to give out vouchers during special events, then this template will be right for you. Events are usually festive, so it would only be appropriate that your design will include party buntings. You can also feature fast food meals that your business offers so people would know what kind of food you serve. It is a simple design, but it would definitely still attract customers, old and new. If you want to look for other templates about food, just visit Food and Drink Menu Designs & Templates.
Black Style Gift Voucher Template

Fitness Gift Voucher Template

Health is wealth; that is why promoting your gym through gift vouchers will encourage people to stay in shape. This theme is a perfect fit for promoting fitness. You can feature different aspects of your gym such as the equipment and the gym itself. There is enough space to put all the details such as contact information, the location of your gym, the discount rate, and the opening and closing period of your gym.
Also, you can put some statements that will entice people to go to your gym. Get this template now and help other people get their body in tip-top shape! To help your customers organize their workout schedule, take a look at Fitness Calendar Templates.
Simple Gift Voucher Template

Benefits of using gift vouchers as promotional tools
Gift vouchers are not just used as gifts but as promotional tools as well. Let us look at the benefits below:
They can reach new customers. There are certain customers that do not really pay much attention to some regular priced items because of their financial limitations. Thus, there are people that businesses cannot reach. But, with the help of gift vouchers, they can invite new customers to visit their store and encourage them to look at those items that they ignored before.
They are highly targeted. Since gift vouchers basically offer discounts, they are the primary targets of consumers.
They help build credibility. Giving gift vouchers to your customers solidifies your relationship with them, building your business' credibility and reputation. It is a testament that you care for your customers and that you appreciate their patronage.
Advantages of using gift vouchers for your business
Increase your business' visibility. When you give gift vouchers, you are highly encouraging people to purchase your products or services. If they are satisfied, there is a great possibility that they will return for more purchases as a result of an increase in customer loyalty.
Increase your business' sales. What more could gift vouchers be but cash boosters? Gift vouchers are mostly given during the holiday season, e.g. Christmas and special events such as Halloween, anniversaries, etc. During these times, there is a noticeable peak in demand so expect that your sales will also increase.
Increase brand awareness. This is where the designing part comes in. In order to make a great impression, a striking design is needed. Make sure that your gift vouchers' designs represent your business' identity well. It is a marketing strategy that will help you reach people who have not heard of your business before.
Gift vouchers are the perfect alternative to gifts that people usually give. A voucher is handy and gives the receiver the freedom to choose what they would spend it for. The designs that we presented have different themes, so choose the one that would match with your business. And, always remember, pick the one that would represent your business' identity well. It is a tool that also promotes your business, so it is better if you make a great impression by choosing the right design.