Voucher Templates
18+ Voucher Designs & Templates
If you're managing a business, it wouldn't be a bad idea to use vouchers and send them out to potential and current customers. Though they may lead to making you sell your products and expenses for a lower price, they do help in attracting a lot more customers, and that is a fact.
Table of Content
More customers mean more income, and more income means a more likely chance at being profitable, and we all know where that leads to. If you wish to attract more customers through vouchers, you can always make use of the voucher templates that we have on this website.
Elements of a Good Voucher
1. Name of the Issuing Entity: Almost always, vouchers are issued by businesses and corporations, but seldom they are also issued by organizations. Whatever entity is issuing the voucher, their name (and logo, if applicable) should always be indicated on the voucher for them to be acknowledged by the holder. Through this, the company or organization will most likely benefit from the positive impression given to them by the voucher holder.
2. Voucher Title: What is the voucher for? Why did the business or organization decide on using vouchers? You can use those as guidelines for your voucher title or headline. However, you can actually use any catchy heading for your voucher, just make sure that it is self-explanatory or easy to comprehend so that the voucher holder can right away determine where to use it.
3. The Perks or the Value of the Voucher: Is the voucher intended to cut prices? Or is it intended to give freebies? If the voucher is to apply discounts, determine how you want it to be. When it comes to discount vouchers, it can either be in the form of a percentage, or in absolute value.
To explain the difference between the two, the percentage form gives the holder no definite amount for the discount, and the price cut will depend on the value of the item or product. On the other hand, the voucher will specify how much is to be deducted from the given price.
4. Fine Prints or Terms and Conditions: Lastly, the voucher will write down a list of terms and conditions to be considered regarding the voucher. This list may include a required minimum amount for the item or product bought before the discount can be applied, or the time period wherein the voucher is considered valid. Oftentimes, these terms and conditions are written in fine print and are usually found at the back page of the voucher.
18+ Voucher Templates
20% Discount Voucher Template
Thanksgiving Gift Voucher Template
Mothers day Shopping Voucher Template
Diwali Gift Voucher Template
Bakery Voucher Template
Pub Voucher Template
Business Consultant Voucher Template
Sample Discount Coupon Template
School Voucher Template
Template Details
Available File Formats
&nbsp
&nbsp
&nbsp
&nbsp
&nbsp
Size: 8.5×4 inches with Bleed
Baking Voucher Template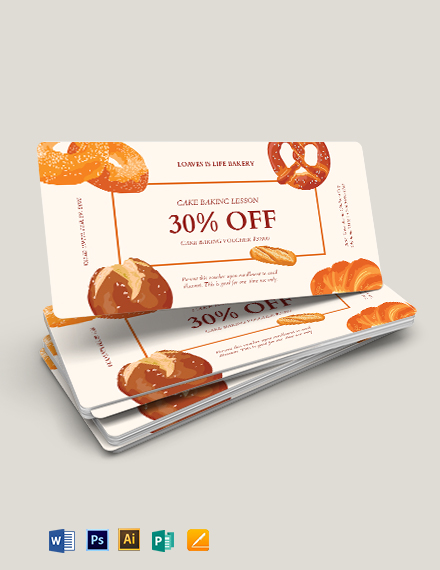 Template Details
Available File Formats
&nbsp
&nbsp
&nbsp
&nbsp
&nbsp
Size: 8.5×4 inches with Bleed
Skii Sports Voucher Template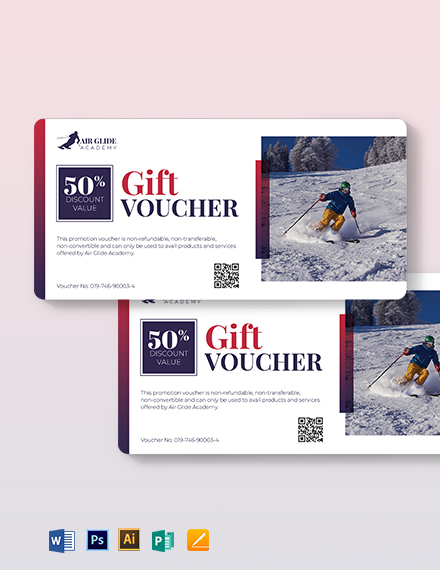 Template Details
Available File Formats
&nbsp
&nbsp
&nbsp
&nbsp
&nbsp
Size: 8.5×4 inches with Bleed
Tuition Voucher Template
Template Details
Available File Formats
&nbsp
&nbsp
&nbsp
&nbsp
&nbsp
Size: 8.5×4 inches with Bleed
National Prayer Day Voucher Template
Template Details
Size: 8.5×4 inches with Bleed
Simple Dinner Discount Voucher Sample
Template Details
Available File Formats
&nbsp
&nbsp
&nbsp
&nbsp
&nbsp
Size: 8.5×4 inches with Bleed
Elegant Lunch Discount Voucher Example
Template Details
Available File Formats
&nbsp
&nbsp
&nbsp
&nbsp
&nbsp
Size: 8.5×4 inches with Bleed
Clean Minimal Receipt Voucher Design
Template Details
Available File Formats
&nbsp
&nbsp
&nbsp
&nbsp
&nbsp
Size: 8.5×4 inches with Bleed
Simplistic Colored Gift Voucher Design
Multipurpose Discount Voucher Template
Steps to Designing a Good Voucher
1. Decide first on the type of voucher you are trying to make. There are various types of vouchers that you can choose from, and we have listed them below for your reference.
2. Choose a theme for your vouchers. As much as possible, the theme of your voucher should match with the theme of your business or organization. The reason behind this is the same as with other business marketing tools, which is to help create a consistent brand identity.
3. Add graphics to the voucher design, you may want to add stock photos, illustrations, patterns, or shapes to enhance the look of your voucher. A word of advice when adding graphics, make sure that it is appropriate to the type and the theme of your voucher.
4. Write the content for your voucher and let the holder know how they can benefit from it. To make sure that you will be able to supply all necessary details, just keep in mind that your content may be able to give answers to the what, when, and how questions—what type of voucher it is when it can be used, and how it can be used.
5. Include your contact details. If you are still skeptical regarding the details that you have supplied, you can always choose to do this. This way, if the holder has some questions regarding the voucher, they can simply reach out to you in order to make those inquiries.
Simple Tips for an Excellent Voucher Layout
Keep the design simple and clean, it will attract a lot more attention since people will be able to read the content clearly and easily.
Don't shy away from adding color to your vouchers, they will actually help in enhancing the physical appearance of your vouchers, and having an enhanced appearance can help in attracting a lot more customers.
For discount vouchers, decide whether you want your discount to be in percentage form or in absolute amount. Also, whichever of the two you prefer to use, make sure to indicate a minimum amount that a voucher holder needs to spend in order to enjoy the discount.
In terms of the fine print, make sure that the text is still legible enough. There are people who look into fine prints in order to gather more information regarding the voucher.
Don't forget to proofread the content on your voucher before giving them away.
And lastly, don't forget to include your contact details as well as a call to action. This is to allow leads to reach out to you when they want to.
Types of Vouchers
1. Gift Vouchers: These are a type of voucher that can be used by the holder to buy certain goods or products for a discounted price. Other than that, gift vouchers can also be given from one person to another as a form of a present. However, to make the most out of your gift vouchers, it is highly recommended that you buy something that has either an equal or bigger value than the gift voucher.
The reason behind that is because even though gift vouchers are the alternative to cash, no change will be returned if the item bought has a smaller value. Additionally, if ever you buy something that has a bigger value, you can pay the remaining amount using cash.
2. Meal Vouchers: These are a type of voucher that is commonly given by employers to their employees as a form of perk or incentive. These vouchers will allow the holder the privilege to eat in a specific restaurant or food establishment indicated on the meal voucher. There are two types of meal vouchers, however, those that actually give the holder an entirely free meal, and those that simply apply a discount on the total bill.
3. Travel Vouchers: Also known as tourism vouchers, these are a type of voucher that are commonly used in the tourism or tourism industry, and serves mainly as a written proof or evidence that the individual whose name is indicated on the travel voucher has the right to travel to a specific place within a specific time frame.
4. Electronic Vouchers: Also known as internet vouchers, these are a type of voucher that no longer need to be presented physically and will simply to input a code on to the computer. Electronic vouchers are either sent through email or are given to users who have an account in online shopping websites such as Amazon and eBay. Also, electronic vouchers are used in video games wherein it allows users to download exclusive contents of the game. And in order to make it easier for users to use electronic vouchers, they usually come with instructions on how to avail of the benefits.
5. School Vouchers: These are a type of voucher that is usually issued by the government to shoulder the expenses of a school-aged individual. School vouchers vary according to the state, some cover an entire school year while some cover only a particular semester. One of the reasons for the use of school vouchers is to reimburse the expenses made by parents who have homeschooled their child because they couldn't afford to send their child to an actual school.
Sizes of Vouchers
8.3″ x 3.4″ (210 x 99 mm)
8.5″ x 4″ (215 x 101 mm)
3.5″ x 2″ (88.9 x 50.8 mm)
FAQs about Vouchers
Is there an expiry date for gift vouchers?
Yes, gift vouchers will expire. If you check the fine print on the voucher, it will usually indicate a time period in which the voucher is valid. After that time period, your voucher will then be considered expired and will no longer be honored.
Can the issuer replace a lost voucher?
Gift vouchers are like cash, if you lose them, they will no longer be replaced by the issuer. However, there are some retailers that are sympathetic enough and will replace lost vouchers, but this will depend on why and how you lost your voucher.
If you lose a gift voucher, the shop doesn't have to replace it. It's just like losing cash—so always keep the voucher somewhere safe. But if the voucher was made out to you specifically and is not transferable to another person, the shop may be able to issue you a new one and cancel the original voucher.
Why go through the hassle of designing vouchers from the ground up when you can make use of our voucher templates? These templates can be downloaded at a reasonable price, and they can be edited according to your preferences. Save yourself the hassle, choose a template and use it to make your own vouchers.