Tools
16+ Emoji Maker/Tools- Portraying Heartfelt Emotions in a Fun Way
Emoji are small digital images which are used to express an idea while one is undertaking digital communication. These icons whether it be a smiley or a heart shape have become words for conversations these days. Apart from the existing default emoji, various emoji maker apps provide to the users the leverage of creating something very personalized. Self-designing of emoji can give a customized expression to your emotions and at the same time lead to unlimited fun. You can also see Emoji Stories/Sentences.
Randemojinator Generate Cool Randomized Emojis

Bored of the emojis on your smartphone? Go ahead and check out this Randemojinator app that allows you to generate extremely cool emojis and that too at random. In case you do not like the emoji that is generated, you can tap on the background to change it.
Crayola Emoji Maker Tool for Free
Emoji Maker – Create Custom Smiley Faces & Share

Thinking of creating your personal emojis? Well, this has surely become easier with this emoji maker. It offers you a wide range of tools that allow you to create your own emojis or customize the existing ones on your device. So go ahead, create your emojis and then share these with your friends.
Emoji Crack – Make New Emoji for Phone
Online Create Your Own Emojis Femojis Here

If you want to design cool and funny female emoticons, you can easily do this with the aforesaid emoji femoji maker. It comprises of some preloaded emojis which you can alter as per your requirements. You can also design new emojis and femojis with the tools that are offered.
Emojidom Smiley & Emoji Maker Free Download for Phone

If you love chatting with your friends on your smartphone and prefer to use emoticons all the time, you can now create your personal smileys and emojis to quadruple the fun. Just download Emojidom and design smileys and emojis as per your liking and preference.
Scratch Emoji Maker Online Tool for Free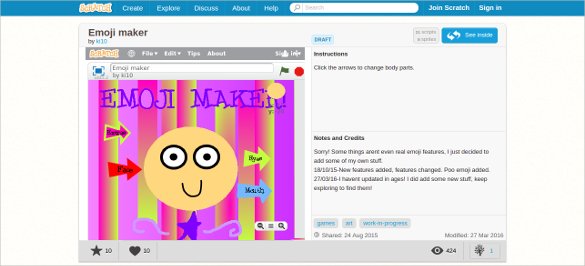 Emoji Camera Maker APK Format for Android

In case you want to add emojis to camera icons which can then be used as logos or added to a story etc, you just need to use the aforesaid tool for the purpose. Designed for the Android platform, this app allows you to design your personal emojis and then place them on camera icons. You can also add words to these.
Emojidom Smiley & Emoji Maker Tool for Free
Free Download Emoji Maker Tool for Your Phones

Want to create personal emojis on your phone? Well, go ahead and download this emoji maker tool to your phone. It is free of cost and thus accessible to all. It comprises of a number of options that make it easier for you to design an emoji of your choice within a matter of a few minutes.
Emoticon Creator Says Emoji are Helpful
Create Your Emoji with Pizap Emoji Maker
Emoji Ink Create Your Own Emoji Images
My Emoji Creator for iPhone
Best Disney Emoji Maker Online Free
If you are in love with the Disney characters and would love to create your very own Disney emojis, then go ahead and check out the aforesaid app that is specially designed for the purpose. Free of cost, this is surely a best pick for all who love to create emojis.
Download
> Creative Customization of Status Using the Emoji Maker Application
To create something by your own self and then flaunting it in front of friends to amass appreciation gives loads of adrenaline rush. Emoji Maker tool when downloaded provides for a similar kind of excitement. This application is one of its kind which enables you to create a distinctly unique status. To make your social status look different and a cut above the rest, this creative tool comes very handy. A smiley with different expressions for every special occasion or a cartoon emoji can just do the trick. This applications provides for many choices of shape and body of emoji and has a live cycle title support. See this Crying Emojis.
> Functioning of Emoji Maker- The Ultimate Fun Tool
Emoji Maker lets you test your creative skills by letting you create and build your own version of the conventional emoji which we have been using all through. Some distinct characteristics which you can add to your image using the Emoji Maker are;
Shape and body structural changes in an Emoji.
Funny eyes- this feature makes the emoji look weird and thus laughable.
Different nose and ears- they make your Emoji stand out amongst those of your friends.
The Emoji Maker app also provides for silly hats and funny mouths-This helps in creation of Emoji which are distinct and make for amusing SMS's.
> Choosing the Right Emoji- For an Enthralling Social Status
Choosing the right Emoji from the default set or designing the apt Emoji to depict your emotions is a task of great Expertise. It may sound like fun, but you have to be creative and analytical when you design an Emoji. As an Emoji expresses your emotions it is important to create the right one for right purpose, or you might end up expressing something you did not mean. Even factors such as culture, social norms should be taken into consideration.
> Steps to Follow in Creating the Right Emoji through Emoji Maker
To create that perfect Emoji you need to follow a particular series of steps. These steps would ensure that the Emoji you have as the final product is a true portrayal of your feelings and is as unique as you:
Create your own smileys by importing your photo and add features as per your wish.
Once you have created your Emoji in Emoji Maker, save it by pressing save icon.
Once you have satisfied your creative instincts, press the share icon to send it to the app of your choice.
So these are a series of simple steps which can lead to creation of enthralling Emoji with the help of the amazing Emoji Maker tool