Tools
Top Best 11 Online Invitation Makers / Tools to Make Your Invite Worth an Appeal!
Invitation cards convey that you are celebrating something special in your life which is close to your heart. The celebrations get even more important when it is joined by loved ones from your relatives and friends. For every occasion, you ought to have a beautiful invitation card to let people know that they are important in your life and you need their presence and blessings. An invitation which contains the reason for your celebrations, joy and which conveys your celebration in the best possible way. Here are a few websites which are helpful in making a good invitation card. If you want to make a wedding card, an invite to a virtual online party, or to a baby shower, you'll be able to do so with our hassle-free templates. Even kids will have an easy time using these thanks to the user-friendly features. You can send it through WhatsApp and other electronic devices due to the compatibility of the program. Marriage and Friendsgiving will be all set! You can also see Invitation Templates.
Evites are said to be the most trusted websites which have sent more than two billion invitations successfully. It is easy to use and create online applications. It also carries the feature of tracking RSVPs easily.
Paperless posts have got the feature to design the invitation card online and offline. It carries the featured "designer option" where it has beautiful designs made by the designers of the website. It also has the option where you can design your card according to your own needs and events.
Smile box has an application that lets you quickly create and share free invitations online, plus slideshows, photo albums, scrapbooks, greetings in a very personalized way. It also provides the users with a free one-week trial. With this tool, you may invite your guests using animated photos, videos, and themes.
Pingg boasts of having the only website which has an independent designer community. Which speaks of the variety of designs that is unique for different occasions. It is the best website if you are looking for something which depicts young and innovation.
Purpletrail lets you create amazing quality invitations, cards, prints, home decors, and photo gifts. It has got more than ten thousand different designs to choose from. It allows the users to customize the card as well.
Invys is the easiest way to make fashionable and trendy cards. You do not have to download any applications or tools, unlike other websites. You can design your card in the best possible way and it charges only when you are ready to print. Invite designs are ready to print PDFs.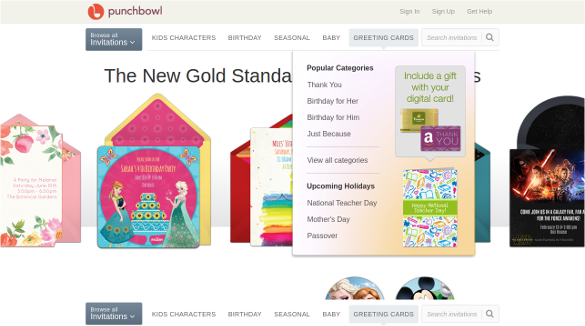 Punch bowl allows one to design the invites through mobile, desktop, and tablets. You can make beautiful invites which are handy. This website is dedicated to mothers who can design their invites in the easiest of ways.
Minted has got all types of invites you need for your celebrations. From birthdays to anniversaries it has the best invite designs all sorted in the website list. This website has got designers from all over the world who deliver quality designs.
Jukebox definitely knows how to keep its customers happy. They have the amazing business deals which they offer. They also have an easy tool that allows trendy cards to make in the easiest manner. They design all sorts of designs and deliver them right to your doorstep.
Adobe Spark is a free-of-cost graphic design app that is available in both desktop and mobile versions. The app comprises a number of tools that help you to create images, web pages, and videos which can then be used to tell a story or send out messages.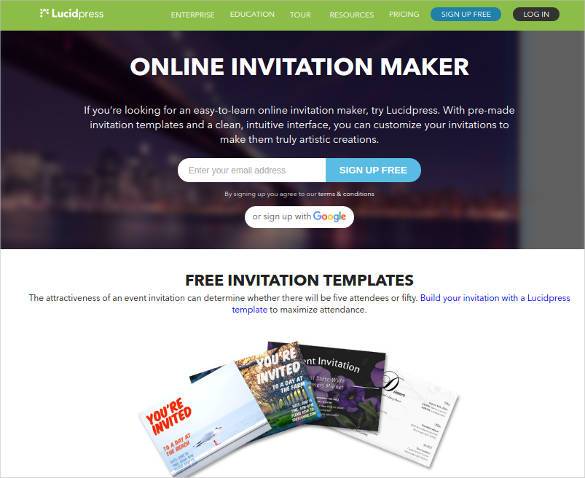 Lucidpress is a print and digital publishing software that is available online. it is a drag and drop app that can be used to create awesome content for both print medium as well as digital media. It can be used to design brochures, invitations, posters, flyers, and whatnot.
> Usage of Online Invitation Making Tools and their Benefits
These are the basic online invitation makers tools that can be used for weddings, birthdays, graduation ceremonies, and all other types of invitations according to your needs. These online application tools are easier to customize. All the above websites have the option to buy the product online or design it yourself. Some of the websites have designs from across the globe which is innovative and fresh.
Some of the websites allow their users to use it for a trial period later on it can be upgraded to the paid versions. They come in PDF form so printing the invites are easy. To save the paper and cut on the postal charges you can send these invites online as well. The best part about these online invitation maker tools is that you can track your RSVPs.
> Make Your Party Go Rocking
Online invitations maker tools are in vogue these days. It not only saves your time but allows you to put your own creativity into the invite sent. Plus, you are also contributing to the environment by not using paper. Use the best of your photos and videos to customize your invite. If you are planning a birthday party, wedding, or bachelor's party you know which is the right place to click. Wishing you all the luck for the best party ever! You can also see Typography Online Brochure Tools.
How to Make Invitation Cards Online Free
You can always hire the services of an expert to help you design an invitation card in PDF. However, this can sometimes burn a hole in your pocket. Then there might be times when you wish to design your own invitation cards. You can easily do this with the help of invitation card-making software and websites available online.
A look at the Top 7 Free Infographics Tools & Online Makers in 2016 will give you an idea of the various options that are available free of cost. You just need to select a layout, impose an image and add in the content to design a perfect invitation card in PSD.
Wondering how to design an invitation without the help of an expert? Well, check out the tools and online makers to find the best-suited software. In order to enhance the invitations with personalized signatures, you can even make use of the Best Email Signature Generators, Tools & Online Makers too. Easy to access and download, customized invitations are now just a few clicks away.