Tools
Top 12 Font Editors to give a New Life to Your Web Pages
Fonts are essential for a website. Through font, a person reaches to the content and information provided in the website. Having a good content but not a well design font can make your website look boring. A good font pleases the eyes of the reader and makes a website worthy. It beautifies the look of the website. See this Infographic Fonts for Designers.
>

Here are the Top 12 Font Editors to give a New Life to your Web Pages.
Font Creator
Font Creator is a free font editing software. It is designed by high logic for Windows which has prominent tools and easy interface. It allows to the user to create the font. It also has got the feature to edit the fonts the way you want to. They can also design the existing characters, fix and convert them according to their own needs.
It has got the features to add more than 2,000 glyphs and import images. It also supports encoding for code pages like Unicode, ASCII, ANSI, Symbol and Big5. It gives flexibility for the beginners to design a beautiful font for their website needs.
FontForge – An Outline Font Editor
fontforge allows you to edit the fonts according to your own needs. It outlines and bitmaps the fonts. You can create new fonts and can also retouch the old fonts accordingly. It can also help as a format converter and can interconvert between PostScript (ASCII & binary Type1, some Type3, some Type0), TrueType, OpenType (Type2), CID, SVG.
Fontographer
Fontographer helps to design new typefaces. It customises the existing fonts and gives high-quality fonts which work on different operating systems. It also creates new fonts, adds extra characters and has fine-tuned spacing and kerning Fix problems. It improves the quality of the font and gives it an appropriate screen quality.It can Open and generate Type 1, TrueType, OpenType, Type 3 and Multiple Master fonts and exchange its working files with FontLab Studio, TypeTool or ScanFont.
FontCreator
Font design simplifies the designing process with an appropriate interface and other features. The drawing tools allow you to design glyphs. You can also import an existing TrueType font. You can modify the smallest of details here and it can convert images to glyphs. It allows you to turn a logo or your handwriting into a custom font boldface, rotate, or alter every character in a font. It can also help in kerning, change character-to-glyph mapping, and validate fonts to detect common problems.
Type Light
Type light is a functional, freeware OpenType font editor. Using Type light you can design, edit and convert OpenType TrueType and PostScript fonts. Type light is free for personal and limited commercial usage.
Outline Font Editor
It creates and edits postscript, TrueType, OpenType and other fonts. It allows the user to create their own postscript, TrueType, Opentype, cid-keyed, multi-master, cff, svg and bitmap (bdf, FON, NFNT) fonts, or edit existing ones. It can switch between drives using the bookmark.
Glyphr Studio
Glyphr studio is a free web font designer tool. You can create fonts and edit them with an ease. They come with a variety of features like lockable attributes, guidelines, keyboard shortcuts and undo history.It can be also used in two screen mode editing in one and tools on another screen.
Type Light
Type light lets you create your own type phase design, edit and convert Truetype (.ttf) and OpenType PostScript (.otf) fonts. This application can be downloaded for free. If you have already worked with the vector graphics design, Corel Draw and MS Draw then you can easily use this application. It supports fonts with up to 65535 glyphs. It can also act as conversion between OpenType, TrueType and OpenType PostScript fonts. If you are a professional typeface designer you have to pay for the commercial licence of $53.00 to distribute your typefaces commercially.
Glyphs
With Glyphs, you can digitise your sketches and create a full-fledged OpenType font. It can work on all the type of language because of its smart component placements. It also produces the words in high resolution. This website has got the coolest of features you need to have. Check out the link below to download this amazing stuff.
FontForge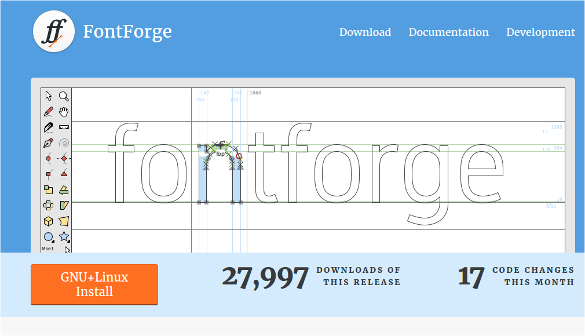 FontForge is an amazing tool to modify your fonts in an exclusive manner. It can be downloaded for free but it comes with an option of donation for the community who has worked on it. It is an individual choice completely. It has got the best of features you need to consider and if you are looking for a change it is the right place to go.
RoboFont
RoboFont is a UFO based font editor. It functions only on mac. The editor allows full scripting access to objects and interface. The application is a platform for drawing and modifying typefaces and through this you can give visual treats to the people who hit on your website. This tool is extremely creative, download this tool if you are looking for something which is unique.
> First impression to the users
When a user logs into the website, He/She notices the font style first. If the fonts are not appealing reader might not be interested to read them. It gives a first-hand impression to the users. Fonts give insight to the user about what might be the content inside. They compel the reader to go to the website by giving them a reading charm.
>

Why having a good Font is necessary?
All the major competitors in the market are investing on their website to make it more happening and user-friendly. Having a website with full of content and less of design disinterest the traffic on the website. Many studies and researches suggest that having a good font aids in bringing the useful business. Therefore, it is just not adding beauty and attraction to the website but it is also helping the business to grow simultaneously. You can also see Android Fonts.
>

Font Editor Sculpting the Font
Font editors are in vogue nowadays. They can add life to your webpages. They help in making your font look beautiful. You can design your own fonts through the editor and it also has the pre-design font which can aid you to cast an impression on the website. They help to edit the font exactly the way you want to implement at your homepage. If you are looking to make the change on your website, you can take the help of these font editing tools which will help you in a right way. They have numerous features to explore you can implement them according to your needs.
These were the Top 12 Font editors to give a new life to your web pages. They all are unique and can beautify your website in the best possible manner. Choose the correct one and add all the creativity you need using these editors. Opt for the best of design and create your own according to your needs. All the best! See this Websites to Find Fonts.
More in Tools