Fonts
15+ Free Monogram Fonts
It is time to customize your own monogram fonts through the wide selection of Free Monogram Fonts. For people looking to personalize their pursuits with the help of their unique logos and monograms should totally check this out. A personal monogram crafted with the choicest fonts speaks a world about you. It defines your personality, your sense of aesthete and your innate sense of design. There are a plethora of selections to choose from. Some of them are classic which may remind of the bygone era while some have clear cut modern lines and geometry of strokes that look chic and trendy. The premium fonts give the user a great advantage to decorate their documents which otherwise may look unattractive and unexciting. The best part about such fonts is that you do not have to pay anything for them since they are free for use. One can unleash their imagination with the use of such fonts and it can be done both for commercial uses and for personal uses too. Get started and personalize logos, invitations, projects and much more which can now bear the stamp of your creative individuality. It is not too difficult to grab such top-notch fonts and imbibe elegance into your works.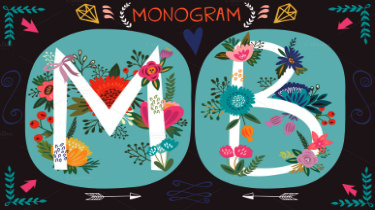 Intellecta Monograms

These free monogram fonts are been created and crafted by experts thus resulting in superior monogram fonts for the client. Featuring a reddish background along with black color background makes them appealing.
Smoothy – Cursive

Designed and created by experts these free monogram fonts are been crafted by experts thus making them appropriate for practical usage. With a vintage look and classy designs further provides them completely new attire.
Carried Away

These crafty designer templates are been designed for making a suitable free monogram fonts thus ensuring creativity at its very best. With a classy look and fancy background makes them suitable for general purpose.
Apex Lake

Designed and created by trained experts these creative templates are been designed with a sophisticated look that gives them a complete makeover. With a rich bluish background along with violet shades provides them complete new attire.
Blavicke Capitals

Featuring a royal blue background color along with crafty text style these templates are the latest entry to the market. Further these templates are designed with outmost creativity making them arguably best for clients.
British Museum

These royal and classic designs are been designed making them suitable for British countries. Loaded with fancy and simple designs these eye-catchy templates are been crafted for fulfilling the needs of the client.
Fleur Corner
Flower Free Download

These templates are mostly suitable for those who like fancy creative design in their work. Loaded with vibrant sunflower design these templates are the latest trend in the market.
Goudy Initialen

These fancy templates are been designed and crafted loaded with all the necessary tools required to fulfill the needs of a client. Further these are been designed with a funky attire that makes them suitable for unofficial purposes.
Magic Fleurons

Designed and crafted by experts these creative templates are been designed to satisfy the requirements of the client. Featuring a funky look these templates are mostly appropriate for promoting beach houses.
Modern kerawang

Mostly used for official purposes these free monogram font style contains a sophisticated look and design thus resulting in making some of the finest designs of modern art.
Picto Glyphs

These templates are been crafted and designed for making a suitable designer template for the clients. Featuring a fancy shape and design further adds to their creativity.
Preciosa

These templates constitute a fancy looking free monogram font style thus leads to excellent font and text design which further increases the creativity of such templates making them best for business.
Shrewsbury Initials

Being latest in the market these unique templates are been created and crafted for making a superior font style for organizing party events. Mostly used in Caribbean beaches these are some of the highest rated font style templates.
The Roots

These classy font styles are mostly popular in western countries. Featuring a sophisticated looks and design these templates are a perfect example of creativity at its very best.
Topiary Initials
TrajanusBricks
These templates are been designed and crafted by experts thus leading to some of the finest font styles. Mostly used in decorating a poster or any other boards these are quite handy and effective in general purpose.