Charts
Pedigree Chart Template – 9+ Free Sample, Example, Format Download!
A pedigree chart shows appearance or occurrence of a specific organism & its ancestors, covering a large range of generations. Such a chart presents easily-readable data on family information through standard series of symbols- females are represented by circles and males are represented by squares. These charts are also used to track data on race horses as well as show dogs. You may also like PowerPoint Chart Templates

Fifth Generation Pedigree Chart Sample PDF Template
rspca.org.uk | The fifth generation pedigree chart is a chart used to keep additional information of a dog's family tree. The chart includes the names of the dog, grandparents, great grandparents, great greatgranparents, and great great great grandparents.
Blank Pedigree Chart Sample PDF Template
ualberta.ca | The blank pedigree chart sample is used to keep track of the dog's family tree. The chart also include information like Born, Place, Married, Died. A comprehensive pedigree chart to keep track of the dog's family tree.
6 Generation Pedigree Chart Free PDF Format Download
landingslag.org | The 6th generation pedigree chart is a family tree containing information of six generations. It also includes basic information like birth date, place, death date, place etc to provide a detailed family tree.
Tree Diagram Pedigree Chart Example Template Download
byub.org | The tree diagram pedigree chart is a simple chart which looks like a tree. A hierarchical chart for three generations that provides each and every detail required in a pedigree chart.
3rd Generation Pedigree Chart Example PDF Template
lcgsfl.org | A simple and straight forward chart, the three generation pedigree chart requires information of only the parents. The chart will start with the person, and will provide information of father and mother and then the grandparents.
Pedigree Chart Template Free PDF Format Download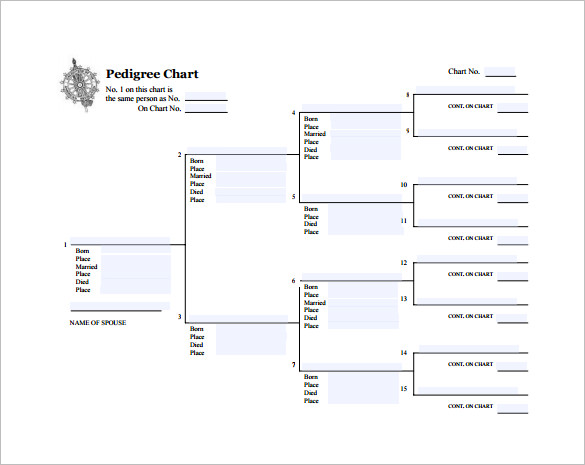 dar.org |
The pedigree chart template is a four generation family tree which provides information regarding birth, place, married, place, death, place and name as well. A well detailed chart that provides ample information of a family.
Sample Family Pedigree Chart PDF Download
bbc.co.uk
example of Fourth Generation Pedigree Chart PDF Download
familyhistoryzone.com
Family Tree Pedigree Chart Sample Download
In a pedigree chart template sample, parents are linked with horizontal line while vertical line goes for their offspring. Then, the offspring would be linked by sibship horizontal line & are listed as per the birth order, say, from left to the right. You may also like Chart Templates