Charts
Classroom Seating Chart Template – 23+ Free Word, Excel, PDF Format Download!
A classroom seating chart Maker is a very useful tool for the teachers. When a class comprises of students amounting to 25 or more, it is necessary for teachers to keep an organized view of students and these teacher templates act as a fantastic help here. The most important benefit of these Choir Chart Templates charts is that these allow teachers to customize class structure as per specific educational needs.
U Shaped Seating Arrangement Classroom
l Shaped Classroom Seating Arrangement Template
Classroom Seating Chart Template
A classroom seating chart template is a useful tool for teachers. It helps the teachers to create a visual layout of the classroom and locate the desks or, tables in the classroom. They can minimize the classroom hassle of taking students' attendance by looking into the classroom seating chart. Also, they can do a lot of classroom activities using the visual layout of the classroom, such as taking note of students' behaviour and arranging students' seats in a systematic manner. Teachers can also write students' names in the chart. It will make it easier for teachers to teach them without any hassle.
Circular Seating Arrangement Classroom Template
Free Traditional Classroom Seating Arrangements Template
Free Seating Arrangements for Small Classrooms Template
Free Creative Classroom Seating Arrangements Template
Free Classroom Management Seating Arrangement Template
Classroom Seating Chart for High School Free Word

The classroom seating chart for High school is a generic classroom seating chart that can be used to represent any of the classes from High school. A simple chart that displays the seating position and the white board position in the class.
Class Room Managenent Seating PDF Free Downlaod

manchester.edu | You are getting a detailed account of a classroom seating arrangement here. there are instructions on placement of every aspect of a classroom such as teacher's desk, small group, book shelf and so on.
Seating Group Chart Free PDF Template

teacherspayteachers.com | The seating group chart is used in classes where group activity takes place. The room can accommodate five groups of four and five members. The group tables are well placed which keeps the members together and the groups away.
Free Editable Classroom Seating Chart Word Download

The free editable classroom seating chart is a simple chart that can easily represent the seating arrangement for the students and the teacher. Each box represents a seat that will be occupied by the students.
Seating Chart for Inclusive Classroom Free PDF Template

ilearn.marist.edu | The seating chart for the inclusive classroom is an intuitive chart that represents the seating arrangement of the students, teacher and the placement of the smart board in the class. Each seat is colored which represents unoccupied seats, regular students, special students and gifted students.
Seating Classroom Chart For Two Classes in MS Word

The seating classroom chart for two classes is a simple table chart created in MS Word which represents the seating arrangement of two classes. Each cell of the table represents the student who will be seating at that particular position.
Free Chart Template For Class Room Seating

The class room seating chart template is a simple but intuitive chart that provides information on the class, seating and period for which the chart will be used. It also contains a table that informs the students about their seats.
Classroom Seating Chart for Kids Free Word Template
Blank Library Classroom Seating Chart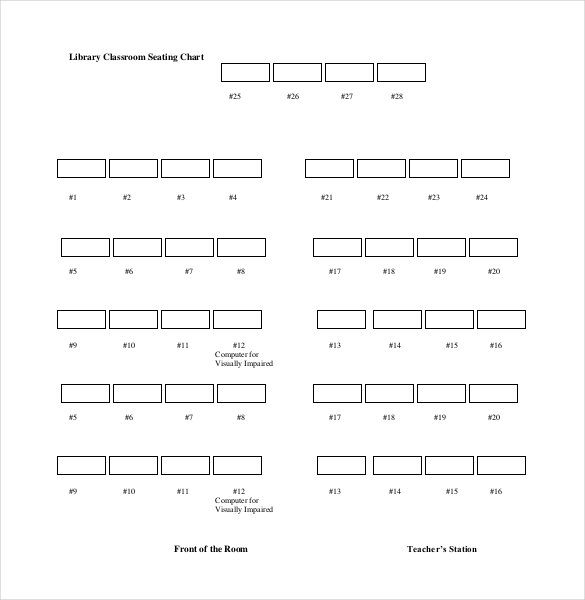 fhsdfhc.sharpschool.net
Printable Classroom Seating Chart Format
pasco.instructure.com
Example of Classroom Seating Chart
studenthandouts.com
Seating Charts for Classrooms Template
mrsvictoria1styearteacher.weebly.com
Library Media Center Classroom Seating Chart
neshaminy.org
Elementary Classroom Seating Chart Arrangements PDF
sandersmsu.weebly.com
Making Seating Chart for the Classroom
Imagine walking into a classroom and having no idea whether it is really a study room or a store for seats and tables. It would be awful. That explains why Sample Teacher Seating Chart Templates are important. The primary objective of these files is to give you a better option of arranging seats and desks in a manner that not only gives the classroom great space, but also ensures the comfort of both students and teachers. Whether you prefer a U-shaped classroom seating chart or you want something comfortable for your classroom, there is always a great template to use.
How to Make a Seating Chart for a Classroom
Create one from Scratch
All you need is a pen, a piece of paper, and your brain. Brainstorming is definitely going to take time. But, once you have a clear picture of what you would love the classroom to look like, it should be easy for you to draw the diagram. Overall, this activity should take you about 30 minutes.
Using a Seating Chart Template
If you do not have the time to create a Sample Seating Chart Templates from scratch, you can download and use a free seating chart template. Here is the good thing; you can use the sample template as is. And given that there are different seating arrangements on the templates provided here, there is no real reason why you should bother editing your download. Instead, just get the right file.
Importance of Seating Arrangement in a Classroom
Creating order is one of the advantages of the Table Seating Chart Templates. IF you drawn the diagram properly and implement it accurately, you are likely to end up with a well-organized classroom than it was before. Besides putting furniture in their appropriate positions, a seating chart template also helps to add room to the classroom. And this means more fresh air circulation. The most significant benefit, though, is that the seating chart template gives plenty of room for movement in a classroom. This way, a teacher gets enough space to move around the class while teaching their lessons to students.
Why Use a Classroom Seating Chart
To Create Order in a Classroom
Every classroom needs a good arrangement. This helps to create order. To a teacher, a classroom with order looks professional. To students, a study room with an appropriate arrangement makes learning and interaction easy.
To Get Enough Space for Movement
Nothing is as worst as never lacking space for movement in a classroom – no matter how big the class might be. That is where a seating Chart Templates for a classroom comes in. Not only does the template gives you a better idea on where everything in the classroom should sit, but also creates a lot of space for every person in the room to use.
To save Time
To save time, you should use the sample templates that have been provided you in this thread. A classroom seating chart generator is a wonderful help especially when you have special-needs students in a class, like ADD students. These Free Chart Templates will enable you to ensure the most compatible seating arrangement for him so that he does not distracted in the large crowd.